Glede na to, da so se pojavili komentarji, da naj bi bila Zaveza Preroka Mohameda ( <Ashtiname) ponaredek ter da je učenjak Islama dr. John Andrew Morrow lažnivec, sem danes poslušala predstavitev knjige kanadskega učenjaka dr. Morrowa z naslovom The Achtiname: The Covenant of the Prophet Muhammad with the Monks of Mount Sinai.
Na predavanju leta 2014 v okviru univerze ACMCU – Georgetown University Prince Alwaleed bin Talal Center for Muslim-Christian Understanding. je dr. Morrowa predstavil direktor in profesor univerze Jonathan Brown. Dr. Morrow je povedal med drugim naslednje:
Ni znano, kje je bil in kaj je prerok Mohamed delal od svojega 15. do 40. leta, ko naj bi se mu prikazal Nadangel Gabriel in je tri leta pozneje pričel pisati Koran (ime pomeni: recitacija). Rodil se je leta 570 v Meki. Ustna tradicija Islama, menihov iz polotoka Sinaj in beduinskih plemen na Sinaju pa pravi, da je Mohamed bil reven in je s karavanami potoval po Egiptu, Abesiniji, Perziji in drugih deželah.
Nekaj let naj bi preživel tudi na gori Sinaj, v votlini Mojzesa, kjer je Mohamed postil, molil in meditiral. Živel je v votlini, v kateri je živel tudi Mojzes, ko je na gori prejel 10 Božjih Zapovedi. Bival pa je tudi pod goro, kjer je grški samostan Svete Katarine, ki je drugi najstarejši krščanski samostan na svetu.
samostan sv Katarine, Sinai
Nekega dne je en izmed krščanskih menihov videl, da se je iznad glave mladega Mohameda pojavil orel, ki so ga imeli za simbol Nadangela Gabriela. Vedel je, da to ne more biti slučaj ter da je mladenič nekaj posebnega. Menihi so zato Mohameda prosili, da jih vzame pod svoje varstvo, Mohamed pa je odgovoril, da tega ne more storiti, saj je bil reven človek brez vpliva. A potopil je svojo roko v barvo in dal krščanskim menihom odtis svoje roke.
Leta pozneje, ko je Mohamed postal slaven in vpliven, je delegacija menihov iz Sinaja z odtisom njegove roke potovala k Mohamedu v Medino in takrat jim je Mohamed dal napisati pisal zavezo zaščite. To ni edina mirovna zaveza Mohameda s kristjani, saj obstaja skupaj šest mirovnih dokumentov s kristjani: na Sinaju, v Egiptu, Palestini, Asiriji, Perziji in Nashakim -u(?).
Na spodnji sliki je kopija originalnega pisma iz leta 1638. Prikazuje dve mošeji: zgoraj je mošeja Fatime na vrhu gore Sinaj, spodaj pa je mošeja, ki se nahaja znotraj obzidja samostana Svete Katarine, ki je tako edini kraj na svetu, kjer sta ena poleg druge krščanska cerkev in muslimanska mošeja. Na dokumentu so tudi podpisi sodnikov Islama, ki pričajo o avtentičnosti kopije. Na svetu obstaja veliko kopij tega dokumenta, ena kopija se nahaja tudi v centru pravoslavnega Krščanstva, na sveti gori Athos v Grčiji ( v samostanu Simonpetra, katerega arhivi so zelo nedostopni).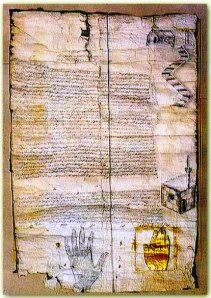 Samostan Svete Katarine je znan tudi po gorečem grmu in vodnjaku Mojzesa, najstarejši ikoni Jezusa Pantokratorja ter drugi največji knjižnici krščanskih rokopisov na svetu. Dokument zaveza Mohameda je zelo neznan, ne pozna ga večina muslimanov in večina kristjanov. Nočejo vedeti za njegov obstoj in se sprašujejo ali je dokument pristen ali ne. A če so ljudje nevedni, to še ne pomeni, da nekaj ne obstaja ali da ni resnično.
Knjiga o Zavezi Mohameda je dobro sprejeta med akademiki Islama in Krščanstva, slabo so jo sprejeli le Kristjani na Bližnjem Vzhodu, ker ne sprejemajo ideje, da je Islam miroljuben. Pravijo, da ni pomembno kaj je Mohamed rekel pred 1400 leti, saj zdaj ubijajo kristjane na Bližnjem Vzhodu in uničujejo krščanske vasi. Toda dr. Morrow je prav zato napisal knjigo Zaveza Mohameda, ker poziva vse muslimane, da vstanejo zoper grozodejstva, ki jih ISIS in skrajni muslimani počenjajo v imenu Islama. On pravi, da če so tiho, so sodelavci morilcev in nasprotniki Korana in preroka Mohameda in delujejo kot agentje globalnega Imperija.
Zaveza Mohameda ni ponaredek, o njej se je nekoč veliko vedelo in omenjajo jo zgodnji krščanski in muslimanski učenjaki v svojih delih. Avtentičnost je potrdil tudi Sultan Selim, ki je original iz samostana Svete Katarine odnesel v svojo zakladnico v Istanbulu
Vsi ( Judje, Kristjani in Muslimani) smo družina Abrahama in hudič naj vas ne pretenta, da ni tako...pravi dr. Morrow.
video s predstavitvijo knjige Zaveza Mohameda je na naslovu: https://johnandrewmorrow.com/2014/03/13/video-presentation-the-achtiname-the-covenant-of-the-prophet-muhammad-with-the-monks-of-mount-sinai/