Bog je rekel: »Bodi svetloba!« In nastala je svetloba.
Bog je videl, da je svetloba dobra.
(Geneza: 1:3-4)
Svetlobni fotoni iz sonca so pozitivna kozmična energija, ki lahko obnovi živčne celice nevrone v možganih, telesu da več vitalne energije, izboljša naše zdravje, pozdravi rak, AIDS, osteoporozo .....itd. Upočasni lahko proces staranja, izboljša vid, zniža krvni tlak, zavira razvoj depresije, demence, Alzheimer in Parkinson bolezni. Je prastara oblika zdravljenja, helio-terapija, brezplačna božanska laserska terapija. Znano je, da so na primer v Egiptu faraoni gledali v sonce in se napajali z energijo, solarno prano oziroma solarno bio-energijo.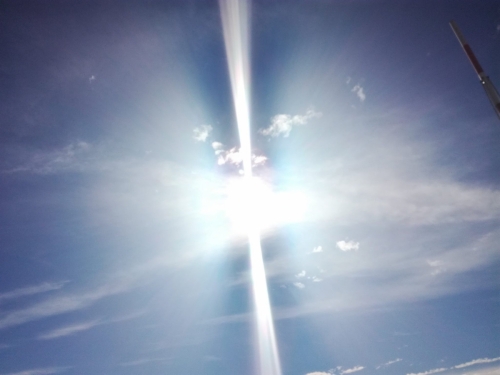 Fotografija Radha 2018
***
Najbolj pomembno pri tej terapiji je varen čas gledanja v sonce ter pravilno izvajanje. Varen čas gledanja v sonce, ki ne poškoduje oči, je od sončnega vzhoda do ene ure po njem ter zvečer eno uro pred sončnim zahodom, dokler sonce ne zaide. V tem času do nas ne prihajajo morebitni škodljivi (premočni) sončni žarki. Pozimi, ko je moč sončnih žarkov šibkejša lahko gledamo v sonce večji del dneva, toda le ko je indeks ultravijoličnih žarkov manj kot 2 (za to potrebujemo posebne merilne naprave). Zato je najbolj varno, če se držimo povsem varnega časa, to je eno uro po sončnem vzhodu ter eno uro pred sončnim zahodom.
Kdor ima očala, naj jih med gledanjem sonca sname, kdor pa ima leče, lahko gleda z njimi.
Tehnika gledanja v sonce
Najbolje je, če stojimo z bosimi nogami na pesku, tako da smo v stiku z zemljo (pri tem se istočasno tudi razstrupljamo od toksinov prostih radikalov, saj v telo iz zemlje prihajajo elektroni, ki se vežejo na toksine in jih nevtralizirajo). Na travi naj ne bi stali, pravi Manek, ker naj bi ta iz telesa črpala energijo in se zato telo hladi. Če ne gre drugače, pa lahko tudi sedimo in smo obuti ali pa sonce gledamo doma skozi čisto okno v okviru ene varne ure za gledanje sonca.
- prvi dan: gledamo v sonce 10 sekund (v mislih štejemo do deset), nato zapremo oči in gledamo odsev sonca znotraj možganov, dokler ta odsev ne zbledi. Dlje ko ta podoba sonca ostane v naših možganih, boljše je - pomeni da se zdravje naših oči izboljšuje
- drugi dan: gledamo v sonce 20 sekund ( v mislih štejemo do 20), nato zapremo oči in zoper opazujemo odsev sonca v svojih možganih, dokler ta ne zbledi
- tretji dan: enako kot prej, le da gledamo v sonce 30 sekund
- naslednje dni: vsak dan podaljšamo gledanje sonca v varnem času za 10 sekund (najbolje je, da si zapišemo, koliko smo gledali sonce za vsak dan sproti). Tako delamo vse do zrenja v sonce 10 minut oziroma 600 sekund, kar dosežemo po dveh mesecih vaje oziroma 60-ih dneh
*** *** ***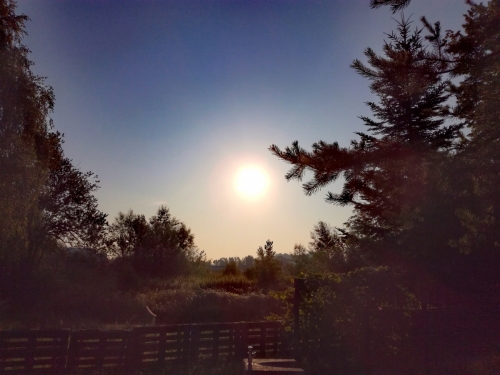 sončni vzhod - fotografija Radha 2019
*** *** ***
Kdor ima resne probleme z očmi, naj dva meseca le sedi pred soncem z zaprtimi očmi 10 minut na dan. Po dveh mesecih pa lahko začne izvajati tehniko, kot je opisana zgoraj. Z gledanjem v sonce lahko nadaljujemo do 15 minut, za doseganje pozitivnega načina razmišljanja, notranjega miru, moči, sočutja, prijaznosti, harmonije ter zmanjšanje tesnobe, strahu, jeze, ljubosumja, pohlepa in drugih negativnih čustev.
Sončna svetloba vsebuje cel spekter barv, ki prodrejo v telo in mu pomagajo do zdravja in ravnovesja. Za zdravljenje fizičnih obolenj lahko podaljšamo gledanje sonca vse do 30 minut, kar dosežemo po 180 dnevih oziroma 6 mesecih terapije. Dovoljen čas gledanja v sonce je celo 45 minut v obliki meditacije, kar pa pomeni pospešen duhovni razvoj in je primerno le za duhovne iskalce, ki želijo na ta način pospešiti svoj duhovni razvoj. Priporočljivo je gledati sonce na ta način 1 leto in sicer do 15 minut na dan. Kdor želi pa lahko gleda 15 minut na dan tudi več kot eno leto, vse dokler mu to ustreza.
Če je oblačno, naredimo premor in ko pridejo sončni dnevi, nadaljujemo tam, kjer smo končali. Energija sonca se namreč v telesu shranjuje, ker je telo kakor solarna celica. Če med našim gledanjem pride oblak, potem prekinemo s štetjem in počakamo, da se sonce zopet pojavi. Dobro je če sončimo tudi del telesa, kjer čutimo bolečino. Če se pri gledanju v sonce ne počutimo dobro, potem tehnike solarne joge ne izvajamo. Otroci jo lahko izvajajo od petega leta dalje, a le če to želijo ter v varnem času in do 15 leta starosti lahko čas gledanja sonca povečujejo do največ 5 minut.
V času, ko nas pesti spomladanska depresija ali utrujenost, je solarna joga zelo koristna. Ta teden sonce vzide ob 6.30 uri zjutraj, zaide pa okoli 18.00 ure zvečer. Točen urnik sončnih vzhodov in zahodov dobite tukaj:

http://vesolje.net/koledar/koledar.php
Vir: povzeto po predavanju Hirana Ratana Maneka v času od 4-5. julija 2009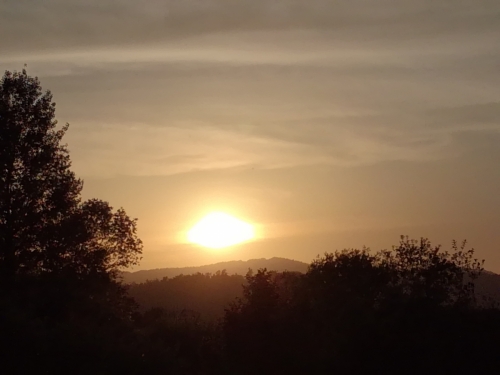 sončni zahod - fotografija Radha 2019