AVAAZ je zbral več kot 5 milijonov podpisov peticije za reševanje čebel. Dosegli smo prepoved na neo-nikotinoidne pesticide, ki ubijajo čebele, v 28 državah EU. Več tisoč ljudi je pošiljalo sporočila na ministrstva EU držav. Po uspehu v EU se boj za preživetje čebel nadaljuje še v ZDA, Kanadi in ostalih državah sveta, saj se smrtnosni pesticidi uporabljajo po vsem svetu.
EU je sprejela dveletno prepoved za pesticide, ki ubijajo čebele, toda Bayer in Syngenta lobirata proti tej prepovedi. V pohlepni želji po dobičku želijo ohraniti strupene pesticide na trgu.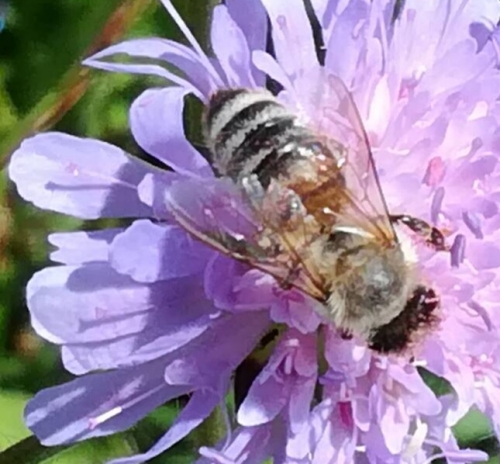 Fotografija: Radha 2017
Boj AVAAZ-a za čebele je trajal sedem let. Sili kemično industrijo, da začne z novim modelom nestrupenega poljedeljstva. AVAAZ aktivisti so zbrali več kot 5 milijonov podpisov za rešitev čebel, zasledovali so ministre EU držav na letališčih, klicali po telefonu in pošiljali e-maile na ministrstva ter od 150.000 članov AVAAZA zbrali 2.5 milijona EUR ( nekaj malega sem prispevala tudi sama :).
* * *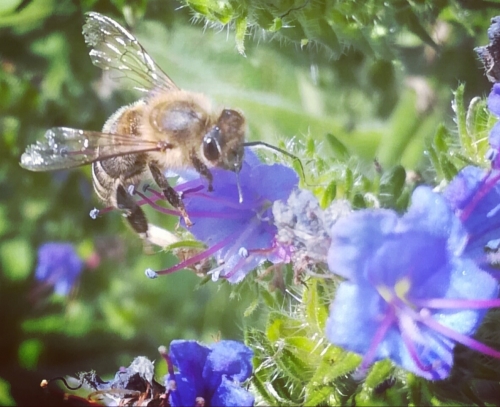 fotografija Radha 2019
* * *
S tem denarjem so financirali neodvisne raziskave o pesticidih in njihovih učinkih na čebele in te raziskave so bile proti-utež korumpiranim raziskavam kemične industrije. Končno so uspeli prepričati znanstveno telo EU, to je EFSA, da podpre prepoved uporabe strupenih pesticidov.
AVAAZ-u so se pridružili tudi nekateri pridelovalci ekološke hrane, kakor tudi ostali napredni in zavestni kmetovalci. Pridružil se jim je tudi največji italijanski sindikat v kmetijski panogi. Sodelovali so tudi z Evropsko Komisijo in spomnili njenega predsednika J. C. Junckerja, da je pred časom obljubil, da se bo zavzemal za ohranitev čebel.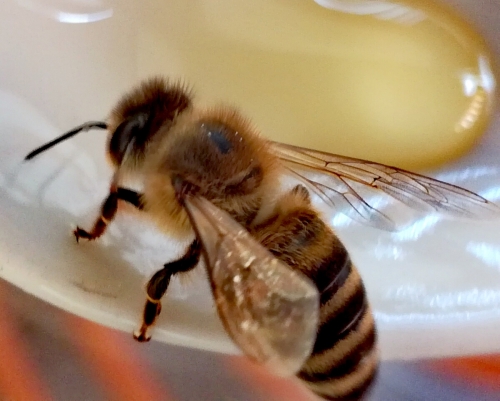 ko pride kakšna čebela, jim dam med, ki so ga zelo vesele :))
fotografija Radha 2019
***
V Franciji se je AVAAZ akcija za čebele pričela že leta 2011. Imeli so podporo ministra za okolje Nicolas Hulot-a, ki je bil med vodilnimi politiki v EU, ki se je zavzemal za prepoved strupenih pesticidov. Velika Britanija pa je leta in leta nasprotovala temu in sporočila AVAAZ-a so označili za kibernetski napad. Toda lani se je uklonila tudi Velika Britanija, kot pred tem tudi Nemčija.
***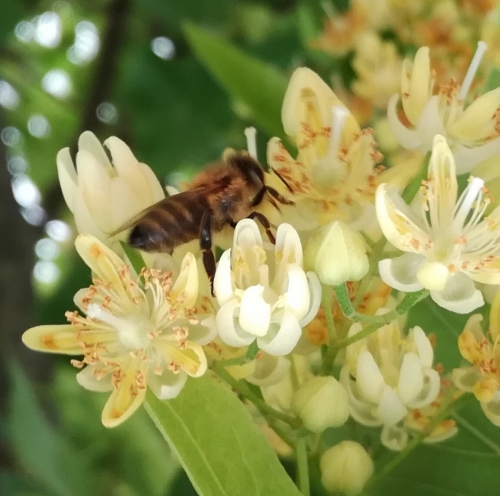 na cvetu lipe - fotografija Radha 2019
***
Ko so se uklonile tri najbolj vplivne evropske države, so sledile še Luksemburg, Avstrija in Slovenija. Toda to še ni bilo dovolj za zmago na glasovanju. Šele pred nekaj tedni so uspeli prepričati še Španijo in Italijo ter Nizozemsko, tik pred glasovanjem v EU, pa se je pridružila tudi Grčija. Tako so izglasovali dve letno prepoved uporabe pesticidov, ki ubijajo čebele, na področju EU.
***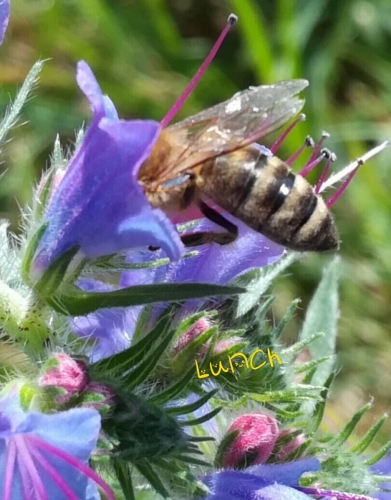 fotografija Radha 2019
***
Po uspehu v EU pa AVAAZ nadaljuje boj za ohranitev čebel tudi v ZDA in Kanadi.
Bayer, ki je leta 2018 kupil Monsanto, proizvaja neonikotinoidne pesticide (imidacloprid, clothniadin) zavaja javnost in trdi, da so ti pesticidi neškodljivi za čebele
* * *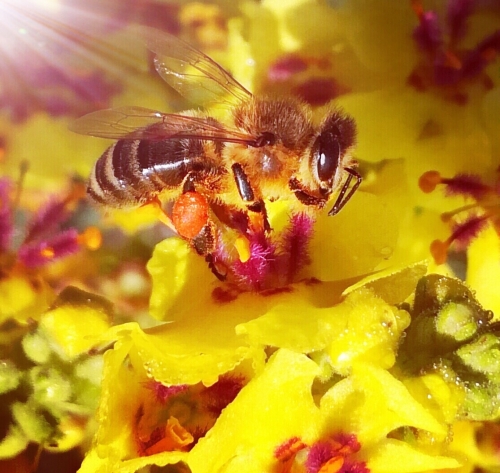 *** na svojih nogah nosijo življenje planeta***

Little Grandmother Kiesha
vir: FB Eveline Azur Art
na cvetu lučnika - fotografija Radha 2019
* * *
Mikrovalovno sevanje omrežja 5G moti delovanje cryptochroma, ki je kakor GPS senzor v čebelah in pticah, ki zaznava magnetno polje Zemlje in omogoča orientacijo in navigacijo, je povedala prof. dr. Devra Lee Davis.
* * *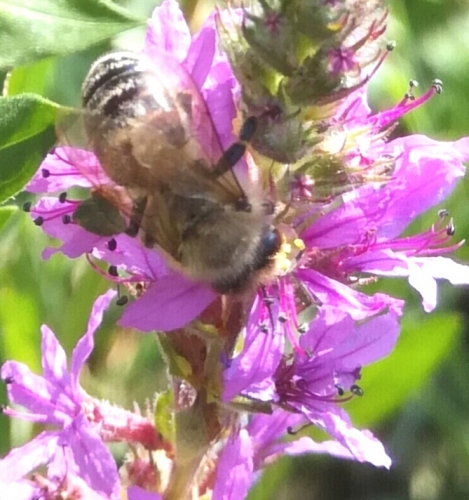 fotografija Radha 2019
* * *
Zaradi tega se čebele ne znajo vrniti v čebelnjak, ne znajo pravilno leteti in nabirati medu. Omrežje 5G povzroči nastanek prostih radikalov, ki poškoduje cryptochrom in povzroča degenerativne bolezni pri čebelah in drugih insektih. Več o tem je v komentarju št 20. Video v komentarju št 21 pa kaže, da jih antena omrežja 4G tudi ubija :(

* * *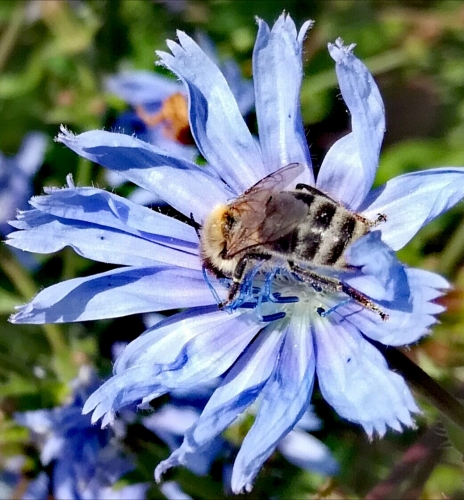 na cvetu potrošnika
fotografija Radha 2019
* * *
Čebele naj bi komunicirale na frekvenci 180-250 Hz, zato TDM sinhronizacija moti njihovo komunikacijo. Knjiga o vplivu elektromagnetnega sevanja na čebele, ptice in ljudi je na naslovu:
https://ecfsapi.fcc.gov/file/7521097894.pdf?fbclid=IwAR2Z6h2u8i6jXVGTWAOeTeXBJBvD-uOedIcp-AKTI7Dk8rbMaFyCgdCMiLw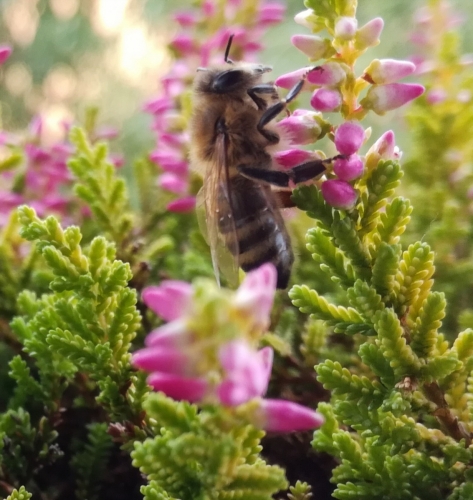 počitek na jesenski vresi
fotografija Radha 2019
* * *
Apiculture Entrepreneurship Center na Universidad Mayor in Apiculture Corporation of Chile sta s podporo Foundation for Agrarian Innovation izvedli študijo, v kateri so ugotovili, da so čebele edina živa bitja, ki nimajo v sebi patogenov, kot so plesni, virusi ali bakterije.