Objavil/a
Sas Vnv
, dne 2021-12-01 ob 17:37:49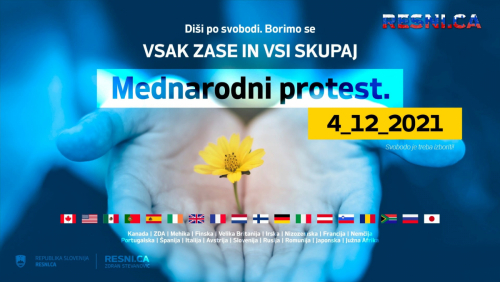 Zakon, ki nosi ime PKP10 je naša smrtna obsodba. Podpisati jo nameravajo krokarji v parlamentu, ki igrajo bogove.
Morajo nas videti v ogromnem številu, mora se jim zatresti roka, če bodo to želeli storiti.
Pokažimo jim, da je konec! ☝️
Ne bomo sami, v soboto 4.12. ob 11.55 se bomo povezali v svetovno silo. V mnogih državah se bodo organizirali protesti: Finska, Velika Britanija, Nizozemska, Španija, Portugalska, ZDA, Kanada, Južna Afrika, Rusija, Nemčija, Francija, Irska, Italija, Mehika, Japonska, Romunija, Avstrija, Avstralija ... in Slovenija. ❤️
Sodelujemo s temi gibanji, ki nam izražajo polno podporo. Samo združeni lahko vstanemo!
Preplavimo splet s to objavo!
MOČ IN SVOBODA LJUDSTVU!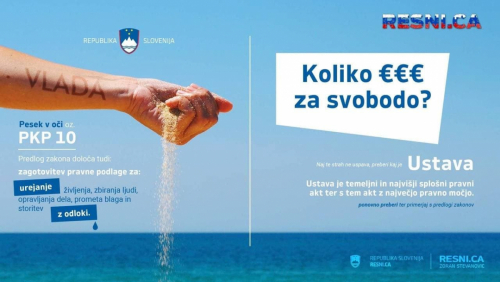 ‼️ PESEK V OČI oz. PKP10 ‼️
Mediji ne poročajo, da predlog zakona določa tudi pravno podlago za vladanje z odloki ‼️ – urejanje življenja, zbiranje ljudi, opravljanje dela, promet blaga in storitev, maske in potrdila. PKP10 tlakuje pot v pekel! V obvezno in prisilno cepljenje, v koncentracijska taborišča. Nobena pritožba ne bo pomagala. ☝️ Zato je upor dolžnost. ☝️
Dali bomo vse od sebe, da do sprejema ne pride! V soboto nas mora biti na protestu toliko, da jim niti na misel na pride, da bi o tem genocidnem zakonu odločali. V kolikor bi poslanci pokazali genocidne namere in zakon potrdili, napovedujemo zgodovinski REFERENDUM ‼️ Referendum, ki bo povozil zločinsko politiko in njihov genocidni zakon!
Državni zbor mora jasno in glasno slišati naše nestrinjanje s predlaganim PKP10. Zato je upor dolžnost. ☝️
Sobota, 4. 12. 2021, 5 minut pred 12h (11:55), na Trgu republike v Ljubljani.
DELITE in na protest povabite prijatelje, znance, sosede, sovaščane, someščane …
Tisti, ki potrebujete ali nudite prevoz, se lahko povežete v FB skupini PREVOZI NA PROTESTE.
MOČ IN SVOBODA LJUDSTVU!