Objavil/a
Sas Vnv
, dne 2022-01-14 ob 15:22:03
Prevod prispevka https://swprs.org/professor-ehud-qimron-ministry-of-health-its-time-to-admit-failure/
Profesor Ehud Qimron: "Ministrstvo za zdravje, čas je, da priznamo neuspeh"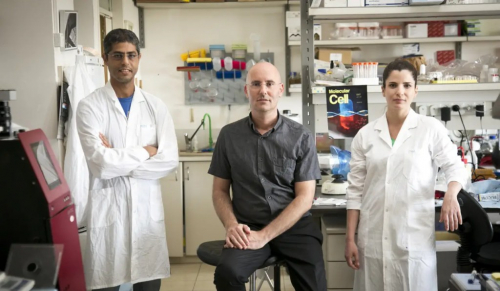 Profesor Ehud Qimron (v sredini) na univerzi v Tel Avivu (
Haaretz
)
Profesor Ehud Qimron, vodja Oddelka za mikrobiologijo in imunologijo na Univerzi v Tel Avivu in eden vodilnih izraelskih imunologov, je napisal odprto pismo, v katerem ostro kritizira izraelsko – in dejansko globalno – upravljanje pandemije koronavirusa.
Izvirno pismo v hebrejščini : Novice N12 (6. januar 2022); prevedel Google/SPR. Glejte tudi: Napoved profesorja Qimrona iz avgusta 2020: »Zgodovina bo sodila histerijo« (INN).
∗∗∗
Ministrstvo za zdravje, čas je za priznanje neuspeha
Na koncu se bo resnica vedno razkrila in resnica o koronavirusni politiki se začenja razkrivati. Ko se destruktivni koncepti sesujejo eden za drugim, ne preostane drugega, kot da rečemo strokovnjakom, ki so vodili obvladovanje pandemije – saj smo vam rekli.
Dve leti prepozno, končno spoznaš, da respiratornega virusa ni mogoče premagati in da je vsak takšen poskus obsojen na neuspeh. Tega ne priznate, ker v zadnjih dveh letih niste priznali skoraj nobene napake, a za nazaj je jasno, da vam je spodletelo skoraj pri vseh svojih dejanjih in celo mediji bodo zelo težko pokrili vašo sramoto.
Niste hoteli priznati, da okužbe prihajajo v valovih, ki upadejo sami od sebe, kljub dolgoletnim opazovanjem in znanstvenim spoznanjem. Vztrajno ste vsak upad vala pripisaovali izključno svojim dejanjem in tako ste z lažno propagando »premagali kugo«. In spet ste jo premagali in spet in spet in spet.

Niste hoteli priznati, da je množično testiranje neučinkovito, kljub temu, da vaši lastni načrti za izredne razmere to izrecno navajajo (»Načrt pripravljenosti zdravstvenega sistema na pandemično gripo, 2007«, str. 26).
Niste hoteli priznati, da prebolelost bolje ščiti kot cepivo, kljub predhodnemu znanju in opažanjem, ki kažejo, da je pri neprebolelih cepljenih ljudeh večja verjetnost, da se okužijo kot preboleli. Niste hoteli priznati, da so cepljeni prenašajo okužbe, kljub opažanjem. Na podlagi tega ste upali, da boste s cepljenjem dosegli čredno imunost — in tudi to vam je spodletelo.
Vztrajali ste pri ignoriranju dejstva, da je bolezen desetkrat bolj nevarna za rizične skupine in starejše, kot je za mlade, ki niso v rizičnih skupinah, kljub spoznanju, ki je prišlo s Kitajske že leta 2020.
Niste hoteli sprejeti "Barringtonove deklaracije", ki jo je podpisalo več kot 60.000 znanstvenikov in zdravstvenih delavcev, niti drugih zdravorazumskih programov. Odločili ste se jim posmehovati, jih obrekovati, izkrivljati in diskreditirati. Namesto pravih programov in ljudi ste izbrali strokovnjake, ki jim primanjkuje ustrezne usposobljenosti za obvladovanje pandemije (fiziki kot glavni vladni svetovalci, veterinarji, varnostni inženirji, medijsko osebje itd.).
Niste vzpostavili učinkovitega sistema za poročanje o neželenih učinkih cepiv, poročila o neželenih učinkih pa so bila celo izbrisana z vaše Facebook strani. Zdravniki se izogibajo povezovanju stranskih učinkov s cepivom, da jih ne bi preganjali, kot ste to storili z nekaterimi njihovimi kolegi. Prezrli ste številna poročila o spremembah v intenzivnosti menstruacije in času menstrualnega cikla. Skrili ste podatke, ki omogočajo objektivno in pravilno raziskavo (odstranili ste na primer podatke o potnikih na letališču Ben Gurion). Namesto tega ste se glede učinkovitosti in varnosti cepiv odločili, da objavite neobjektivne članke in vodilne delavce Pfizerja.
Nepopravljiva škoda zaupanju
Kakor koli, z višine svoje oholosti ste prezrli tudi dejstvo, da se bo resnica na koncu razkrila. In začela se je razkrivati. Resnica je, da ste zaupanje javnosti v vas spravili na neverjetno nizko raven in spodkopali ste svoj status vira avtoritete. Resnica je, da ste pokurili na stotine milijard šekelov zaman – za objavljanje ustrahovanja, za neučinkovite teste, za uničujoča zapiranja in za motenje rutine življenja v zadnjih dveh letih.
Uničili ste izobraževanje naših otrok in njihovo prihodnost. Povzročili ste, da se otroci počutijo krive, prestrašene, da kadijo, pijejo, da so postali zasvojeni, opustili šolo in da se prepirajo, kot potrjujejo ravnatelji šol po vsej državi. Škodili ste preživetju, gospodarstvu, človekovim pravicam, duševnemu in fizičnemu zdravju.
Obrekovali ste kolege, ki se vam niso uklonili, ljudi ste obrnili druge proti drugemu, razdelili družbo in polarizirali diskurz. Brez kakršne koli znanstvene podlage ste ljudi, ki so se odločili, da se ne cepijo, označili za sovražnike javnosti in da širijo bolezni. Promovirate, na način brez primere, drakonsko politiko diskriminacije, odrekanja pravic in izbire ljudem, vključno z otroki, o njihovi medicinski izbiri. Izbor, ki nima nobene epidemiološke utemeljitve.
Ko primerjate uničevalno politiko, ki jo izvajate, z razumno politiko nekaterih drugih držav - lahko jasno vidite, da je uničenje, ki ste ga povzročili, le še dodalo žrtve k tistim, ki so ranljivi za virus. Gospodarstvo, ki ste ga uničili, brezposelnost, ki ste jo povzročili, in otroci, katerih izobraževanje ste uničili - to so dodatne žrtve samo zaradi vaših lastnih dejanj.
Trenutno ni nujne medicinske pomoči, vendar že dve leti vzdržujete takšno stanje zaradi sle po moči, proračunih in nadzoru. Edina izredna situacija zdaj je ta, da še vedno določate politike in dajete ogromne proračune za propagando in psihološki inženiring, namesto da bi jih usmerjali v krepitev zdravstvenega sistema.
Ta izredna situacija se mora ustaviti!
Profesor Udi Qimron, Medicinska fakulteta Univerze v Tel Avivu
∗∗∗
Poglej tudi