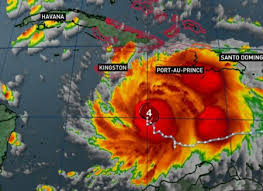 V sponjem videoposnetku lahko vidite kako so Američani na svoju bazi v Guatanamu, 4.10.2016 z pomočjo naprav preusmerili pot orkana. Posnetek traja samo eno minuto, prikaže pa stanje bolje kot plačani stokovnjaki ala tipa Velkavrh.
https://www.youtube.com/watch?v=X7wb3dQlBhE
Ogled radarja v živo.
http://jaweather.com/radar-image.html
Opis dogajanja:
http://www.geoengineeringwatch.org/hurricane-matthew-the-latest-example-of-global-weather-warfare-desperation/
Hurricane Matthew is about to decimate specific populations that are already struggling to survive. Is this storm being manipulated by the weather/climate modification programs? Though countless anthropogenic factors have contributed to the rapid warming of our planet, there is no question that global climate engineering/weather warfare is a reality and making an already horrific climate scenario far worse. What agendas might the power structure be carrying out by manipulating and/or exacerbating climate chaos over specific regions and during critical windows of time? Is mass distraction from US/NATO fueled Middle East and European mahem one of the objectives being provided by the climate engineers and hurricane "Matthew"? All available data indecates the geoengineers have been actively suppressing cyclones in the Atlantic basin for at least a decade. Why has "Matthew" been at minumum allowed to strengthen? Was the unexpected 90 degree northward turn of this storm a natural occurance? Or was this course alteration the result of geoengineering, ionosphere heaters, and atmospheric aerosol spraying? What other objectives might also be in the balance? There has been an over 11 year hurricane drought in the US regarding major hurricane landfalls and that drought persists. Though many sources tried to claim that Hurricane "Hermine" ended the anomalous hurricane drought for the US, this is not true, as "Hermine" was barely a category 1 hurricane, and even then only for an extremely short period just prior to landfall. "Hermine" DID NOT end the major hurricane landfall drought in the US. How can the US be spared the record major hurricane impacts that are pounding so many locations in other parts of the world? Because the largest military in the world (the US military) is at the head of massive climate intervention programs that are nothing short of weather warfare. Though some might claim that cyclone suppression for the us (that, again, has gone on for over 11 years) is beneficial (and therefore should be embraced), this very suppression contributes to even more overall heat buildup in the climate system and thus eventually even more hurricanes of even greater strength. This must also be considered, ALL forms of climate engineering involve the use of highly toxic materials that quickly descend through the breathable air column and are, therefore, inhaled and absorbed by all life forms.