Ta znanstveni osnovni članek odraža raziskavo ruskega biologa Petra Garjajeva in drugih, ko so v DNK odkrili nematerialne učinke: "Molekule v DNK zvenijo tiho, vendar neprestano in s pomenom, kot človeški jezik v jeziku, razumljivem vsem živim organizmom. "(P. Gariaev). Fantomski učinek postane merljiv in zaznavni indikator prenosa informacij, ki niso vezani na material, ali za mejo, kjer nekaj nefizičnega preide v fizično realnost.
V to zadevo bi lahko vstopila trditev francoskega filozofa Sartrea,ki je trdil,da je eksistenca pred esenco.Najnovejša odkritja v genetiki in molekuli DNK dokazuje ravno nasprotno,da je esenca sočasno prisotna z eksistenco.Uradna znanost ,ne samo genetika vpleta v samo enotno večno sedanjo vesoljno naravno samozakonitost izraze,kot so fantomski učinek,matematiko itd.Vse to se ,da zbrati v dejstvo,da uradna naravoslovna družboslovna znanost ne razume sočasnost pojava akumulirane in realizirane masno.,energetske,prostorsko t,časovne in *življenjske pojavnosti. Einstein je v bistvu zavedel celotno človeštvo s svojo teorijo štirih dimenzij mept in s svojo formulo E=mc2.Newton je razumel vesoljno matrico kot statično,Einstein je potem podal spoznanje,da sta lahko prostor t.čas ukrivljena.To zopet ničesar bistvenega ne pove,ker EInstein sam ni razumel,da je sama vesoljna matrica v bistvu akumulirana esenca /podlaga/ na katero se sočasno veže realizirana vrednost /eksistenca/mase,energije,prostora,t,časa in *življenja. Einstein v resnici sploh ni bil genij,bil je samo človek z veliko domišlije.NI esence brez eksistence in eksistence brez esence.Danes znanost trdi,da obstaja gravitacija,kar pa sploh ni res, v VSEOBSEŽNEM vesolju obstajajo samo dve sili in to sta EM sila vleka in EM sila obdoja.Ti dve sili pokažeta na močno vez med Rmept* in Amept* in na šibko vez med istima vrednostima Rmept* -Rmept* in Amept-Amept zaradi prisotnosti obeh vrednosti v vsakem X pojavu mept*.Kako potem vse v vesolju samodeluje in se ciklično samoobnavlja? Veliki Pok je samo izgovor za nerazumevanje enotne večno sedanje vesoljne samozakonitosti.Ravno tako je izgovor in iskanje Higgsovega polja in higsovega bozona v hadronskem trkalniku Cernu,kjer dosežejo 99,9 %svetlobne hitrosti pri trku osnovnega delca mept*.To njihovo poočetje je samo navadno znanstveno preseravanje,ker fiziki /naučeni papagaji/ ne razumejo dejstva,da se vsak delec lahko sočasno izraža kot Rmept* in Amept* vrednost v svojem vezju naprej nazaj .Če želimo delec analizirati je to v resnici nemogoče,ker se bo vedno izvzet iz svojega vezja in se zato vedno navzven izraža kot poenotena vrednost obeh svojih vrednosti.Delitev osnovnega delca in vsakega X pojava mept* je praktično nemogoča ,to je iluzija fizikov,ki naivno mislijo,da bodo odkrili in delili nekaj,kar se ne da deliti.Enostavno povedno naša teološka civilizacijska zapuščina že v svoji šifrirani obliki pove,da se Jin-Jang ne da deliti,kot se ne da deliti Boga Očeta-Boga Sina in Svetega duha -EM silo.¸Da bi zadevo razumeli bom podal naslednjo misel in vprašanje Ali lahko zemeljske vode odvojite od zemeljskega kopnega? To isto neumnost počnejo fiziki v Cernu!! To je isto kot bi posameznik želel ločiti svojo dušo akumulirano vrednost esenco od svoje realizirane telesne vrednosti eksistence.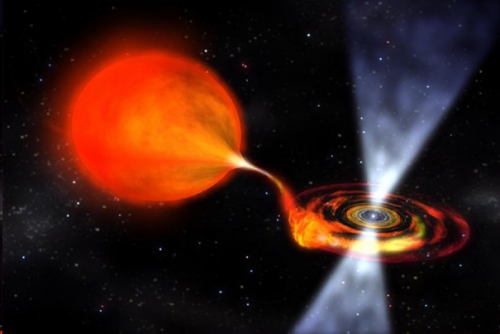 Ta prikaz sočasni konec Omega in nov Alfa začetek X Osončja pove vse o zmotah vseh vej sodobne fizike..Pokaže na ciklično samozlivanje med Rmept* in Amept* v vsakem X pojavu mept*,kjer vsak konec cikla sočasno pomeni nov začetek cikla iste x pojavnosti mept na elementarni ravni.* življenje svoje posamezne cikle X pojavnosti nadomesti s svojo življenjsko samoreprodukcijo vrste..Nobenega Velikega poka ni bilo vseobsežno vesolje je ujeto v svojo matrico znotraj antimaterije in temne energije,kjer ima svojo esenčno matrico Amept* na katero se vedno veže eksistenca Rmept*,zato vesolje večno sedaj sočasno umira in se samorojeva na vseh nivojih svoje samopojavnosti MEP.*Entropija X pojava mept* nastopi ob njegovem sočasnem koncu in sočasnem začetku novega cikla vsake elementarne Xmept. Sicer pa astrofizika niti ne razume dejstva,da so galaksije največja individualno elementarna telesa mept v vsobsežnem vesolju,ki ki niso medsebojno vezana.Primer ko znanost trdi,da se galasije daljujejo druga od druge in da vesolje raste-se širi.Plima in oseka BIBAVICA je tu pozabljena?-CIKLIČNI MEDSEBOJNI EM VLEK IN ODBOJ Galaktičnih teles. Sedaj pa še zadnji razmislek o napisanem: Zakaj mi rastemo in kaj je podlaga,da lahko rastemo? Podlaga je esenčna akumulirana matrica vrednost,da se lahko na to veče naša realizirana mept* vrednost.Sam trdim,da če bi znali izmiriti esencialno akumulirano matrico ob rojstvu dojenčka,bi že vedeli kolika bo njegova končna telesna višina v odrasli dobi.
Xmept* = Rmept*>>>>>>EM T.0. O/A<<<<<<Amept* = Xmept*
Na vsako smiselno vprašanje o tej temi sem pripravljen odgovoriti.