Zaradi Faradayevega odkritja,da se vsak barinska snov odziva na magnetno polje.To pomeni,da je vsa barinska snov diamagnetna.Če se vsa barinska snov odziva na magnetno polje se enako odziva tudi na ciklično spremenjene EM frekvence,ki jih prejema iz okolja,ki jo obdaja. FARADAY.-Svoja odkritja o elektromagnetni indukciji je objavil leta 1831. Istega leta je naredil tudi prvi transformator in prvi model električnega generatorja. V dveh zakonih o elektrolizi, ki se danes imenujeta po njem in ki ju je objavil leta 1834, je opisal, kakšne spremembe povzroči električni tok, ki teče skozi kapljevino. Odkril je tudi kemijsko spojino benzen, diamagnetizem (magnetna lastnost vseh snovi) in vpliv močnega magnetnega polja na svetlobo. Prvi je poskusil pojasniti delovanje magnetne sile s pomočjo magnetnega polja, ki nastane okrog magneta. Zasnova polja se je kmalu izkazala kot zelo uporabna v fiziki, zlasti pri razlagi gravitacijskih in elektromagnetnih pojavov
MAXWELL :Med letoma 1867 do 1873 je odkril zakone elektrodinamike (Maxwellove zakone) in jih zapisal v znamenitih Maxwellovih elektrodinamičnih enačbah. Teorijo je objavil leta 1873 v Razpravi o elektriki in magnetizmu (Treatise on Electricity and Magnetism).Maxwell je pokazal, da je svetloba elektromagnetno valovanje.
Evolucija DNK življenja je stalen ponavljajoč ciklični pojav na Zemlji in v vesolju.
Oblika DNK molekule je odvisna od stopnje hidratacije, nukleotidnega zaporedja, stopnje dodatnega zvijanja, modifikacije organskih baz, koncentracije določenih kovinskih ionov in poliaminov.[1Obliki A in B sta desnosučni, Z pa je levosučna, torej je zvita v nasprotni smeri. A-DNK je v primerjavi z B-DNK širša, mali žleb je širši in plitvejši, veliki žleb pa ožji in globlji. Oblika A nastane v nefizioloških razmerah, ko je DNK delno dehidrirana, v celici pa lahko nastane pri hibridizaciji DNK in RNK in v DNK-encimskih kompleksih.[11][12] Odseki DNK, ki so kemijsko spremenjeni z metilacijo, lahko zavzamejo obliko Z.[13] Različne oblike DNK prepoznajo specifični encimi, ki vplivajo na gensko prepisovanje, torej na izražanje genov. Vir: Wikipedija Dormanca (iz latinske besede dormīre - »spati«) je stanje začasno zmanjšane aktivnosti presnove pri organizmih, največkrat v povezavi z neugodnimi razmerami v okolju. Organizem v stanju dormance varčuje z energijo, kar mu pomaga prestati obdobje, ko razmere niso primerne za njegovo preživetje. Omejujoč dejavnik je predvsem hrana, potrebna za vzdrževanje bazalne presnove, ki v določenih obdobjih (na primer pozimi v območjih z zmernim in hladnim podnebjem) ni dostopna. JE človeška vrsta izvzeta iz vesoljnih življenjskih zakonitosti ciklične dormance? NI IN ŠE 1000x NI.MI nismo v ničemer posebni,edina razlika je mogoče ? naše življenjsko samozavedanje,ki pa je tudi vprašljiva.
Količnik encefalizacije, ki upošteva nelinearnost razmerja možgani–telo.[57] Povprečen količnik ljudi je 7–8, količnik drugih prvakov je 2–3. Količnik delfinov je višji kot pri človeku podobnih opicah in drugih prvakih (z izjemo človeka),[58] skoraj vsi drugi sesalci pa imajo precej nizek EQ.Delfini so torej najvišja oblika nagonskega življenja in to niso primati,ki naj bi imeli skupnega prednika s človekom.BEDARIJA-antropogov in DARWINA..Sodobna znanost trdi,da pozna dvojno DNK vijačnico,kar pa sploh ni res.Zakaj? Zato ker ne razumejo v DNK vezju sočasno zaporedje vezi Akumulirane in Realizirane genske vrednosti.Ne razumejo zakaj je DNK vijačnica desnosučna in sočasno levosučna,ker ne razumejo ravno vezja med Realizirano in Akumulirano mept*-masno-energetsko.prostorsko t.časovno in *življenjsko vrednostjo.Ne razumejo,da v DNK vezju sočasno delujeta dve EM sili 1 EM Sila odboja enekih vrednosti in 2. EM sila vleka različnih vrednosti.Ravno iz tega vzroka je DNK vijačnica sočasno desno in levosučna.Šibka in močna vezja v DNK molekuli so vedno posledica zaporedja vezi med Rmept* in Amept*. Isto napako- kot genetika počne tudi fizika v Cernu.Danes je moj namen pokazati,kako zmotna je antropogija naše vrste.Antropologija (grško ἄνθρωπος: anthropos - človek + λογος: logos - beseda, govor) ali človekoslovje je sklop različnih humanističnih in znanstvenih ved in disciplin, ki jim je skupno znanstveno ukvarjenje s človekom (glej rod Homo (hominoid)) kot členu narave in o njegovi biološki naravi ter človekom kot družbenim bitjem.Vir :Wikipedija
Znanost razume pojav dormance pri zemeljski flori in favni in zaradi nerazumevanja naravnih cikličnih pojavov /menjava letnih časov/ iz ciklične dormance izključuje ravno svojo vrsto.Znanost dela največjo napako s tem,da govori o različnih vrstah pri človeku in sanja o evoluciji naše vrste.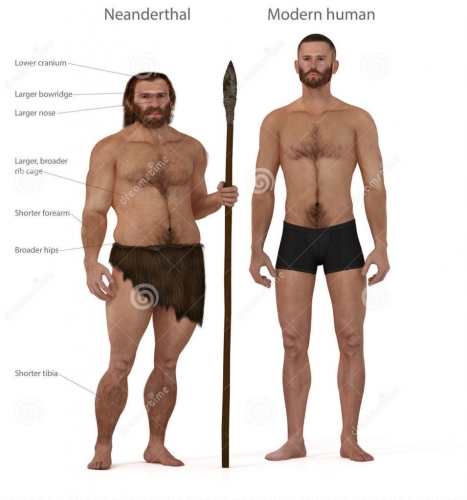 3 ? Homo dei
Pri tem prikazu manjka še najvišji ciklični pojav naše vrste HOMO DEI ,ki zaznamuje vsak VRH ponavljajočih 28000 letnih civilizacijskih ciklov. 4 galaktične letne čase po 7000 let . Vsi vemo,da se DNK molekula *življenja odziva na različne EM frekvence.Pri zemeljski flori nastopi dormanca pozimi,ravno tako pri favni kjer so bolj odločilne EM frekvence letnih časov Osončja v navezi z zemeljskimi... Ta isti pojav vpliva tudi na naš genom,tu so cikli /letni časi vezani na daljša 4X 7000 letna obdobja Galaksije.Primer : Neandertalec je ciklični pojav naše vrste takrat ko nastopi na Zemlji t.i. ledena doba /zadnja je nastopila pred cca 13000 leti/ in je praktično trajala do pred 7000 leti,ko je nastopila otoplitev.Tako se je človeški genom spreminjal 7000 let,da se je neandertalec preobrazil v homo sapiensa,sedaj vstopamo v t.i. galaktično poletje in se že tekoče preobražamo v homo dei- Veča se naša telesna višina,povprečna možganska prostornina in povprečn življenjska doba,ki bo kmalu 120 let.Vprašanje ,ki ostaja? Naša vrsta ima vedno tri obdobja psihofizičnih preobrazb znotraj posamičnega 28000 letnega vala.1.Neandertalec -se ob civilizacijskem dnu ledeni dobi/,začne preobražati v 2. homo sapiensa.Primer jame ob Roni,tam je znanost ugotovila,da se je samo v 100 letih pojavila očitna razlika v ostankih homo neandertalisa in homo sapiensa, kar pomeni,da na naš rod delujejo iste zakonitosti kot n vso floro in favno.1. Neandertalca lahko razumemo kot golo drevo v dobi dormance naše vrste,ki z otoplitvijo zbrsti,cveti- 2. homo sapiens in dokončno rodi- 3. homo dei,da bi zopet vstopil v obdobje dormance in ponovnega brstenja-cvetenja-do plodov.-ponavljajoči cikli itd. Z preobrzbo homo neandertalisa v homo sapiensa lahko začnemo govoriti v sedanjem 28000 civilizacijskem valu z ustanovitvijo prvih urejenih družb v pasu 30 S-J zemljepisne širine pred cca 7000 let.Rad bi spoznal tistega antropologa,ki si še vedno upa trditi,da imamo mi in primati istega prednika.Lp:)*