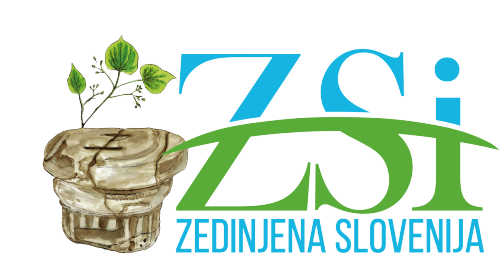 Gibanje Zedinjena Slovenija
SI - Miklavška ulica 26
2000 Maribor
Republika Slovenija
Tel.: 070 409 993
e-pošta: info@zedinjenaslovenija.si
Maribor, 12. 11. 2019
Okrožno državno tožilstvo v Ljubljani
Slovenska cesta 41
1000 Ljubljana
Zadeva: Kazenska ovadba zoper predsednika Republike Slovenije in generalno sekretarko Urada predsednika RS
Uradno registrirana politična stranka Gibanje Zedinjena Slovenija, ki jo zastopa predsednik Andrej Šiško, na podlagi utemeljenega suma, znanih dejstev in Kazenskega zakonika RS, pristojnim organom (ODT Ljubljana) vlaga kazensko ovadbo zoper:
1. Predsednika Republike Slovenije Boruta Pahorja;
2. Generalno sekretarko Urada predsednika RS Natašo Kovač;
zaradi utemeljenega suma storitve kaznivega dejanja po členu 131. (ali 141.; KZ je bil že tolikokrat spremenjen, in v raznih različicah objavljen na spletu, da ni povsem jasno, katera različica je danes veljavna) Kazenskega zakonika RS, ki se glasi
1. odstavek: »Kdor zaradi razlike v narodnosti, rasi, barvi, veroizpovedi, etnični pripadnosti, spolu, jeziku, političnem ali drugačnem prepričanju, spolni usmerjenosti, gmotnem stanju, rojstvu, izobrazbi, družbenem položaju ali kakšni drugi okoliščini prikrajša koga za katero izmed človekovih pravic ali temeljnih svoboščin, ki so priznane od mednarodne skupnosti ali določene z ustavo ali zakonom, ali mu takšno pravico ali svoboščino omeji, ali kdor na podlagi takšnega razlikovanja komu da kakšno posebno pravico ali ugodnost, se kaznuje z denarno kaznijo ali z zaporom do enega leta.«
3. odstavek: »Če stori dejanje iz prvega ali drugega odstavka tega člena uradna oseba z zlorabo uradnega položaja ali uradnih pravic, se kaznuje z zaporom do treh let.«
Obrazložitev:
Zgoraj navedena sta dne 4. 11. 2019 predsedniku uradno registrirane in delujoče politične stranke Gibanje Zedinjena Slovenija Andreju Šišku, onemogočila in prepovedala govoriti na javnem posvetu o pokrajinah, ki ga je priredil Urad predsednika Republike Slovenije. S tem sta oba kršila Ustavo Republike Slovenije (8., 14. in 39. člen) ter lasten Poslovnik Urada predsednika Republike Slovenije, ki določa:
II. Člen: »Posvet je javen«.
III. Člen: »Vsaka udeleženka oz. udeleženec posveta ima na voljo za stališče največ 5 minut. Besedo lahko dobi večkrat.«
V. Člen: »Daljša pojasnila za svoje stališče lahko udeleženec posveta pripravi pisno. Predsednik je dolžan pisni prispevek razdeliti drugim udeležencem in predstavnikom medijev.«
Vabilo na posvet k predsedniku RS, z naslovom »Je nastopil čas za pokrajine v Sloveniji?«, je bilo javno objavljeno na spletni strani Urada predsednika RS in sicer dne 22. 10. 2019.
V ponedeljek, 4. 11. 2019 ob 11.30 uri smo predstavniki Gibanja Zedinjena Slovenija prišli na javni posvet v Veliki dvorani predsedniške palače v Ljubljani, Prešernova ulica 8. Navzoči smo bili Andrej Šiško, predsednik ZSi, Anica Bidar, sopredsednica ZSi ter Miha Bidar, član ZSi. Na vhodu so nas sprejeli varnostniki, ki so zapisali naša imena in nam pokazali kje lahko odložimo svojo garderobo. Ko smo zatem hoteli nadaljevati pot po stopnicah do velike dvorane predsedniške palače, je do nas pristopila generalna sekretarka UPRS ga. Nataša Kovač in nam dejala, da na javnem posvetu pri predsedniku republike ne bomo mogli govoriti. Priča temu dogodku je bil predsednik parlamentarne SNS Zmago Jelinčič. Na naše vprašanje zakaj ne moremo govoriti na javnem posvetu, je Kovačeva odgovorila, da nismo bili povabljeni k temu s strani predsednika republike. Na nadaljnje naše vprašanje ali ne gre za javni posvet, nam je odgovorila, da javno pomeni medijske hiše oziroma novinarje.
Ker nismo želeli dodatno zapletati situacije, smo ji dejali, da lahko v skladu s Poslovnikom urada predsednika RS (5. člen) predamo naš pisni predlog k posvetu in potem niti ni potrebno, da bi govorili, saj morajo naše stališče kopirati in razdeliti drugim udeležencem posveta ter navzočim novinarjem. Generalna sekretarka ga. Nataša Kovač nam je zagotovila, da bodo to storili, mi pa njej, da ne bomo motili javnega posveta in nato smo odšli v Veliko dvorano palače, kjer smo ves čas mirno spremljali posvet.
Generalna sekretarka ga. Kovač je poskrbela, da je bil naš uradni predlog kopiran. V Veliko dvorano predsedniške palače ga je v več kopijah prinesel njen sodelavec in ji ga izročil na mizo. Ko je zatem ga. Kovač želela ta naš predlog razdeliti ostalim navzočim na posvetu in novinarjem v skladu s Poslovnikom UPRS, ji je to preprečil sam predsednik republike Borut Pahor. Nato je ga. Kovačeva naše kopirane uradne predloge dala v svojo mapo in jih ni razdelila kljub poslovniku in našemu dogovoru.
Kot dokaz navajamo video posnetke, narejene v predsedniški palači dne 4. 11. 2019 iz katerih se dobro vidi tako sam pogovor, kakor tudi dejstvo, da naš uradni predlog, kljub temu, da je bil kopiran in so ga prinesli v dvorano, potem ni bil razdeljen – https://www.facebook.com/andrejshishkozapredsednika.si/videos/712234449285944/.
Oba ovadena sta zato utemeljeno osumljena storitve kaznivega dejanja, da sta načrtno oz. naklepno kršila tako Ustavo RS (8., 14. in 39. člen) ter lasten Poslovnik z namenom, da sta predstavnike uradno registrirane politične stranke Gibanje Zedinjena Slovenija zaradi razlike v političnem prepričanju in družbenem položaju prikrajšala za človekovo pravico ali temeljno svoboščino, priznano od mednarodne skupnosti in določeno z ustavo - 39. člen: Zagotovljena je svoboda izražanja misli, govora in javnega nastopanja, tiska in drugih oblik javnega obveščanja in izražanja. Vsakdo lahko svobodno zbira, sprejema in širi vesti in mnenja.«, ter sta jim takšno pravico ali svoboščino dejansko tudi omejila. S tem je sum storitve konkretnega kaznivega dejanja tudi utemeljen.
Državno tožilstvo RS pozivamo, da po potrebi še dopolni kazensko ovadbo, v kolikor samo zasledi še kakšne druge znake kaznivega dejanja po kateremkoli drugem členu KZ RS.
V imenu politične stranke Gibanje Zedinjena Slovenija, zahtevamo, da nas državno tožilstvo sproti obvešča o vseh postopkih in dejanjih v zvezi s to kazensko ovadbo.
Osti jarej
Gibanje Zedinjena Slovenija
Predsednik
Andrej Šiško