To kar se dogaja pod Cerarjevo vlado, je resnično nedopustno.To je skregano z vso etiko in moralnimi vrednotami, prav to pa so oni pred volitvami zelo poudarjali. Kar spomnimo se koliko gnojnice in sovražnega govora je bilo usmerjeno proti nam, ki smo se na referendumu borili proti nesprejemljivemu Družinskemu zakoniku. Koliko sovražnih
besed je bilo namenjeno vsem nam, ki smo zagovarjali, da imajo tudi nerojeni otroci pravico do življenja.
Tu se je javno proti meni obrnil varuh gledalčevih pravic na TV Slovenija in varuhinja za človekove pravice. in drugi levi mediji.Koliko gnojnice in neprimernih besed je bilo izrečenih in napisanih. Niti eden od aktualne politike ni izjavil, da so zadeve šle predaleč. Vsi so jih, če ne glasno, pa tiho podpirali.
Enako se dogaja tudi danes. Ko so predstavniki Gibanja za otroke in družine v Državnem zboru predstavili naš predlog zakona, je ZL Miha Kordiš imel tak sovražni govor, ki resnično presega vse meje. Ko je ga Metka Zevnik zelo dostojanstveno predstavila naš predlog sprememb, je Kordiš nas zmerjal s cerkvenimi pajdaši, izrodki, krelikalci...In predsednik DZ Brglaz je bil tiho, saj to pa ni sovražni govor. Predstavniki Gibanja so potem protestno zapustili DZ, kar je edino pravilno. Prav je, da se mi na njihov primitivni nivo ne spuščamo. Vendar je nedopustno, da se take zadeve dogajajo v Državnem zboru po 25 letih demokracije.To je odgovorna vlada! Pa sem mislila, da so vsi tisti,ki so po vojni pobili mnogo ljudi, predvsem kristjanov in napolnili preko 6oo grobišč že pomrli, čeprav ni bil nihče obsojen. Pa sem se krepko zmotila, podmladki po dveh generacijah so povsem enako sovražni do drugače mislečih, še posebej do kristjanov.Gorje, da prav ti dobijo moč in oblast. V kakšnem strahu je živela generacija naših starše, to se ne sme nikoli ponoviti . Vedeli so,kaj se je dogajalo v Kočevju in drugje in niso upali o tem govoriti. Strah je bil prehud. Tudi nam naslednjim generacijam so vcepili ta strah, ki ga mnogi imajo še danes.Vendar vedite, da ti mračni časi se ne smejo nikoli ponoviti. In zato kristjani in vsi pošteni državljani glavo pokonci,javno spregovorimo kaj želimo. Povsod v svetu je prisotno več vere, kot v tej naši lepo Sloveniji, v kateri naši desni politiki niso pravočasno povedali, da se je njihov čas iztekel. Naša dolžnost je, da to storimo na naslednjih volitvah.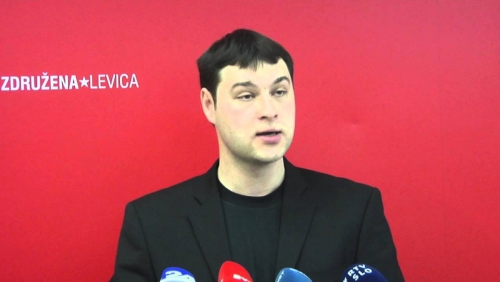 In kaj je največja hinavščina in sprenevedanje.Vsi politiki, od Pahorja, Cerarja, Bratuškove, Brgleza se udeležijo maše za domovino in upajo sedeti v prvi vrsti. Križa pa ne zmore noben narediti, če tega ni v srcu je prav, da to pokažejo. Oni gredo v cerkev z enim samim ciljem, da bi naivne kristjane prepričali, da so pravi-celo verni. Gre se jim za glasove. In nekateri kristjani, ki premalo spremljajo njihova sprevržena dejanja jih ob volitvah volijo .Spoznajmo, da je to njihovo dejanje zelo podlo. Najprej naj pokažejo pošten in enakopraven odnos do nas kristjanov, potem pa naj pridejo v cerkev. In prav vsi ti so šli v Rim k papežu, le po kaj. Bratuškovo pa v DZ javno zelo napada cerkvi., ob tem pa ne pove, da so cerkvi neupravičeno odvzeli imetje. Sedaj pa namerava v Rim k papežu na obisk še predsednik DZ Brglez.
Prav on, ki dovoli, da v parlamentu Kordiš grdo žali predstavnike Gibanja za otroke in družine in vse kristjane. Doma nas kristjane povsem ignorirajo, ponižujejo in zmerjajo.Najprej naj spremenijo odnos do kristjanov in naj nam nam priznajo, da imamo tudi mi enake pravice in, če javno pokažemo, da smo kristjani, takoj dobimo črno piko. Prav kristjane liberalci ne bodo nikoli zmožni postavljati na odgovorne naloge.Niso pripravljeni do nobenega sodelovanja in priznavanja naših pravic, da bi lahko otroke v vrtcih in šolah vzgajali v skladu krščanskimi vrednotami, pač pa pošiljajo v naše vrtce in šole LGBT Kljub temu, da je ustavno sodišče z odločbo odločilo, da mora država 100% financirati katoliško osnovno šolo, liberalci tega ne storijo. Pa še recite, da nimamo dvojnih državljanov. Kakšna dvojna morala! V Sloveniji biti kristjan ni lahko a vendar je lepo. Saj kristjani vemo, da pri vsem našem delu nas vodi, usmerja, daje pogum in voljo Bog. Vesela sem, da sta g. Aleš Primc in ga. Metka Zevnik ustanovila Gibanje za otroke in družine, kateremu smo se pridružili v velikem številu. In pravilno sta ugotovila, če hočemo v Sloveniji zadeve pričeti spreminjati v pravo smer moramo biti prisotni v DZ. In zato bomo ustanovili stranko GLAS za otroke in družino. Osnovno vodilo za delo v stranki bodo krščanske vrednote v skladu z 10 Božjimi zapovedmi. Velik pomen pri našem delu bo imela Sveta družina. Naše molitve bodo namenjene vsem našim družinam, da bi se z veseljem odločali za novo življenje, saj je nas Slovencem mnogo premalo. Vsi kristjani, pa ne samo kristjani, vsi pošteni državljani in državljanke, ki še vedno čutimo ta politični pritisk preživelega -prejšnjega sistem, prišel je čas, da po 25 letih politični sistem resnično zamenjamo v skladu z našimi vrednotami. Priznavanje vere, poštenosti, delavnosti, pravičnosti...To pa bomo dosegli le na način, da na prihodnjih volitvah gremo v zelo velikem številu na volitve in volimo novo stranko GLAS, saj je edina, ki pri svojem delu na prvo mesto postavlja Boga. Ko smo spremljali volitve v Združenih državah Amerike, smo lahko začutili prisotnost vere, cerkve, duhovnikov, Svetega pisma.V Sloveniji pa po 25 letih samostojnosti še vse grdo zaudarja po enopartijskem sistemu, ki so lahko govorili le eni, saj so me pred kratkim izobčili, zaradi izjave v Tarči, nikoli več ne smem nastopati v javnosti , na TV. Prav nič me ni prizadelo, ker zaupam v Božjo moč in pomoč.Tudi vam, spoštovana liberalna vlad glasno povem, vaš se čas izteka. Pa ne bom porabila nobenih grdih besed,
Prepričana sem, da bo po naslednjih volitvah vse drugače!