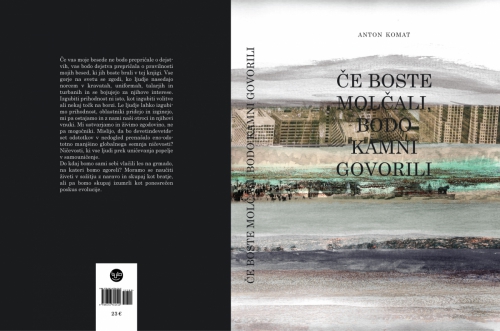 ČE BOSTE MOLČALI, BODO KAMNI GOVORILI (prvi esej)
GESLO KNJIGE:
»Nihče ni odnesel cele kože, ne poraženci, ki so videli uničenje svojega sveta, ne zmagovalci, ki niso nikoli v celoti uresničili svojih stremljenj. Oboji so morali graditi nov svet na skupnih ruševinah.«

Carlos Fuentes
To so naši predniki že doživeli, po padcu rimskega imperija, ko je svet za več stoletij potonil v čas brez zgodovine, v dobo teme. Preteklost ni pozabila na nas!
ČE BOSTE MOLČALI, BODO KAMNI GOVORILI (prvi esej)
»Ni dovolj vedeti, moramo uporabiti.

Ni dovolj želeti, moramo delovati!«

J. W. Goethe
»Sveta ne bodo uničili tisti, ki počnejo zlo,

temveč tisti, ki jih gledajo, ne da bi ukrepali.«

Albert Einstein
»Premakni se, da te ne premaknejo drugi!«

Zaratrustra
»Če bomo molčali, bomo imeli lepega dne vsi verige na rokah«

Milan Kundera
»Tisti, ki ne bodo mogli razumeti, bodo umrli;

tisti, ki bodo razumeli, bodo živeli.«

Chilam Balam, knjiga Majev
Če vas moje besede ne bodo prepričale o dejstvih, vas bodo dejstva prepričala o pravilnosti mojih besed, ki jih boste brali v tej knjigi. Vse gorje na svetu se zgodi, ko ljudje nasedajo norcem v kravatah, uniformah, talarjih in turbanih in se bojujejo za njihove interese. Izgubiti prihodnost ni isto, kot izgubiti volitve ali nekaj točk na borzi. Le ljudje lahko izgubimo prihodnost, oblastniki pridejo in izginejo, mi pa ostajamo in z nami naši otroci in njihovi vnuki. Mi ustvarjamo in živimo zgodovino, ne pa mogočniki s svojo heraldično perutnino orlov in sokolov ter zverinjaki levov in panterjev. Trenutno bivakirajo na Kajmanskih in Deviških otokih. Z nravjo kajmanov bi radi postali device, iz kanibalov svetniki in iz baziliskov dobrodelniki. Sveta preproščina. Mislijo, da bo devetindevetdeset odstotkov v nedogled prenašalo eno-odstotno manjšino globalnega semnja ničevosti? Ničevosti, ki vse ljudi prek uničevanja popelje v samouničenje.
Do kdaj bomo sami sebi vlačili les na grmado, na kateri bomo zgoreli? Moramo se naučiti živeti v sožitju z naravo in skupaj kot bratje, ali pa bomo skupaj izumrli kot ponesrečen poskus evolucije. Da, bratstvo. Edino, kar nam je preostalo od gesel francoske revolucije,
Svobodo nam je izničil kapitalizem, enakost komunizem. Ostalo nam je le še bratstvo.
Nekdaj je Moskva oznanjala kolektivizacijo, danes nam Zahod vsiljuje privatizacijo. Komunistični režim ni bil nič hujši od kapitalističnega realizma. Oba sta totalitarna, prvi je temeljil na političnem, drugi pa na eksistenčnem strahu, oba hkrati pa na istem produkcijskem načinu, zato je prvi že propadel, drugi propada. Kapitalizem rasti umira, tako kot je umrl komunizem rasti. Podobna sta si kot dvojčka in oba kažeta nazaj v preteklost. Človeška dejavnost je pri obeh našla svojo končno zunanjo mejo v naravi.
Nič novega pod soncem.
V Zatonu Zahoda je Oswald Spengler zapisal, da je zahodna civilizacija iztrošena in da prehaja v cono somraka. Pot k zlomu in propadu, destrukcija in avtodestrukcija, je vse, kar je ostalo tej zavoženi civilizaciji. Vsaka kultura gre skozi starostne stopnje posameznega človeka. Vsaka ima svoje rojstvo, otroštvo, mladost, svojo zrelost in svojo starost. Vsak zahodni otrok v budnih sanjah in otroških igrah še enkrat doživi lovsko in nabiralniško dejavnost, čas bojevnikov, gradove in katedrale, viteške turnirje in junaške pripovedke, raziskovanja neznanih dežel in velikih skrivnosti sveta. Za nami so stoletja krvavih revolucij in kontrarevolucij. Ali sedaj res živimo v najboljšem izmed vseh svetov ali je res konec zgodovine? Ali je to imperativ brez alternativ, nujna je vrnitev v zgodovino, občutek pripadnosti zgodovinskemu toku, kjer nas čaka neizogibno soočenje z zlom in odprava tega zla. Kolektivna akcija je edin način dviga kakovosti življenja in reševanja velikih problemov preživetja vsakega posameznika. Po štirih stoletjih kopičenja izobilja moramo konstruirati novo paradigmo stabilnosti, temelječo na ekoloških premisah, namesto na materialističnih, sebičnih, hedonističnih in antropocentričnih zablodah. Zdajšnje vrednote in institucije ne bodo obstale, če hočemo ostati ljudje. Nujen je premik iz empiričnega k metafizičnem. Svet je preveč zapleten za razum. Odgovoriti moramo na temeljno vprašanje, kako živeti v mejah sveta, ki smo ga podedovali in katerega del smo.
I.
Svet leži med Nietzschejevo dobo, v kateri so se občutili še zadnji vzgibi romantike, in sodobnostjo, ki je dokončno ločena od kakršnekoli romantike. Nietzsche je v Zaratrustri sijajno formuliral ustvarjalno življenjsko voljo, ki je zaradi Marxa postala povod za nacionalno ekonomsko hipotezo, zaradi maltuzijanca Darwina pa povod za zoološko hipotezo in obe sta povzročili vrsto tragičnih koncepcij enakega tipa.
Spengler piše o prehodu od kulture k civilizaciji, ki je v antiki potekal v 4. Stoletju, na Zahodu pa se je začel v 19.stoletju. Značilnost sedanjega prehoda je, da ne nastajajo več pomembne duhovne stvaritve. Razen nekaj velemest, je vse ostalo provinca – namesto ljudstva, zraslega z zemljo in z velikim bogastvom form, prevladujejo prebivalci velemest, novi nomadi, inteligentni paraziti, ljudje dejstev brez tradicije, drhal brez etike in morale, družba namesto države, socialna mreža razpadla v prah posameznikov, med katerimi velja edino obsedenost z denarjem. Značilen je zaton umetnosti in naraščajoč dvom v znanost. Čas genijalnih matematikov, fizikov, biologov in kemikov je nepreklicno minil.
Moja nova knjiga "Če boste molčali, bodo kamni govorili", bo javno
predstavljena na Forumu slovenskega knjižnega sejma, v sredo,
25.11.2015, ob 14.uri. Pogovor z avtorjem bo vodil dr. Samo Rugelj
Sledi še 5 izsekov