... točka bifurkacije. Družba obtiči in postane izjemno nestabilna v vsaki točki samoorganizacije. Že majhen sunek od zunaj lahko podre njeno ureditev, da pride do zloma, do kolapsa. Potem se družba na novo samoorganizira na nižji stopnji kompleksnosti ali pa jo po svoje preuredijo barbari. Prav zato je zgodovina propada Rima tako poučna za današnji čas.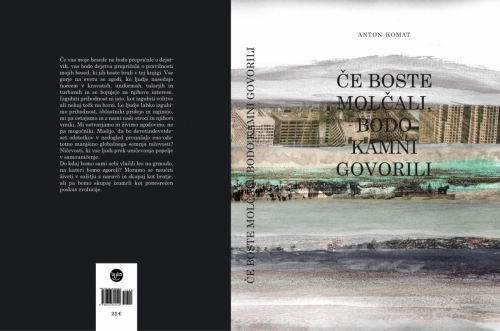 Marca, leta 2014, je Goddard Space Flight Center pri NASA objavil neodvisno študijo, ki je nato izšla v elitni reviji Elsevier Journal. Študija napoveduje neizogiben kolaps globalne industrijske civilizacije, katerega temeljna vzroka sta ropanje naravnih virov in nepravična delitev družbenega bogastva. Uporabili so nov transdisciplinarni model HANDY (Human and Nature Dynamical Model), ki je obravnaval vse velike probleme sveta: hrano in vodo, energijo, klimatske spremembe in populacijsko dinamiko. Brez takojšnjih radikalnih sprememb je propad Zahoda neizbežen. Podan je skrajni rok za ukrepanje, in sicer petnajst let. Smo zreli za nujne družbene spremembe ali nas bo reorganizirala katastrofa? Če boste molčali, bodo kamni spregovorili.
Tako ustvarjalna vrsta, kot je lahko naša, bi vendarle morala najti način, da doseže ravnovesje z uporabo modrosti in poguma.
Pomembna je razmejitev s preteklostjo, a ne v pozabljanju napak in zločinov, temveč v spoznanju, da smo, kar smo, samo zato, ker imamo skupno preteklost, in da moramo sodelovati, če hočemo imeti tudi skupno prihodnost. Izostren problem preživetja nas sili k resnemu razmišljanju o naših prioritetah. Ne poslušajmo več strokovnjakov, ki najenostavnejše človeške probleme nadomeščajo z nekoristnimi teorijami in človeško življenje kot celoto z naivnimi modeli. Ali lahko dopustimo, da smo še naprej pod vplivom »znanj«, ki preprosto ne priznavajo najpomembnejših motivov za mir, ljubezen, sočutje, občutek za svetost narave in naravnega življenja, ter s tem nosijo soodgovornost za opustošenost našega planeta in opustelost naših življenj? Ekonomisti so nam doslej odgovarjali tako, da so razglašali za utopiste in neodgovorneže vse, ki smo ugotavljali znake krize temeljnih razmerij z naravo, ki so prvi pogoj tudi vsakršnih ekonomskih dejavnosti. Toda nenehne rasti družbene produkcije ni mogoče nadaljevati brez katastrofe. Kapitalizem razvija le tehnike, ki so v skladu z njegovo logiko in so združljive z njegovim gospodstvom. Brez boja za drugačne tehnologije je zaman vsakršen boj za drugačno družbo. Temeljni pogoj za spremembo družbe je sprememba orodij, razvoj prostovoljne kooperacije, uveljavitev in opolnomočenje lokalne skupnosti in posameznikov, ki jo sestavljajo na ravni četrti, krajevne skupnosti ali občine. Temelj tega je poudarjena samostojnost lokalnih in regionalnih skupnosti.
Moramo prepoznati grenko ugotovitev, da je prepozno za trajnostni razvoj. Potreben trajnostni umik v obrambi kulture in preprečevanja zdrsa v kaos. Morda je bil trajnostni razvoj pred desetletji še uporabna paradigma, danes je zgolj romantično sanjarjenje. Toda o trajnostnem razvoju še vedno govorijo politiki. Moram priznati, da sem v primerjavi s poslanci v parlamentu popolni amater. Vsaka njihova šala postane zame zakon in vsak njihov zakon mi je šala. Sprašujem se, ali nam vladajo pametni ljudje, ki se šalijo, ali norci, ki mislijo resno? Dejstvo je, da ljudje delamo samo še zato, da preživimo, ne da živimo. Kajti profit, ki je uničil življenje ljudi, nažira njihovo golo preživetje, zato smo dolžni pripraviti in izvajati lokalni načrt preživejta, katerega temeljni cilj je samooskrba z osnovnimi biotskimi potrebami človeka. To pa so bivališča, lokalna proizvodnja osnovnih dobrin preživetja in virov energije, hrana in voda, zdravstveno varstvo in šolski sistem. Za zagotavljanje teh osnovnih sposobnosti preživetja ljudi se kršijo lahko tudi zakoni. Pravičnež je sam sebi zakon, piše na steni katakombe v Rimu.
Resnica je, da je za reforme obstoječega sistema prepozno in da trajnostni razvoj ni več mogoč. Če nam lažejo in so nasilni, je to zgolj dokaz, da se nas bojijo. Mi predstavljamo prihodnost in proti prihodnosti ne pomaga nobeno orožje preteklosti.
Vitomil Zupan je že pred desetletji napisal: »Veliko bo treba podreti do tal, razdejati v ruševine. Razkrili se bodo stropi centrov moči in vse oči bodo videle, kaj je tam notri. Nekaj posranih debeluhov, ki imajo zavaljene riti. Bežali in cvilili bodo tisti, ki so bili še včeraj strah in trepet.«
Živimo v času sistemske tranzicije, bifurkacije, ko se bo svetovni sistem premaknil v eno izmed vsaj dveh različnih smeri, proti novemu redu, ki se bo izcimil iz kaosa, ki ga trenutno preživljamo. Kako dolgo bo to trajalo? Tega ne morem napovedati z gotovostjo. Tudi izida ne morem natančno napovedati. Nihče ga ne more. To je inherentno nemogoče. Lahko pa opozorim na zgodovinsko izbiro, ki je pred nami. Izbiramo lahko med sistemom, ki bi dokončno zaostril vse najslabše poteze sedanjega, torej med totalitarnim sistemom z izrazito neegalitarno hierarhičnostjo ter socialno in ekonomsko polarizacijo na eni strani, in novim sistemom, ki bi bil demokratičen in relativno egalitaren, na drugi strani. Ne moremo napovedati, katera stran bo zmagala, vsekakor pa si lahko prizadevamo za eno ali drugo. Ob tem ne pozabimo, da bosta prihodnost pisali dve roki, roka poguma in roka strahu.
Številni naravni pojavi so nam popolnoma nerazumljivi in jih s klasično reduktivno znanstveno metodo nikoli ne bomo mogli pojasniti – med temi pojavi so življenje in kreativne sile narave, fraktalna podoba evolucije, epigenetika, zavest, deterministični kaos, pa cela vrsta opažanj v kvantni fiziki in astronomiji. Zeleni planet je kozmično jajce življenja, ki je razvilo izjemne homeostatske mehanizme, ki se izpopolnjujejo že milijarde let. Sledimo naravi, kajti Gaja bo na koncu izločila tiste, ki ne spoštujejo njenih pravil. Vedno pride čas, ko veliki korektor poskrbi, da bo svet spet urejen in čist. Sistem samouravnavanja planeta se je razvijal iz tistih organizmov, ki svojemu potomstvu zapuščajo boljše okolje, izločeni pa so bili organizmi, ki so svoj življenjski prostor uničevali. Na žalost moramo ugotoviti, da ta čas nismo nič bolj usposobljeni za gospodarjenje z Zemljo, kot kozli za vrtnarjenje.
V začetnih stadijih razvoja ekosistema se pretok energije povečuje, ker je uporabne energije v izobilju, ko pa nove vrste začnejo zapolnjevati proste habitate, se morajo prilagoditi končni nosilni kapaciteti okolja, pri tem pa koristijo manjši pretok energije in tega na bolj učinkovit način. Zgodnja faza je faza kolonizacije, sledijo sukcesije, ki se zaključijo s klimaksno združbo. Homo sapiens mora preiti iz faze kolonizacije v klimaksno fazo svoje evolucije. Sedanja kriza je kriza prehoda, nujne tranzicije v klimaks. Če tega ne postorimo, nas čaka usoda bitij, ki jim to v evoluciji ni uspelo. Evolucija je tlakovana z izumrlimi vrstami in noben problem ni, da se mi ne bi uvrstili mednje. Vsaka vrsta ima samo eno evolucijsko priložnost, in če jo zakocka, sledi izumrtje. Narava nas opozarja: »Čez vse, kar počneš, bom pustila rasti travo!«
Zato potrebujemo moške in ženske, ki bodo prenovili življenje in obnovili družbo. Pomembno je zgolj to, kar moramo storiti. Ali res želite nadaljevati ta malce bolj zakomplicirani kolektivni samomor?
V vsakem primeru je človek usojen samemu sebi, rešitev je v odkritju njegove resnične duhovne narave. Treba je gledati onstran materialnosti, videti v človeka. V njegovo dušo!
Moja nova knjiga "Če boste molčali, bodo kamni govorili", bo javno
predstavljena na Forumu slovenskega knjižnega sejma, v sredo,
25.11.2015, ob 14.uri. Pogovor z avtorjem bo vodil dr. Samo Rugelj