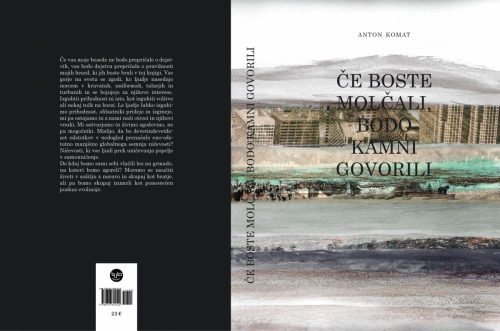 Človek živi v dveh svetovih. Svet notranjega je tako neskončen kot svet zunanjega. Človek ne spada samo v zunanji svet, ampak tudi v čudežni svet svoje duše. Stvari same nič ne pomenijo, pomen imajo samo v nas. Mi ustvarimo pomen stvari.
Potikam se skozi gozd in upogibam mladje, občudujem mogočna drevesa, nagovarjam gozdna bitja in kamni mi kažejo pot. Veter šelesti v krošnjah in sonce migota v rosi jutra. Če sem žejen, grem k izviru, kjer slap šumi po skalovju. Če sem lačen, si poiščem sadeže zemlje, ki v polnosti rojevajo zlata semena. Na tej poti ne gre nihče z mano in jaz nikomur ne prečkam poti. Samoten sem, a svojo samost izpolnjujem s svojim življenjem. Ptica duše se me je dotaknila.
Človek ne bo srečen in zdrav, dokler ne bo skupaj z naravo živel v sedanjosti, iznad časa.
Jung v »Rdeči knjigi« piše: »Toda, kaj je to, kar prinaša rešitev? Vedno je nekaj prastarega in prav zato novega, kajti nekaj davno minulega, kar se danes znova vrne v spremenjeni svet, je nekaj novega. Roditi v neki čas to, kar je prastaro, je stvaritev. To je stvaritev novega in to me odreši. Duša človeštva je kot veliko kolo, ki se kotali po poti. Nobenega dela kroga ni, ki se ne bi vrnil. Zato spet priteče vse, kar je kadar koli bilo, in kar je kadarkoli bilo, bo znova obstajalo. K bitju, ki se premika naprej, spada, da se to, kar je preteklo spet vrne. Ni smisel v neskončnem vračanju enakega, ampak v načinu njegovega ponovnega stvarjenja v času.« To je zapisal verjetno največji poznavalec človeškega duha.
Tistim, ki želijo osvajati in potrebujejo orožje, sporočam: »Ničesar ne boste osvojili za dolgo. Že jutri se bo vaša moč spremenila v prah, kajti smrti ne boste nikoli premagali! Ne bodite norci in odložite orožje, kajti vsak, ki si za cilj vzame uničevanje, bo pokončan zaradi samouničenja!« Nehajte že enkrat, to je blaznost!
Imeti moramo moč živeti sami s sabo, in ne na račun svojega bližnjega.Če živite po zgledu, živite življenje svojega zgleda, toda kdo bo živel vaše življenje, če ne vi sami? Zatorej živite sami sebe in na pot življenja naj vas vodi hrepenenje. Vsak naj išče in najde svojo pot. Pot človeka pa vodi k vzajemni ljubezni v skupnosti. Edini napredek je napredek srca. Ni bolj pokvarjenega stvora, kot je intelekt, ki nadomesti srce.
Čutiti se moramo tesno povezani z vsem, kar je. V tem je olajšanje, ki ga prinašajo ideje velikih združitev. Seveda je idej združitev cela pahljača, od rodbinskih in rodovnih prek družbenih tja do velikih panteizmov in pojmovanj kozmične zavesti, kjer je vse živo in neživo – VSE.
Začutimo naravo, sledimo ji in jo vzemimo kot učiteljico. Tu je, vsepovsod okrog nas, velikanski muzej brez urnikov in čuvajev, univerza življenja, odprta za vse in s predavanji ob vseh urah dneva in noči. V naravi najdemo rešitve za vse naše probleme. V njej je nekaj intimno svetega, česar se človek še ni dotaknil, da bi izkoristil za svoje namene. Narava vzbuja občutke veličine, njena neizmerna lepota je tu za vse. Kdo lahko odnese barve sončnega zahoda ali lepoto gorske pokrajine? Vse, kar smo pozabili, bo v nas ponovno oživelo. Vse, kar se nam zgodi, ima nek pomen, čeprav ga pogosto ne zmoremo prepoznati. Priznati moramo, da obstaja skrivnost in da je naš um ne zmore doumeti. Zavest, ki je nad vsemi zavestmi, kozmična zavest, ki povezuje vse vesolje in brez katere ne bi bilo ničesar.
Upanje je zadnje ostalo v Pandorini skrinji, vendar je upanje najhujša izmed vseh nesreč.
Lažno upanje, da bo kdorkoli karkoli postoril namesto nas. Lažno upanje samo podaljšuje človekovo trpljenje. Ne moremo nazaj k staremu, kajti zažgali smo ladje, na katerih smo pripluli v sedanjost, preostane nam le, da smo pogumni, ne glede na to, kaj se bo izcimilo iz tega.