Ujet si v zanko pričakovanja-odvisnost-strah-nasilje. Nenehno nekaj pričakuješ (si želiš, da bi bilo), zato postaneš odvisen od razpleta, ali se bo to izpolnilo ali ne. Vsaka odvisnost pa sproža tesnobo in strah, ki se zažirata v duše ljudi in povzročata njihovo nasilnost. To se dogaja v času razglašene svobode posameznika. Vzrok je jasen, posameznik ne korenini več v skupnosti kot drevo v gozdu, ampak drvi po tirnicah »vlaka groze«. Osamljeni človek zunaj skupnosti izgubi tla pod nogami in pred to stisko poskuša pobegniti v virtualni svet interneta, mobijev in iluzije »fejstbuka«. Toda, svoboda na internetu je dvorezen meč, hkrati sijajno orodje in nevarno orožje za pacifikacijo ljudi in njihovo zasužnjevanje znotraj brezčutnega elektronskega sveta. Številni pobegnejo v nakupovalne centre, templje malika mamona, vendar tudi tam ne najdejo notranjega miru, kvečjemu so prizadeti in potrti zaradi pretanke denarnice. Beg v privide obilja pa nikoli ne odvrne tesnobe, ki se kot demon plazi v naše srce, moreči strah pred grozečo apokalipso.
Podoba propada sveta, ki je v rokah človeka in odvisna od njegovih odločitev, je nekaj povsem novega. Svet je danes kot ogromen skedenj sena, v katerem se otroci igrajo z vžigalicami. Prej so bile te zadeve predmet odločitev bogov, ogenj je prihajal od zgoraj in ne od spodaj. Vendar ima katastrofa svoje mesto in svojo nalogo v svetu. Ni le znamenje tega, da je red moten, temveč tudi tega, da se hoče red ponovno vzpostaviti. Propad sedanje civilizacije bi probleme izbrisal in odprl prostor prenove, vendar zla slutnja sprememb in družbenega kaosa omrtviči ljudi.
Nietzsche je preroško zapisal, da prihaja čas držav monstrumov. Nedvomno je najgrozljivejši obet gospostvo tehnokracije z umetno inteligenco in popolnim nadzorom ljudi, totalitarizem nasilja in strahov, ki so že od nekdaj bistvo vladanja. Že sedaj je način življenja podoben dirki na vse ali nič,
čas totalne mobilizacije, ki si prilašča vse sile in rezerve, s katerimi razpolaga življenje. Za duha, ki ni rojen v ta ritem, je to čas norosti. Vse več je novih načinov vdora države v zasebno sfero pod krinko zdravstvenega in socialnega skrbstva, šolstva, zaposlovanja, predvsem pa državne varnosti in borbe proti terorizmu. Venomer se zlorablja pravo. Pravo temelji na resnicah, ki jih pravno ni vedno mogoče definirati. Zato se v enakem obsegu, kot izginja resnica, bohotijo zakoniki. Oblast, ki posiljuje ljudstvo s številnimi zakoni, preprečuje ljudstvu, da bi razvilo dejavnosti, ki so lastne njegovi naravi, zato postane prebivalstvo ubožno. Politika piše zakonike, sodstvo pa sledi politiki, kot jastrebi slede vojaškim kolonam. Politika pa sledi korporacijam kot zvesti pes svojemu gospodarju. Zlo izvira iz korporacij in bank, ki so danes materializirani pohlep in globalna moč. Kako se torej lotiti tega Leviatana sedanjosti?
članek se nadaljuje jutri zvečer ob istem času
VABILO: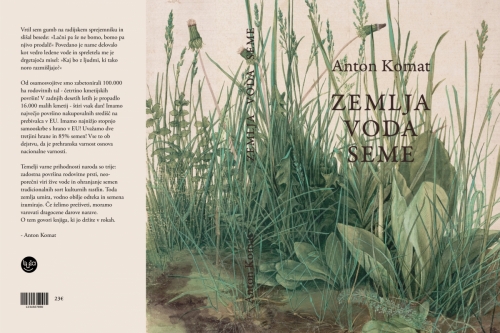 Vabim vas na predstavitev moje nove knjige po imenu ZEMLJA VODA SEME. Predstavitev knjige bo na Forumu 33. Slovenskega knjižnega sejma v Cankarjevem domu, v soboto, dne 25.11.2017, ob 16. uri. Pogovor s pisateljem bo vodil pater dr. Karel Gržan.