Od današnjega dne se bomo veliko pogosteje slišali in brali. Po letu dni gradnje orodij za izdelovanje spletnih strani, ki so obenem del družbenega omrežja PublishWall, smo pričeli množičneje odpirati spletne strani in novičarske portale na našem sistemu.
Nezadržno se bliža tudi novi PW sistem, ki ga že dalj časa najavljamo. In ker se na platformi nove spletne strani odpirajo že skorajda vsakodnevno, je čas, da o našem delu spregovorimo tudi javno.
Pa začnimo: pred dobrimi tremi meseci je bila odprta spletna stran Cenzura.si, ki je namenjena objavam, ki jih mediji, predvsem MSM iz različnih razlogov cenzurirajo.
S klikom na sliko vas bo preusmerilo na spletno stran cenzura.si.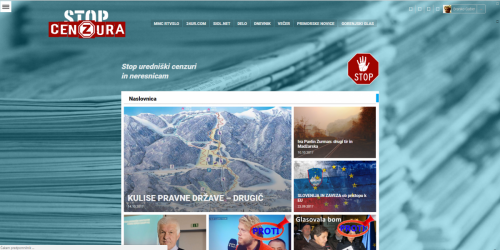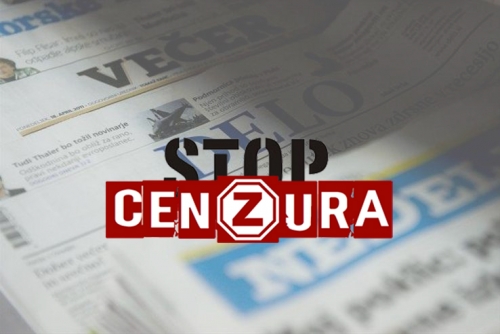 Takole so napisali ustvarjalci spremno besedo mediju na pot:
Ob presnavljanju medijskega prostora se spreminja tudi odnos do različnih sporočil, ki prihajajo do javnosti. Trda uredniška politika se umika pluralnosti in odprtosti. Nekateri uredniki počasi spoznavajo, da z odprtostjo in zapisovanjem dogajanj v družbi ostajajo v kontaktu z bralstvom, drugi uredniki se trudijo biti poslušni svojim lastnikom.
Zakaj prihaja do tega pojava? Zato, ker je uredniška politika vodena s tiho roko samocenzure. Prikrivanje ali izkrivljanje informacij je tehnologija, ki jo navidezna stroka goji in razvija. Razvija se tehnika izkrivljanja vesti in poročanja brez vesti in morale, kaj šele etike.
Nekateri novinarji tega ne zdržijo in začno objavljati na načine, ki so jim dorasli. Danes je elektronski medij kot nalašč za take izhode v svobodno izmenjavo mnenj. Vzgoja novih kadrov po principu »one way thinkig« in sistem usmerjanja družbe z usmerjenimi informacijami se poslavlja. Izobraževanje in diplomanti bodo na prostem trgu informacij preverili sami sebe ali je sploh potreben in primeren način vodenja družbe preko posvečenega statusa, ki to ni.
Poznamo stanja, da ob posameznih dogodkih oblast preko PR služb pritiska na urednike tako, da se določeni dogodki ali razplamtijo ali pa jih enostavno ni. Taka uredniška politika je v prejšnjem stoletju pripeljala na oblast nacional-socializem in druge oblike -izmov.
Ob objavah novic se praviloma pojavlja tudi mnenje podpisanega novinarja ali kar mnenja uredništva. Tako se velikokrat zgodi, da novinar namesto, da objavi informacijo že komentira, izraža mnenje o dogodku. Veliko je odzivov bralcev ob takih objavah, tako neposredno ali posredno prizadetih, uredništvo pa odzivov ne more, ne želi ali noče objaviti. Odziv bralcev na neodziv uredništev pa se odraža v pospešenem zmanjševanju naklade takih para državnih medijev. Postavlja se temeljno vprašanje, kako lahko urednik nekega medija objavi mnenje o nekem dogodku, hkrati pa ne dovoli ali z različnimi izgovori ne objavi mnenja prizadetih?
Namen internetnega časnika CENZURA.SI je v tem, da vsem prizadetim omogočimo objavo različnih mnenj zato, da celovita informacija pride do vsakega zainteresiranega. Postavili bomo ogledalo vsem izbranim apologetom razvoja družbe zato, da se odpre javni dialog.
Urednikom in drugim, ki zagovarjajo določene politike preko medijev na račun bralcev bomo omogočili, da se odzivajo korektno v vseh primerih in na enak način. V kolikor bo kdo od bralcev njihovega medija prizadet in se bo odzval, bodo morali objaviti odziv prizadetega v 48 urah. Če tega ne bodo storili, je prostor odprt na našem mediju v elektronski obliki. Bralec bo samo predložil dokaze v elektronski obliki in potrdil z izjavo, da so vsi podatki verodostojni in da so vsi podatki resnični. S tako izjavo bo prevzel polno odgovornost za podatke v skladu z zakoni RS.
Z IT medijem CENZURA.SI bomo napravili majhen korak proti popačenju zapisovanj dogajanj v družbi. Ne bomo se spuščali v odpiranje novih tem ali zapisovali dogodke. To ni naš namen. Skupaj z bralci se bomo samo odzivali in sporočali širši javnosti, kateri mediji imajo težave s poročanjem in ali so zmožni zagotoviti primeren nivo demokratičnosti. Nivo demokratičnosti bomo merili glede na odzive njihovih bralcev. Izrazili jo bomo s stopnjo usmerjanja informacij posameznega glasila, ki jo bomo izmerili vsake pol leta tako, da bomo izračunali Indeks verodostojnosti. Izračunan bo glede na obseg pripomb v primerjavi z obsegom zapisov v posameznem mediju. Indeks verodostojnosti bo izražen v razliki od vrednosti 1 zmanjšan za desetkratnik izračunanega razmerja pripomb. Vsem medijem želimo, da bo njihov indeks blizu 1,00. V primeru, da se bo pojavil plaz naročenih ali distribuiranih pisem bomo take pojave ovrednotili z ekspotencialnim zniževanjem
Skupaj z Vami, spoštovani bralci in spremljevalci medijev v Sloveniji napravimo odprt javni prostor in pokažimo na zablode in stran poti v komuniciranju.