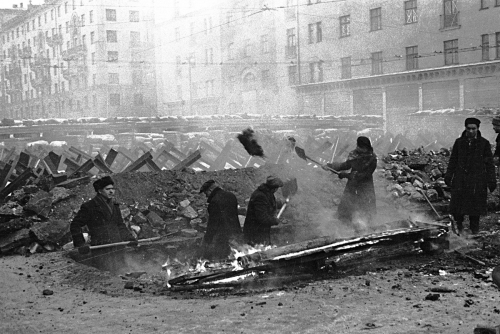 Aleksander Ustinov/Sputnik
V svojem dnevniku je Nikolaj Verzbicki, ki je med vojno živel v Moskvi, takole opisal 7. november 1941: »Mračno praznovanje obletnice oktobrske revolucije. Na ulici demonstracija – 200 mož in žena z lopatami in lomilci. Hladno je, vetrovno, močno sneži. Dolge vrste za krompir in kruh. Radio se je zjutraj pokvaril, pravijo da Nemci motijo signale. Na Rdečem trgu je v paradi sodelovalo več sto tankov, kar je moskovsko javnost malo umirilo. A nekateri pravijo: 'Zakaj so ti tanki na paradi, morali bi biti na fronti!' Stalin je rekel, da bo vojna trajala več mesecev, pol leta, morda leto … «
Da bi zakrili strateško pomembne tovarne, so morali ponekod izdelati njihove kopije. Prav to je delovalo na primer v Nižnem Novgorodu, kjer so na obrobju mesta postavili maketo iz stekla in trdega kartona. Ponoči je maketa zagorela, saj so nanjo padle mnoge nemške bombe, ki so zgrešile pravo tovarno.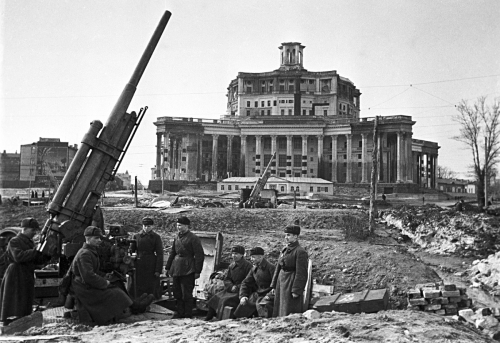 Oleg Knorring/Sputnik
Na splošno je Moskva utrpela 95 nočnih in 30 dnevnih zračnih napadov, ki jih je izvedlo 7.200 bombnikov. Prebivalstvo je bilo zadolženo za različne naloge. Nekateri so gasili zažigalne bombe, kot se spominja Tamara Ribakova: »Bombe so padale blizu nas, zadele so tudi streho naše hiše. Gasili so jih odrasli, ki so stražili na strehi, moja mama je bila med njimi. Po vsakem bombardiranju smo s prijatelji odšli na ulico, pobirali ostanke razbitin, jih zlagali v vreče in jih dostavljali k zbirnim točkam. Bilo je zelo strašljivo, ko so se oglasile sirene, vsi so hiteli v zaklonišča. Bila sem žalostna, da mama nikoli ni šla z nami v zaklonišče, zmeraj je bila na strehi in gasila bombe.«
A to ne pomeni, da se je življenje v mestu ustavilo. Potem ko je minila neposredna grožnja in je bila prevara vzpostavljena, se je odprl Moskovski konservatorij. Tudi Univerza v Moskvi med vojno ni zaprla svojih vrat. V letih 1941-1945 je bilo izdanih 106 doktorskih in 520 kandidatskih znanstvenih nazivov. Delovale so tudi knjižnice in otroški vrtci, kot tudi gledališča in kinodvorane, ki v katerih so organizirali patriotske predstave in predvajali domoljubne filme.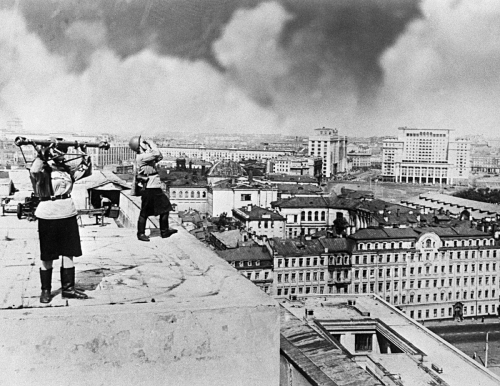 Naum Granovski/TASS
Aprila 1942 so nemški bombniki uničili 19 tovarn in obratov, 69 upravnih zgradb in 226 domov, pri čemer je umrlo 2.000 ljudi. Nemška stran je nad Moskvo izgubila skoraj 1.400 bombnikov. Na srečo je to bilo poslednje obdobje, v katerem je Moskva utrpela tolikšno uničenje.