Berem odlično knjigo »Poslušnost avtoriteti«. Delo temelji na kontroverznem poskusu, pri katerem je znameniti socialni psiholog Stanley Milgram (1933-1984) uporabil naključno izbrane ljudi, ki so pod nadzorom vodje eksperimenta zadajali vse večje elektrošoke poskusni osebi, če ta ni pravilno odgovorila na zastavljena vprašanja. Elektrošoki so bili fiktivni in dejanski testiranec je bila izbrana oseba, pri kateri je Milgram meril, kako dolgo se bo ta podrejala vodji poskusa kot avtoriteti, ki je zahtevala vse višje, v realnih okoliščinah že smrtne jakosti elektrošokov. Oseba bi »testiranca« torej dejansko ubila, če bi bili zadani električni sunki resnični. (dr. Vlado Miheljak, iz spremne besede)
Skoraj dve tretjini sodelujočih je v raziskavi dajala testni osebi smrtonosne odmerke elektrošokov. Poskus je bil opravljen v Ameriki sredi sedemdesetih let prejšnega stoletja, toda zelo verjetno bi podobne rezultate dobili tudi v današnjem času, praktično v vseh državah. Tudi v Sloveniji.
»Temeljno spoznanje raziskave: navadni ljudje, ki zgolj opravljajo svoje delo in niso nič posebno sovražno nastrojeni, lahko postanejo dejavniki v strahovito destruktivnem procesu. Še več: celo ko destruktivne posledice njihovega dela začnejo biti v oči, pa dobijo ukaz, naj ravnajo v nasprotju z osnovnimi moralnimi standardi, razmeroma malo ljudi zbere dovolj moči, da se lahko uprejo avtoriteti.«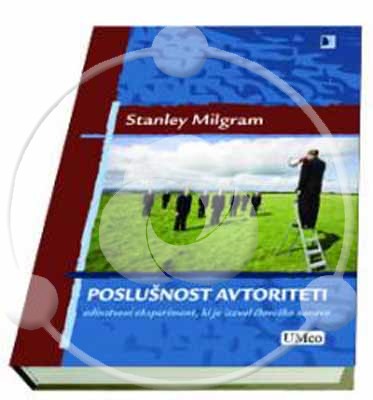 »Najbolj običajna prilagoditev v razmišljanju poslušne poskusne osebe je, da v sebi neha gledati človeka, ki je odgovoren za svoja dejanja. Ne vidi se kot nekdo, ki mora ravnati moralno odgovorno, temveč kot orodje neke zunanje avtoritete. V pogovoru po poskusu, ko smo ljudi vprašali, zakaj so nadaljevali, je bil značilen odgovor: »Sam od sebe tega ne bi naredil. Počel sem le tisto, kar so mi rekli.«
Praktično vsi ljudje smo že kdaj v življenju delali neetične stvari zato, ker »so nam tako rekli«. Mnogi to počnejo vsak dan na delovnem mestu. Predvsem zaposleni v javnem sektorju so nagnjeni k poslušnosti »avtoritetam«. Rezultati takšne poslušnosti so res grozljivi: vojne, ropanje ljudi preko davkov, nepravični zakoni, poneumljanje ljudi od vrtca do groba… Dejansko je bilo v zgodovini človeštva vse do danes daleč največ škode storjene prav zaradi poslušnih ljudi v javnem sektorju, ki so ubogali politične »avtoritete«. Kaj bi se zgodilo, če ti ljudje ne bi več ubogali ukazov politikov? Politiki ne bi več mogli izkoriščati, poneumljati in krasti ljudi, ker okrog sebe ne bi več imeli svojih podložnikov, propagandistov, lažnivcev, klovnov, šarlatanov. Vsi obsojamo nacističnega birokrata Adolfa Eichmanna, toda v bistvu je tudi on zgolj izpolnjeval ukaze od avtoritete, tako kot poskusne osebe v eksperimentu. Zanimiva citata iz knjige: »Tiranijo ohranjajo plahi ljudje, ki ne premorejo poguma, da bi udejanjili svoja prepričanja. Človek, ki prevzame polno odgovornost za dejanje, je izparel. Morda je to najbolj razširjena značilnost družbeno organiziranega zla v sodobni družbi.«
Kako je možno, da se ljudje tako hlapčevsko obnašamo?
Dejavnikov je veliko. Verovanje v »avtoritete« pa se začne že v otroštvu. V našem okolju ima veliko negativno vlogo katoliška vzgoja, ki temelji na popolni poslušnosti in podrejenosti otroka do staršev in katoliških klerikov. Sam se še dobro spomnim, kako sem pri verouku s strahospoštovanjem zrl v duhovnike, kot da so nadčloveška bitja. Ker sem bil pač tako vzgojen, da naj bi bili župniki posredniki med ljudmi in Bogom. Starši kot »avtoritete« povzročajo še dodatno škodo otrokom, ko jih pogosto silijo, da se odločijo za poklic, ki jim sploh ni pri srcu. V nekaterih kulturah pa starši celo določajo svojim otrokom, s kom se morajo poročiti.
Seveda pa starši in verski predstavniki niso edini, ki duševno zlorabljajo otroke, da postanejo ubogljive lutke brez svojega jaza. Tudi politiki so izredno spretni v proizvodnji človeških ovc. Celoten šolski sistem je naravnan tako, da morajo učenci ubogati učitelje »avtoritete«, sicer ne napredujejo iz enega razreda v drugega. Tako državni šolski sistem »ubije več muh na en mah«: ustvarja ubogljive in poslušne državljane, ki ne smejo razmišljati s svojo glavo, ne smejo biti inovativni, ustvarjalni, samozavestni, ne smejo se upreti neumnostim učiteljev, ne smejo razvijati svojih talentov, ampak se morajo zgolj napiflati tisto, kar je predpisano v učbenikih. Resnično grozljiv sistem.
Kje je rešitev? Zgolj v ozaveščanju ljudi, da prepoznajo svoje vzorce indoktrinacije. Morda bo tudi ta tekst komu pomagal pri tem.
Dodatno branje:
http://www.zalozba-planet.si/blog/show/blogID=287
http://www.zalozba-planet.si/blog/show/blogID=337
http://www.zalozba-planet.si/blog/show/blogID=335
http://www.zalozba-planet.si/blog/show/blogID=347
http://www.zalozba-planet.si/blog/show/blogID=353
https://www.youtube.com/playlist?list=PLRkDC7LzbiK3DEMGadEnUx8TyCOaGGrzU - na teh 81 posnetkih govori Larken Rose, eden najbolj vplivnih borcev za odpravo politike s tega planeta.
Damjan Likar