Vsaka obnova mikorize v Sloveniji je dobrodošla, a ne tista v javni upravi
Dejstvo je da je Sklad kmetijskih zemljišč pred približno 15 leti sodeloval pri ureditvi stare šavrinske poti Korte -Cetore in naj sam pove kako. Očitno je, da ni gotovo imel nič proti in ni imel niti takrat nič proti, ko se je izvajal projekt Revitas. Dejstvo je, da trasa gre po parcelah ki so privatne, občinske in državne. Zadnje dve kategoriji obvladuje sklad v celoti ves čas. Dejstvo je, da trasa ni v celoti vrisana. Dejstvo je, da je google earth samodejno prepoznal to gozdno pot, ki ni vrisana v katastru.
Sklad zase trdi, da nima nič skupnega z nobeno drugo državno inštitucijo od katere pridobi jamstva za kvaliteto zemljišč, ki jih oddaja in so odgovorna, če kaj z nepremičnino ni tako, kot bi moralo biti. Še več: Sklad kmetijskih zemljišč zase trdi, da ni sklad in posluje povsem samostojno na trgu, s čimer le vseeno ohranja vlogo skladišča poceni rubeža in dragih prodaj, oz. kakor kje za koga, nepremičnega premoženja zarubljenega od posameznikov in državnega, torej v lasti vseh nas.
Sklad, ena od najtežjih državnih prikolic, ki ima na sodišču že tak vpliv, da noben odvetnik, pošten do stranke, ne želi prevzet primera, ker se Sklad poslužuje kriterija neustavne neenakosti in pa ignorance večjega. V sodnih postopkih, ki jih je že pripravil vsakemu, ki je z njim podpisal pogodbo ima vnaprejšnjo premoč, kot bi si na sodiščih sam sodil. To pomeni, da bo sklad v zelo kratki prihodnosti to moč na sodiščih lahko uporabil pri glasnih in tudi pri tihih razpolaganjih z našim premoženjem. Upam, da se zelo motim, oz da se bo vse to bistveno spremenilo. Ta prikolica se že zelo slabo drži vlačilca, pelje pa javno državno zlatnino.
Kljub dejstvu, da sem podal na desetine prijav divje vožnje kros motorjev skozi gozd po omenjeni poslikani trasi v slikovni prilogi tega zidu v preteklih 10 letih, in dejstvu, da so v tem času najmanj 5 krat prišli policaji k meni domov, da bi me vprašali isto: kje se to dogaja, zakaj me moti, zakaj jih silim v nekaj, za kar niso tehnično usposobljeni. Motokrosisti se vozijo po gozdovih in poljih celotne Slovenske Istre. Saj na cesto ne smejo, ker niso registrirani!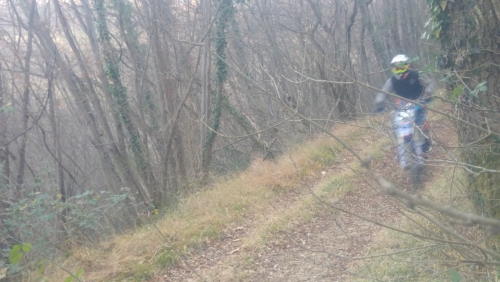 Dejstvo je, da se je v petek 11.1.2019 ponovno, torej najmanj šestič, oglasil policist, da bi vprašal, kje se ta pot nahahja. Dejstvo je, da se je po tej poti dan kasneje, že drugič letos, okoli 17h peljal motokrosist, kot lahko pogledate v slikovnem delu tega zidu. Dejstvo je tudi, da me je zdaj v petek že drugič, policist prosil naj še prijavljam vožnjo z motorjem po gozdu. Slednje je posebaj zanimivo ob dejsvu, da je ob eni mojih zadnjih prijav policist na klicni številki mirno povedal, da te prijave nimajo smisla, se ne evidentirajo in se nihče z njimi ne bo ukvarjal.
Takrat sem se odzval z obljubo, da jim za to početje na klicni številki 113, z veseljem zagotovim evropsko slavo. Takrat me je mladenič iz omenjenega pogovora iz klicne številke poklical po telefonu po dobrem tednu in me (prvič) spravljivo prosil, naj dejanja še prijavljam, in povedal, da se tudi sam malo s tem ukvarja. Še enkrat sem potem dejanje prijavil, dvakrat v istem dnevu. Po odzivu na mojo prijavo večernega povratka motokrosistov nazaj v Cetore sem lahko razbral, da najverjetneje niso šli na teren.
To je bilo v obdobju, ko so krosmotoristi s spremenjenimi glasovi in zamegljenimi obrazi anonimno po državnem radiu sporočali javnosti, da zahtevajo poligon, in da jim nihče nič ne more. Po tem dogodku s komunikacijo iz prejšnjega odstavka, so se zadeve izredno umirile v gozdu vse do lani, ko so se policisti izkazali znovimi opustitvami uradnega dejanja, tokrat na področju odziva na prijavo kaznivega dejanja povzročitve telesne poškodbe.
V lanskem letu so se tako lokalni policisti zelo zapletli s še nekaj dodatnimi nezakonitimi ali celo kaznivimi dejanji, med drugim se niso odzvali na klic prijave kaznivega dejanja ali so zavlačevali s prihodom. Nazadnje pa niso želeli zabeležiti prijave kaznivega dejanja povzročitve telesne poškodbe niti na policijski postaji. V dveh poskusih nisem uspel: prvič ker ni bilo primerne osebe na postaji, drugič, ker nisem najprej povedal, zoper koga jo bom podal.