Objavil/a
G Z
, dne 2020-11-24 ob 08:04:16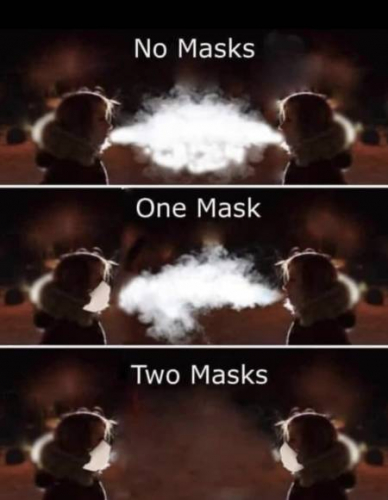 Brazilska študija
V nedavni brazilski študiji, za katero so 1600 prostovoljcev psihološko testirali in nato dodobra izprašali o tem, kako sledijo priporočila za omejevanje širjenja koronavirusa v populaciji, so raziskovalci prišli do zanimive ugotovitve.
Izkazalo se je, da je za ljudi, pri katerih je najti osebnostne značilnosti t.i.
temne triade (torej narcisizma, makiavelizma in psihopatije)
, značilno, da bodo trivializirali tveganje za okužbo s koronavirusom. Ti ljudje si praviloma ne bodo redno umivali rok, nosili mask ali držali varno razdaljo.
Empatija vs. osebnostne motnje
Brazilski raziskovalci so najprej preizprašali 1600 prostovoljcev, ki so morali izpolniti dve vrsti vprašalnikov, s katerimi psihologi običajno merijo stopnjo empatije in tendence osebnostnih motenj. Nato so zabeležili še njihov odnos do pravil in priporočil, ki veljajo za čas pandemije.
Opazovane subjekte so nato razdelili v dve skupini.
Okoli 1200 njih se je uvrstilo v 'empatično skupino' - to so tisti, ki jim je mar za čustva drugih ljudi. V tej skupini so bili tudi ljudje, ki so si načeloma želeli 'pozitivne interakcije z ljudmi in skupnostjo'.
V drugo skupino, v katero se je zvrstilo dobrih 400 ljudi, pa so se uvrstili ljudje z znaki antisocialnih tendenc. Za te ljudi je značilno, da v interakcijah z drugimi iščejo zgolj lastne koristi, tudi sicer pa ne čutijo globlje povezanosti s skupnostjo, kar rado kažejo z odklonilnim, sovražnim ali celo nasilnim vedenjem. Hkrati gre v tem primeru za ljudi, ki praviloma ne sledijo premisam varnostnih priporočil za omejevanje Covida-19.
Raziskovalci so tako ugotovili, da tisti, pri katerih so zaznali višje stopnje brezobzirnosti, lažnivosti, sovražnosti, impulzivnosti, manipulativnosti in nagnjenost k tveganjem, hkrati tisti, ki bodo manj verjetneje vzdrževali varno razdaljo do drugih ljudi, si umivali roke in nosili zaščitno masko na javnih prostorih. Zanje je še značilno, da rado minimalizirajo resnost pandemije.
Izsledke raziskave so brazilski znanstveniki objavili v znanstveni publikaciji Personality and Individual Differences.
"Ugotovili smo, da so antisocialne značilnosti, še posebno nizka stopnja empatije in visoke stopnje neobzirnosti, prevarantstva in nagnjenost k tveganjem, neposredno povezane z neupoštevnjem varnostnih priporočil," so še zapisali raziskovalci.
"Te osebnostne značilnosti razložijo, zakaj se nekateri ljudje ne držijo varnostnih priporočil, pa čeprav vedo za naraščajočo število okužb in smrti. Izpostavljanje sebe in drugih tveganju, pa čeprav bi to lahko preprečili, je tipična značilnost ljudi z antisocialnimi tendencami in mankom empatije."
Nekaj manjših študij, ki so jih izpeljali na Danskem, Poljskem in v ZDA, brazilski v vseh pogledih pritrjuje, še piše Time.
Previdnost pri etiketiranju
"Seveda pa to zdaj ne pomeni, da lahko kar vsakega, ki noče nositi maske, označimo za sociopata," svari Fabiano Migue s faktultete Universidade Estadual de Londrina. "Raziskave so zgolj pokazale, da za to obstaja precejšnja možnost, vendar se moramo zavedati, da za odklanjanje nošenja maske lahko obstajajo tudi drugi razlogi."
Brazilski predsednik Bolsonaro je od začetka pandemije nadvse skeptičen glede nošnje mask. Brazilija je do danes zabeležila že 4,497,434 okuženih, s čimer se takoj za ZDA uvršča na drugo mesto držav z največ okuženimi. Več kot 135,857 ljudi v Braziliji pa je virusu podleglo.
Dr. Migue še dodaja: "Ljudje včasih enostavno nočejo spreminjati svojih navad. Tudi to je lahko razlog za visoke številke okužb v Braziliji kot tudi razlog, da se trend tam nikakor ne umirja."
Koliko vas je na PW?