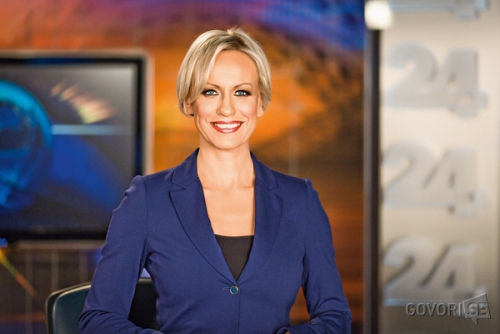 V medijih je šele pred kratkim odjeknila novica, da sta se pred letom in pol razšlaPetra Kerčmar in Uroš Slak, voditeljska kolega in življenjska sopotnika, ki sta skupaj preživela kar 15 let, v tem času pa se jima je rodil tudi sin Aljaž. Energična voditeljica in novinarka Petra Kerčmar, ki je sicer dokaj zadržana, kar se tiče pogovora o osebnih stvareh, je za našo revijo vendarle spregovorila o odnosu z nekdanjim partnerjem in tudi o novinarskem delu, ki jo izredno osrečuje.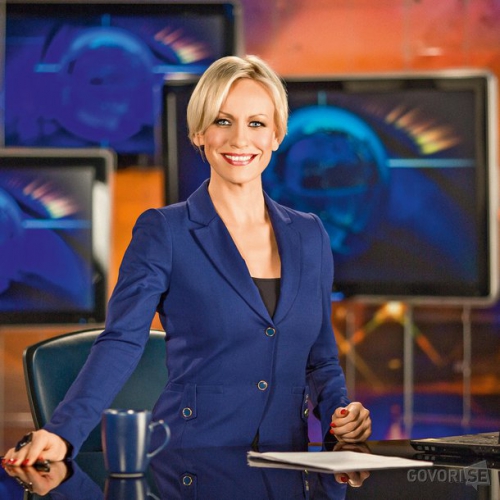 Story: V medijih se je v zadnjem času veliko pisalo o vašem razhodu s partnerjem Urošem Slakom, čeprav je od tega minilo že leto in pol. Zakaj menite, da se je to zgodilo prav zdaj in kako se s tem spoprijemate?
Ja, drži, že pred letom in pol sva se razšla. Vsa najina energija je usmerjena zgolj v to, da imamo kot družina lep odnos še naprej. Pisanja o tem, če povem po pravici, sploh ne spremljam.
Story: Vas natolcevanje, da imate že 'novega' in kako 'nenavadno' je, da se z nekdanjim partnerjem še kdaj poljubite, kaj prizadene?
Vsa natolcevanja sem ostro zanikala. Nobena skrivnost pa ni, da se z Urošem dobro razumeva. Še vedno ogromno časa preživimo skupaj, ker smo z Aljažem še vedno družina, in zelo uživamo v skupnih trenutkih.
Story: Veljate za temperamentno voditeljico, ki brez zadržkov sogovornika pripravi do odgovorov. Ali ste kdaj primorani v zasebnem življenju svojo novinarsko strast v danih situacijah umiriti?
Zagotovo. Čeprav sem tudi zasebno zelo energična oseba, se je pa vendarle v družinskem življenju nujno treba velikokrat umiriti. Ravno zdaj, v tem hipu, se z Aljažem učiva in pri tem je nujna dobršna mera potrpljenja, umirjenosti.
Story: Če ste strah in trepet nekaterih politikov, kot radi rečejo novinarji, me zanima, česa oziroma koga se bojite sami?
Da bi se najbližjim kaj hudega pripetilo. Bolezen, nesreča ... Tega me je res strah. In res sem vesela in hvaležna, da smo zdravi. Ter da je Aljaž srečen in priden otrok.
Story: Novinarstvo je način življenja, zato nas najbolj zanima, ali se sploh lahko kdaj od tega oddaljite? Imate gumb 'izklop' ali vam to predstavlja težavo?
Res je. Novinarstvo je način življenja. Pravi novinar praviloma nikoli ne izklopi. Ves čas poizveduje, dvomi, se sprašuje, išče informacije. Predvsem pa razmišlja s svojo glavo. In tega bi morali navaditi in naučiti tudi mlado generacijo novinarjev.
Story: Ste strogi do sebe?
Prej samokritična. Zelo redko sem 100-odstotno zadovoljna. Tudi v novinarstvu se vse življenje učimo, nadgrajujemo znanje in smo lahko zato z vsakim intervjujem, z vsakim soočenjem boljši.
Story: Kako pa ostanete mirni takrat, ko situacija tega noče dovoliti?
Prisilim se in se pogovorim s seboj. Čeprav velikokrat pokažem čustva in nisem prav mirna, se vendarle zgodi, da mi uspe umiriti razpoloženje. Čeprav se je v žaru boja, kot pravijo, včasih težko nadzorovati.
Story: Na katero politično vprašanja še niste dobili odgovora, pa bi ga želeli slišati?
Ali bo kdo kdaj prevzel odgovornost za dokazana dejanja. Pri nas je odgovor 'da' misija nemogoče.
Story: Tema vsebin se vedno razvija ekipno, a vseeno nas zanima, kje se največkrat sami 'izobražujete' o perečih temah in kakšno mnenje imate o komikih, kot so John Oliver, Stephen Colbert in podobni, ki imajo satirične oddaje na temo politike?
Če politik razume medije, satiro, potem nikoli, ko je na oblasti, ne ukinja satiričnih oddaj. To je očitno možno samo v nedemokratičnih državah. Če politik nima česa skrivati, z nasmeškom sprejme tudi satiričen pogled nase in svoje delo. Na drugi strani se tudi od ustvarjalcev pričakuje, da so korektni in ne manipulirajo, ko denimo ločijo naše in vaše politike ter jih obravnavajo različno. To je pa že nov problem dela novinarstva. Kar se pa izobraževanja in izpopolnjevanja tiče, so ključni tudi tuje televizije, njihov pristop, njihovo delo. Vzameš tisto, kar lahko preslikaš v slovensko realnost.