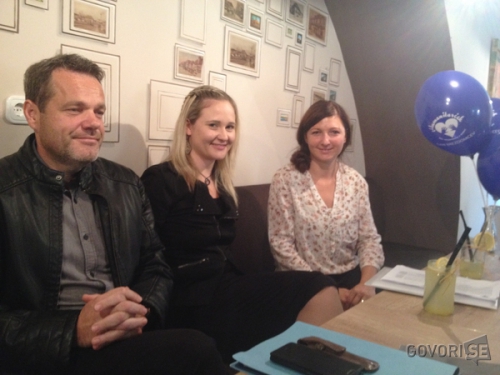 V Sloveniji je bilo v letu 2014 kar 4015 brezdomnih oseb. 4015 oseb preveč. Zato bodo že dan prej in na svetovni dan brezdomnih oseb, to soboto, 10. oktobra, po vsej Sloveniji v mreži Brezdomni pripravili dan odprtih vrat zavetišč in cel kup dogodkov, s katerim bodo opozorili na to problematiko in na povečevanje števila ljudi, ki potrebujejo pomoč.
Društvo Humanitarček, ki v Mariboru že nekaj let skrbi za brezdomne ljudi, ostarele in potisnjene na rob družbe, pa bo v sodelovanju z Zavetiščem za brezdomce pripravilo osrednje sobotno celodnevno slovensko dogajanje na Glavnem trgu pod geslom "Stopimo skupaj v druge čevlje", med drugim bodo sklenili tudi Živo verigo čez Stari most.
Samo v mariborski regiji je bilo lani kar 416 brezdomnih ljudi. V celotni Sloveniji je številka skoraj 10 - krat višja in iz leta v leto raste. Mreža Brezdomni, ki združuje kar 18 organizacij, ki se ukvarjajo s to problematiko, zato danes z različnimi dogodki skrbi za to, da se njihov glas sliši. Bojan Cvetič, predsednik mreže in vodja Zavetišča za brezdomce Nadškofijske Karitas pravi, da je več brezdomnih in tudi več pojavnih oblik brezdomstva: "Včasih smo imeli ljudi ob robu družbe, posameznike, danes so to tudi cele družine. Številke naraščajo, a za njimi se skrivajo človeške usode." Zato je potrebno spremeniti tudi definicijo brezdomstva, kar bodo naredili prav na letošnji dan brezdomcev, 10. oktobra. V Mariboru je vsako noč na voljo 75 postelj v dveh zavetiščih, a bi jih potrebovali še več, predvsem namestitev za družine.«
Na vse posledice brezdomstva, izključenosti in odrinjenosti pa že nekaj let opozarja društvo Humanitarček, ki skuša vso leto z različnimi akcijami izboljšati življenja pomoči potrebnih. Ninna Kozorog, predsednica društva in vodja ambulante za osebe brez zdravstvenega zavarovanja, se tako s somišljeniki trudi, da bi brezdomne približala Mariborčankam in Mariborčanom. Zato so v mestu na ta dan pripravili osrednje slovensko dogajanje, ki se bo odvijalo med 10. h in 16. h na Glavnem trgu pred kavarno Nana. "Največja pozornost velja simboličnemu dejanju - sklenitvi žive verige čez Stari most, ki jo bo sklenil mariborski župan, Andrej Fištravec natanko ob 10.h in 10 minut, zato vabimo vse, ki bi želeli tako ponuditi svojo roko v znak solidarnosti in sočutenja, da se pridružijo," še dodaja.
Na Glavnem trgu pred kavarno Nana bo ves čas potekal bogat program, ulični umetniki bodo zabavali meščane, plesna šola Sebastian in plesna šola Zahir pripravljata plesne nastope, tam bo Bian Box, predstavljali se bodo tudi mladi umetniki. Na Brezdomskem bazarju bodo prodajali brezdomske izdelke oziroma jih izmenjevali za tople kape, šale in rokavice. Zbirali bodo ozimnico, sprejemali kozarce marmelade, vložene zelenjave, ... Na Gosposki in Jurčičevi pa se bodo predstavile tudi Brezdomne stojnice trgovin, ki bodo brezdomcem ponudile svoje izdelke povsem brezplačno. Ves dopoldan bo potekal tudi Kuharski dvoboj med izpadlimi tekmovalci televizijske oddaje Gostilna išče šefa in nekdanjimi tekmovalci Masterchefa v kuhanju golaža. Izkupiček bo namenjen Zavetišču za brezdomce.
Ta dan bodo v Vetrinjskem dvoru tudi odprli prodajno fotografsko razstavo Saše Kosa, Beton, katere izkupiček bo šel k brezdomcem. Razstava bo odprta do 15. oktobra. V avli kirurgije UKC Maribor pa bo do 1. novembra odprta razstava Stopimo v tuje čevlje na temo brezdomske problematike Hiše ART, avtoric Manje Kodelja in Urške Debevc.
Želijo pa si zbrati tudi 10 kg zobnih ščetk za zavetišče, zato prosijo za donacije, v zameno za izdelke brezdomcev pa prosijo tudi, da obiskovalci s seboj prinesejo tople nogavice, rokavice, kape in šale.
Že dan prej, v petek, 9. oktobra, bodo med 10. - 14. h odprla vrata vsa slovenska zavetišča za brezdomce, tudi Zavetišče za brezdomce Nadškofijske karitas na Ljubljanski 23. Predstavili vam bodo bivalnik, ki je edini odprti tip zavetišča pri nas, ogledali si boste lahko tudi razstavo slik brezdomcev, ki jih boste lahko kupili dan kasneje na Brezdomskem bazarju in vam ponudili ogled po lastnem vrtu, ki ga sami obdelujejo.
Društvo Humanitarček je humanitarno društvo, ki skrbi za brezdomne, ostarele in ljudi na robu družbe, prireja različne dobrodelne akcije, brezdomcem omogoča lažje vključevanje v življenje in me drugim skrbi za ostarele in nemočne z obnovo stanovanj, nakupom potrebščin in zbiranjem ozimnice.