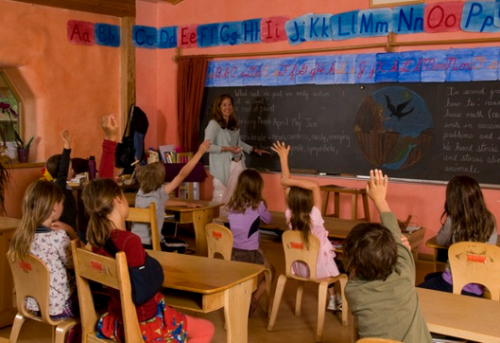 Počitniški dnevi se prevešajo v drugo polovico. Misel na šolo se bo tako začela vračati, z njo seveda obvezne skrbi o vsem, kar naši otroci potrebujejo za nemoteno šolanje. A običajno se te misli ob tem tudi ustavijo. Skrb za materialno podlago šolanja je velika in morda tudi zato večkrat zmanjka intelektualnega razmisleka o tem, v kakšno šolo pošiljamo otroke. Kristjani smo se skoraj brez besed sprijaznili s tem, da se v šoli ne sme vzgajati. Hkrati pa smo priče razcvetu vsemogočih varljivih programov, ki jim ljudje, tudi kristjani, slepo zaupajo. Kajti, ponovno moram izpostaviti, človek ni le fizično, je tudi duhovno in duševno bitje in za svoj obstoj potrebuje rast na vseh treh ravneh. Zato njegova bit vztrajno išče potešitev na vseh treh ravneh.
Torej – vzgoja, vrtec, šola. Ali lahko kristjani vpišemo svoje otroke v kakršno koli šolo ali vrtec? Ali jih lahko (brez nevarnosti za njihov celovit razvoj) vpišemo v waldorfski vrtec in šolo? Ne.
Tu sem naredila premor, ker verjamem, da je marsikdo zajel sapo in so ga preplavila močna, predvidevam da kar negativna čustva. Waldorfska pedagogika se namreč večini ljudi, ki želijo ubežati rutini ali celo tehnokraciji državnih šol in vrtcev, ki naj ne bi več vzgajali, zdi zelo privlačna in sprejemljiva. Z doktrino, da mora država poskrbeti samo za nekatera področja človekovega obstoja, in da v to področje gotovo ne sodi vzgoja, je v predšolskem in šolskem prostoru nastala praznina, ki jo marsikdo občuti kot pomanjkanje. In v to vrzel se je spretno vrinila ideja o drugačni šoli, o šoli, ki naj bi temeljila na spoštovanju otrokove individualnosti. V Razvid izvajalcev javno veljavnih programov vzgoje in izobraževanja v Sloveniji je trenutno vpisanih 20 veljavnih programov vrtcev in osnovnih šol, ki temeljijo na waldorfski pedagogiki.
Waldorfsko šolo je ustanovil dr. Rudolf Steiner, avstrijski eklektik, teozof, ki je verjel v reinkarnacijo in ki je imel poseben pogled na človeka. Na svojih spiritističnih seansah in knjigah je predstavljal svoje delo, nadčutno spoznanje, antropozofsko medicino, evritmijo kot posebno obliko joge in seveda waldorfsko šolo, v kateri se otroke izobražuje z vidika spiritualnih znanosti. Njegova antropologija je ezoterijsko okultno dojemanje človeka. Steiner trdi, da je zemlja prešla skozi tri obdobja, poimenovana starodavni Saturn, starodavno Sonce in starodavni Mesec.
Steiner v svojih delih razlaga, da je bil Kristus prisoten od začetka sveta in da je prešel v telo Jezusa iz Nazareta v njegovih poslednjih treh letih življenja. Tako pojmovanje Jezusa Kristusa gotovo ni v skladu s Svetim Pismom, kristjane ne vodi v Cerkev ampak v nadkonfesionalno krščanstvo, ki ga zagovarja New Age. Njegov Kristus nima nobene povezave z osebo Jezusa Kristusa v katoliški Cerkvi!
Waldorfska šola skrbi za celotno vzgojo otrok v Steinerjevem duhu, v njegovi filozofiji in svetovnem nazoru. Njegov svetovni nazor je zasnovan na objavah, ki jih je Steiner prejel od nebesnih entitet. Steiner se tako oddalji od krščanstva in se približa vzhodnim monističnim svetovnim nazorom in izključuje krščansko pojmovanje Božje transcendence. Waldorfska pedagogika meče v isti koš poganstvo in krščanstvo, saj je za Steinerja krščanstvo samo izpolnitev predkrščanskih duhovnih iskanj.
Steinerjev svetovni nazor, ki je temelj waldorfske pedagogike, torej temelji na antropozofiji, ki je psevdoznanost in kot religija označuje psevdokrščanstvo.
V razmislek: Ali bomo katoličani res sodelovali pri odpiranju take šole in naše otroke vpisali vanjo? Mar si ne bi raje prizadevali, da ustanovimo čim več katoliških vrtcev in šol, ne pa šol, ki se nam zdijo imenitne zaradi svojega tuje-jezičnega imena! In – kdor ima ušesa, naj posluša, kdor ima oči, naj vidi! Odgovorno krščanstvo v današnjem času zahteva, da se o novostih pozanimamo in podučimo.
_______________
Časnik je še vedno brezplačen, ni pa zastonj in ne poceni. Če hočete in zmorete, lahko njegov obstoj podprete z donacijo.