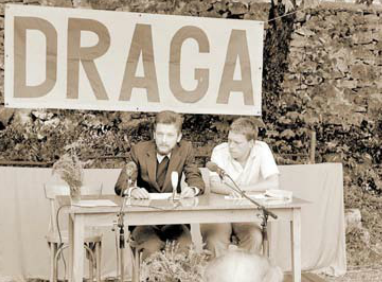 Imela sem pol leta, ko se je v Dragi pri Bazovici rodila – Draga. Srečanja v mali kraški vasici se je udeležilo okrog 150 slovenskih izobražencev. Prišli so iz Italije, Avstrije, Slovenije in sveta. Lahko bi rekli, da jih je združevala ena glavna misel, in sicer, kaj slovenski izobraženci lahko naredijo za slovenski narod. In govorili so o možnosti slovenske samostojnosti. Tega povprečen Slovenec danes seveda ne ve. Ker se nikakor – tudi danes ne – ne sme vedeti, da se je ideja o slovenski državi porodila med katoličani.
Draga je bila prostor, kjer so slovenski izobraženci lahko govorili. Govorili so o temah, zaradi katerih si v tedanji Socialistični republiki Sloveniji morali vsaj na zagovor pred partijske komisarje, če ne še kaj hujšega. Slovenski intelekt je tako imel majhen, a pomemben prostor, kjer se je domoljubna misel lahko ubesedila in podelila z drugimi.
Ideja potrebuje človeka, da jo uresniči. In idej je bilo med izobraženci veliko. Če se poskusim vživeti v tiste čase, se mi zdi, da je bilo ozračje nabito z ustvarjalnostjo, ki je hotela pod nebo, v prostor, v svet. Ki je hotela, da bi slovenski narod zadihal, globoko zadihal in dal iz sebe vse, kar zmore, kar zna, kar mu je Bog širokosrčno položil v grudi. Razmišljanja o narodovi samobitnosti, o narodovi pravici, da živi v polnosti to, kar si želi, so skozi usta razpravljavcev lahko vsaj v tistih par dnevih in na tistem majhnem prostoru poskušala prodreti do čim več ljudi, čeprav je bil – tako kot je še danes – medijski molk neusmiljen.
Razlika med politiki in voditelji
Zato se danes, ko sem sama v petdesetih, sprašujem, ali so slovenski izobraženci še sposobni tako odločno in jasno ubesediti vse tisto, kar narod dela narod. Ali je še kaj slovenskih intelektualcev, ki bi si upali za vsako ceno jasno in odločno reči bobu bob. Katerih beseda je verodostojna. Ki vedo, kaj hočejo, in to tudi neustrašno povedo. Ki se zavedajo odgovornosti pred svojimi otroci, pred svojim narodom! Ki jih ne zanima politična pripadnost, finančna pogojenost, ki so neodvisni od interesov lobijev in kapitala.
To, kar danes vidimo v Sloveniji, namreč nič ne kaže, da bi bil še kak tak potencial v tej državi. Profesorji na univerzah so vstopili na vlak karierizma, kjer se ukvarjajo sami s sabo in s svojimi obstoji. Akademska sfera kot da se je pogreznila sama vase in kot da ne ve, kaj bi lahko bil njen smisel. Študentje se iz dneva v dan učijo preživetja in v stalno spreminjajočih se okoljih bežijo v zavetja fikcije, virtualnosti in končno tujine.
Slovenski narod pa vodijo politiki, ki niso voditelji. Upam si trditi, da še nikoli v zgodovini Slovenci nismo bili tako raztreščeni, tako neusmiljeno prepuščeni sami sebi, kot smo sedaj. Skozi stoletja smo sanjali o lastni državi, ko smo jo končno dobili, pa ne vemo, kaj z njo početi. Slovenski narod, ki je končno dobil svojo državo, je na tem, da izgubi svojo identiteto. Slovenski narod postaja samo eden od narodov v slovenski državi.
Mar si identiteto gradimo s predavanji v tujem jeziku na fakultetah? Mar z agresivnim zavračanjem slovenske glasbe na radijskih postajah? Mar z gradnjo džamije v Ljubljani? Mar s sprejemanjem zakonov, ki ne spoštujejo družine in tradicije? Mar z izredno nestrokovnimi kadrovanji na pomembne položaje v državi? Mar z zamenjavo vrednostnega sistema? Mar s poveličevanjem in fanatičnim oboževanjem zdravega in popolnega telesa in materialnega blagostanja? Mar s slepim in nekritičnim sledenjem vsemu, kar pride od zunaj? Mar z nezdravim vračanjem v čase totalitarizma?
Kje so javne tribune, kje so poglobljene razprave, kje objavljeni prodorni prispevki? Sama mlačnost in previdnost! So res časi danes nevarnejši, kot so bili leta 1966? Slovenski intelektualci s Slovenijo v srcu, kje ste?
Trda je ta beseda, kdo jo bo poslušal!
Boris Pahor je ob svojem stodrugem rojstnem dnevu postal slovenski kulturni ambasador. Sredi Ljubljane nam je Slovenec, ki je ne po svoji volji celo svoje življenje hodil ob robu slovenstva, nalil čistega vina o marsikateri stvari. Njegove besede so bile jasne, padale so med nas kot natančno usmerjeni izstrelki. Pomislila sem: »Trda je ta beseda, a še kako resnična!« Kdo drug pa je dodal: »Kdo jo more poslušati…« Govoril je tudi o tem, da slovenski narod izgublja svojo domovino. Ko je njegova prodorna misel prehajala z ene tematike na drugo, sem pomislila, da ima Boris Pahor svoje mnenje prav o vsem. Ne sposojeno, ne prekopirano, ne trenutno popularno, ampak prav zares svoje. Pa bo ob tem marsikdo rekel, da si to on pač lahko privošči. Ali mar to pomeni, da si lahko v svojem govoru jasen in neposreden šele takrat, ko nimaš ničesar več izgubiti? Ali še vedno tako živimo, ali smo s svojo državo prišli z dežja pod kap? Mar ni končno napočil čas, da odvržemo vsa lepo- in grdo-rečja in se odkrito soočimo v različnosti?
Zato, Draga, ne odnehaj! Društvo slovenskih izobražencev – pomladi se, kajti še te bomo potrebovali. Tam izza meje, ki je bojda ni več, bo moral še obstajati fizični in duhovni prostor, kjer se bo lahko vetrila slovenska misel, v besede rojevala napredna ideja, kjer se bo lahko odločno ločevalo zrnje od plev. Kajti na tej strani kot da nam je padel mrak na oči in ne vidimo več niti pol metra pred sabo. Svojo človeškost smo ponižali na raven rumenega tiska in zabavljanja za šankom in na družbenih omrežjih in tako ne vidimo, da nam pred nosom kradejo slovenskost. In ponovno postavim vprašanje, na katero seveda ponovno ne bo odgovora – ko mladi slovenski izobraženci zapuščajo Slovenijo, kdo prihaja vanjo namesto njih?
Boris Pahor je ob svojem prazniku nazdravil na slovensko duhovno bogastvo. Dvignimo končno to čašo tudi vsi ostali Slovenci!
_______________
Časnik je še vedno brezplačen, ni pa zastonj in ne poceni. Če hočete in zmorete, lahko njegov obstoj podprete z donacijo.