Objavil/a
Konkretno
, dne 2022-01-03 ob 16:48:21
Slovenski paviljon je decembra zabeležil preko 40 poslovnih dogodkov, gostil 3 poslovne in 2 regijski delegaciji, in skupno od začetka svetovne razstave Expo 2020 kar 370.000 obiskovalcev. Na slovenskem paviljonu se je v mesecu decembru predstavilo 14 slovenskih inovativnih podjetij. Rekorden je bil začetek decembra, ko je v enem dnevu, na nacionalni dan Združenih arabskih emiratov, Expo obiskalo skoraj pol milijona obiskovalcev.
Na 50. obletnico združitve nekdanjih sedmih ločenih emiratov v enotno državo, ki se od tedaj imenuje Združeni arabski emirati, so gostitelji omogočili brezplačen obisk Expa 2020, to priložnost je izkoristilo skoraj pol milijona obiskovalcev.
Pol stoletja državnosti so gostitelji obeležili z več slovesnostmi, na katerih je sodelovala tudi Slovenija in bila s svojo zastavo prisotna tudi v protokolarnem mimohodu zastav vseh udeleženk tokratne svetovne razstave.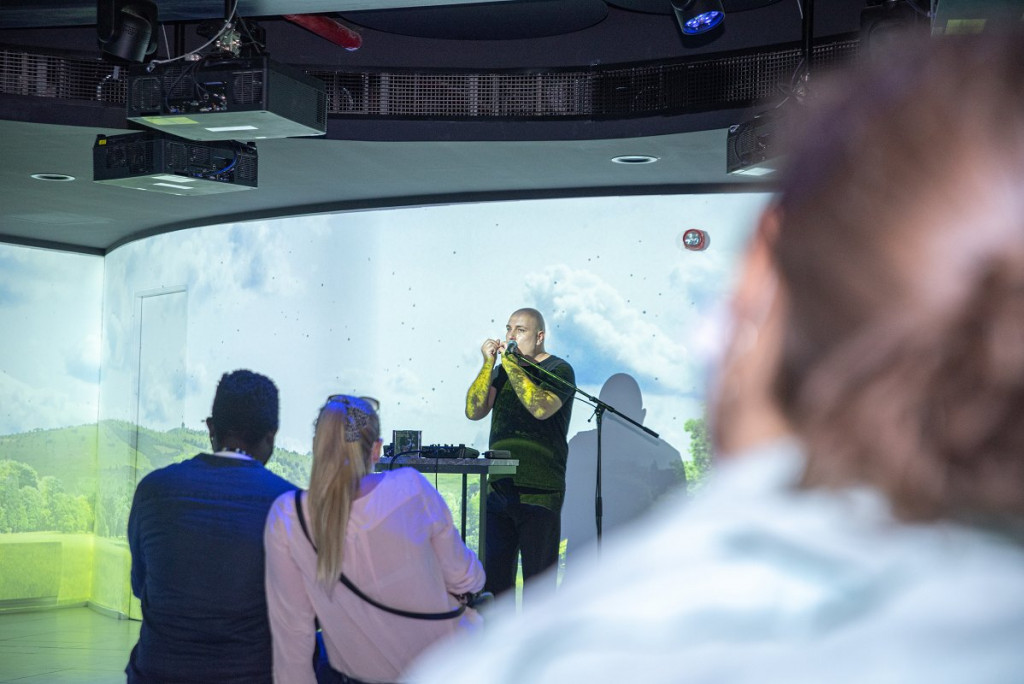 Foto: Spirit Slovenija
Poslovni program na slovenskem paviljonu je bil izjemno pester. V začetku decembra smo tako gostili dve delegaciji, delegacijo žensk v managementu, ki jo je javna agencija Spirit Slovenija organizirala v sodelovanju z Združenjem Manager ter koroško delegacijo, ki je gostovala v okviru turistične predstavitve alpske turistične makroregije.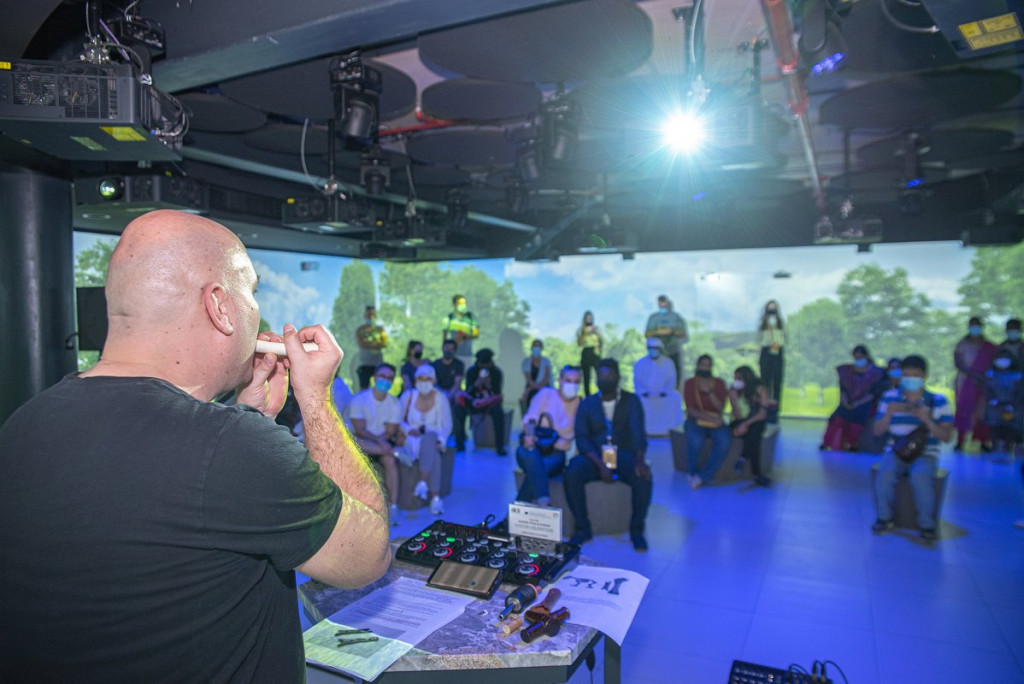 Foto: Spirit Slovenija
Obe delegaciji sta organizirali ločena poslovna foruma, ki sta bila dobro obiskala in sta znova potrdila opazno zanimanje drugih držav in tujih podjetij za poslovne aktivnosti slovenskega paviljona.
Predstavnike koroške regije je spremljala državna sekretarka na ministrstvu za gospodarski razvoj in tehnologijo mag. Polona Rifelj, ki je sodelovala tudi na poslovnem forumu, ki so ga na slovenskem paviljonu predstavila podjetja, ki so se najbolje odrezala na tekmovanju za najbolj inovativne ideje leta 2021, ki ga je skupaj z javno agencijo Spirit Slovenija in ministrstvom za gospodarski razvoj in tehnologijo organiziralo Digitalno središče Slovenije. Ta skupina podjetij je Expo 2020 obiskala v sklopu posebne poslovne delegacije, ki je vsebinsko naznanila izpostavljeno tematiko slovenskega paviljona v decembru, to je digitalizacija in umetna inteligenca.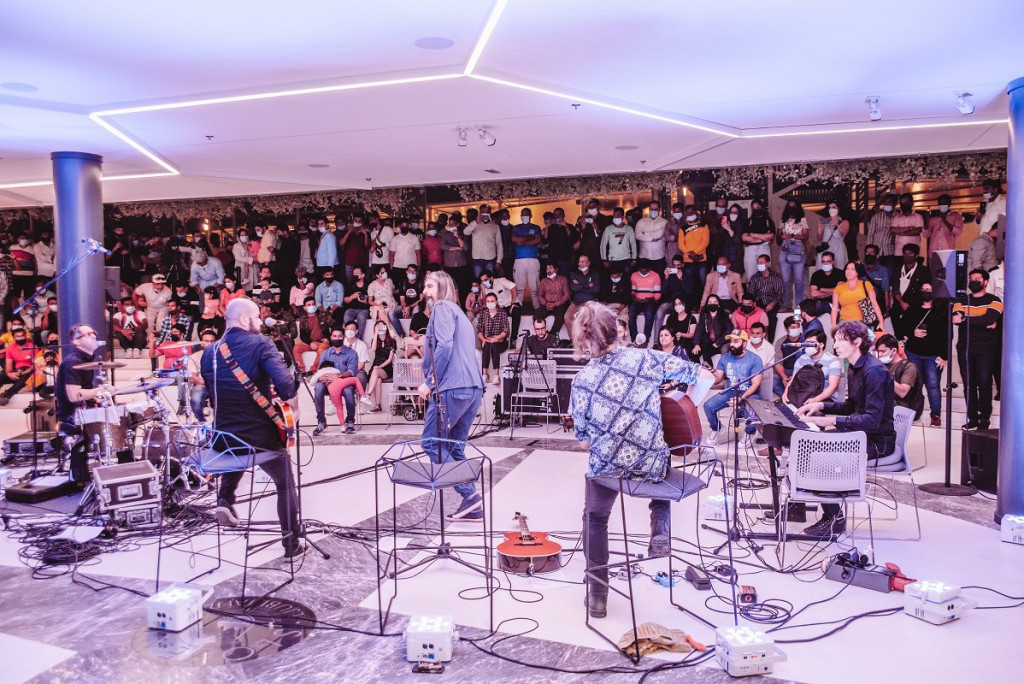 Foto: Spirit Slovenija
V okviru te tematike je paviljon gostil poslovno delegacijo podjetij s teh področij, ki jo je vodil minister za javno upravo Boštjan Koritnik. Ta se je udeležil poslovnega foruma na temo podatkov za boljše življenje in poslovanje ter sodeloval v panelu o uporabi podatkov, kjer je povzel nekatere največje dosežke slovenskega predsedovanja Svetu Evropske unije na področju digitalne preobrazbe.
V sklopu obiskov regijskih poslovnih združenj, ki predstavljajo pomemben del poslovnega programa na slovenskem paviljonu na Expu 2020, se je tik pred božično-novoletnimi prazniki v Dubaju mudila poslovna delegacija gorenjske regije, ki jo je v sodelovanju z javno agencijo Spirit Slovenija organizirala BSC - Regionalna razvojna agencija Gorenjske.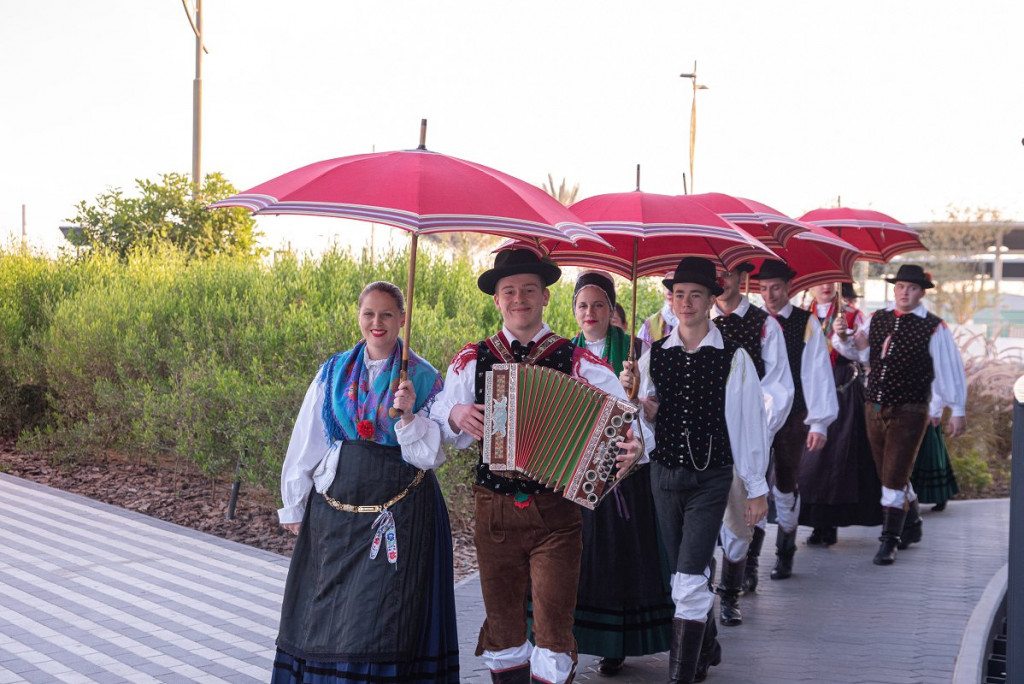 Foto: Spirit Slovenija
Sklop poslovnih dogodkov v prvi polovici Expa 2020 pa je na našem paviljonu sklenila turistična predstavitev alpske turistične makroregije, ki jo je organizirala Slovenska turistična organizacija in je pritegnila veliko število turističnih agentov iz držav, ki so na tokratnem Expu najmočneje zastopane, to so države Bližnjega vzhoda ter Azije.
Na našem paviljonu se je v samostojnih predstavitvenih sklopih decembra predstavilo 14 slovenskih podjetij, ki so skupno organizirala več kot 40 dogodkov.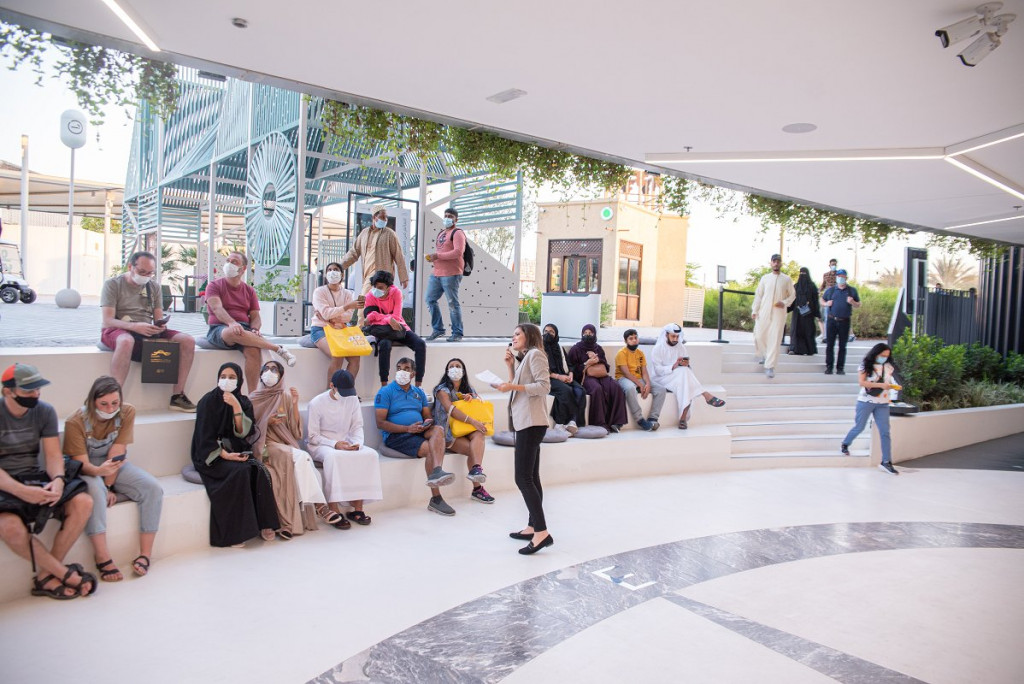 Foto: Spirit Slovenija
Izjemno bogato pa je bilo dogajanje na našem paviljonu tudi na področju družabnih dogodkov ter predstavitev slovenske kulture in kulturne dediščine.
Naš paviljon je gostil predavanje slovenske gradbene inženirke Julije Gruden, ki je zadnjih sedem let sodelovala pri gradnji celotnega prizorišča Expa 2020. Z obiskovalci je delila svojo izkušnjo pri gradnji slovenskega paviljona in tehnične izzive, posebnosti ter umeščanje lesa kot gradbenega materiala v arabski prostor. Grudnova je bila odgovorna za gradnjo dela prizorišča Expa 2020, ki je posvečen mobilnosti, zato so bile za obiskovalce njenega predavanja zanimive anekdote o gradnji tematskega paviljona in nacionalnih paviljonov, ki vzbujajo veliko pozornosti.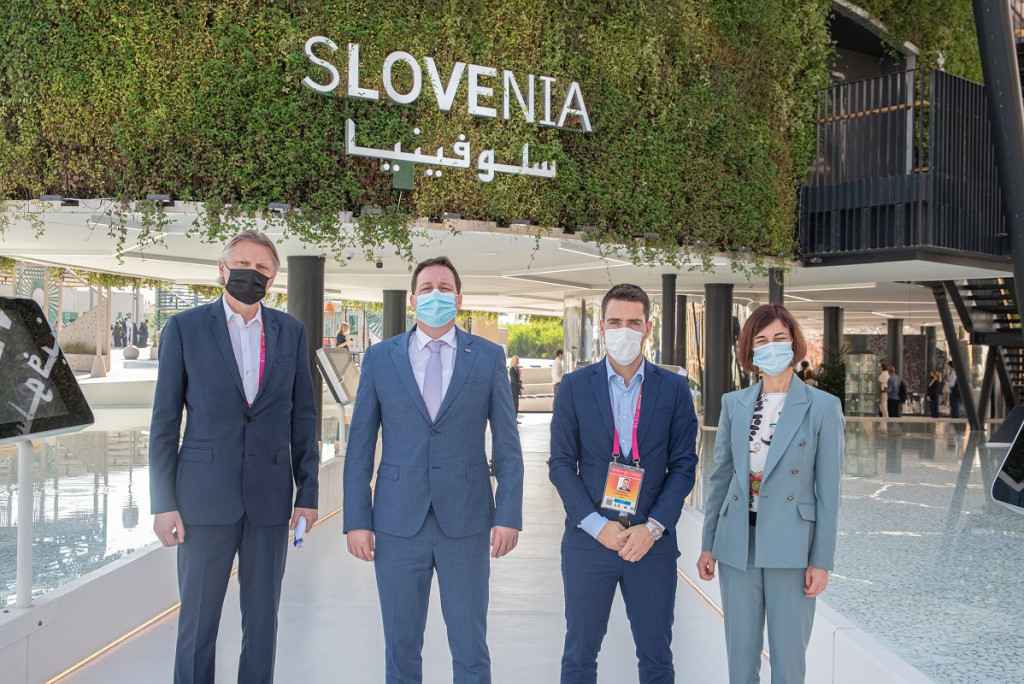 Foto: Spirit Slovenija
Posebno poglavje dogajanja na slovenskem paviljonu je bilo decembra posvečeno tudi 30. obletnici naše samostojnosti. Tako smo skupaj z veleposlaništvom Republike Slovenije v Abu Dhabiju organizirali večer, posvečen slovenski skupnosti, ki živi v Združeni arabskih emiratih. Večer se je sukal okoli slovenske glasbe, saj smo na paviljonu gostili pop – rock skupino Društvo mrtvih pesnikov. Zasedba je v letošnjem letu praznovala 30-letnico, to zanimivo naključje pa je bilo povod za šest koncertov na slovenskem paviljonu, s katerimi smo obogatili izjemno dogajanje na Expu 2020. Koncerti dolenjske zasedbe so sovpadali tudi s 50-obletnico Združenih arabskih emiratov, zato so bili izjemno dobro obiskani in deležni velikega navdušenja naključnih obiskovalcev.
Foto: Spirit Slovenija
V sklopu obiska koroške delegacije so nas s svojimi sladkimi dobrotami ponovno razvajali mojstri lectarske obrvi iz medenega raja Perger 1757. Folklorno društvo KUD Triglav Srednja vas v Bohinju je za obiskovalce pripravilo posebne plesne nastope, skozi katere so predstavili slovensko ljudsko dediščino. Pred božičem pa je Boštjan Gombač obiskovalcem predstavil najstarejše glasbilo na svetu - piščal, na rekonstrukcijo katere je tudi zaigral.
V mesecu decembru so imeli obiskovalci možnost spoznati simulator letenja z mislimi NeuroFly, ki so ga izdelali v trboveljskem DDTLabu in občutek poleta na planiški velikanki, ki ga omogoča simulator, s katerim se je na paviljonu predstavila turistična makroregija Alpska Slovenija.
Tik pred božičem smo v sodelovanju z muzejem jaslic Brezje na slovenskem paviljonu predstavili Plečnikove jaslice, ki sodijo v vrh slovenske umetnosti izdelovanja jaslic ter so avtorsko izvirne in likovno prepričljive upodobitve božičnih dogodkov.
Od decembra in z njim prve polovice Expa 2020 se v slovenski ekipi tako poslavljamo s pozitivnimi vtisi in že pogledujemo proti januarju, ko bo slovenski paviljon gostil rekordnih 10 delegacij - poslovnih in regijskih - ter 32 slovenskih podjetij. Tudi ti številki nakazujeta na to, da bo odšel Expo 2020 v zgodovino kot največja organizirana poslovna predstavitev Slovenije v vsej njeni zgodovini. Po trenutno potrjenih sodelovanjih bo slovenski paviljon v 6 mesecih trajanja svetovne razstave dom najmanj 21 poslovnim delegacijam ter skupno več kot 350 podjetjem, ki so del krajših ali obsežnejših predstavitev na največjem dogodku sveta.