Država – KORPORACIJA
Država: Republika Slovenija
(stanje na 30.01.2021)
- Ima teritorij, določen z državnimi mejami, ki mejijo z Italijo, Hrvaško, Madžarsko in Avstrijo
- Površina: 20.271 km²
- Glavno mesto: Ljubljana
- Valuta: Euro (€)
- Uradni jezik: Slovenščina
- Ima svojo zastavo in grb
- Ima svojo himno: Zdravljica
- Politična ureditev: parlamentarna demokracija
- Ima temeljni dokument: Ustava
- Prebivalstvo: 2.094.060 (ocena 2019)
- Ima predsednika republike: Borut Pahor
- Članica mednarodnih organizacij: OZN, EU, NATO, STO, MSMIK…
Korporacija: REPUBLIKA SLOVENIJA
- Podjetje: REPUBLIKA SLOVENIJA
- D-U-N-S© številka: 67-294-9935 po UPIK® Rekord
- Naslov: Gregorčičeva ulica 20, 1000 Ljubljana
- Dejavnost: vladna industrija
- Število zaposlenih: 617
Povzeto po https://www.bizi.si/REPUBLIKA-SLOVENIJA/ :
- Dolgo ime PRS: REPUBLIKA SLOVENIJA
- Naslov: Gregorčičeva ulica 20
- Naselje: Ljubljana
- Pošta: 1000 Ljubljana
- Občina: Ljubljana
- Upravna enota: Ljubljana
- Matična številka: 5854814000
- Davčna številka: 17659957
- Davčni zavezanec: NE
- Pravno organizacijska oblika: Republika Slovenija
- Število zaposlenih: ni vpisa – 0
- Registrski organ: Uprava RS za javna plačila
- Datum vpisa: 19.9.1994
- Vrsta lastnine: državna lastnina
- Ustanovitelj: ni vpisan
- Zakoniti zastopniki: zastopnik ni vpisan
- Dejavnosti SKD: 084.110 – Splošna dejavnost javne uprave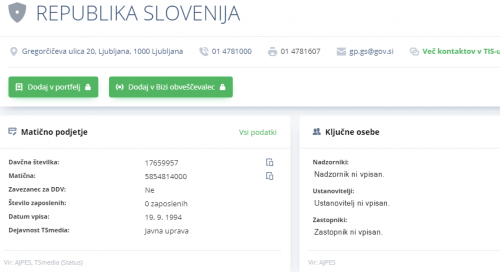 Vir: https://www.bizi.si/REPUBLIKA-SLOVENIJA/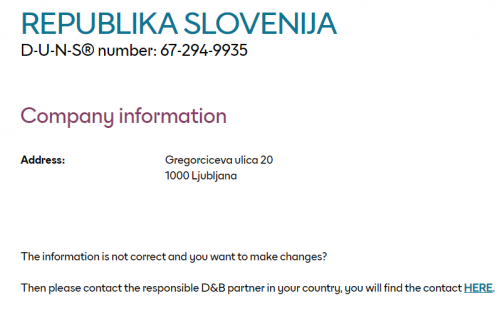 Vir:https://www.dnb.com/business-directory/company-profiles.republika_slovenija.6baa95b9de78bd9ba1588a23a727018e.html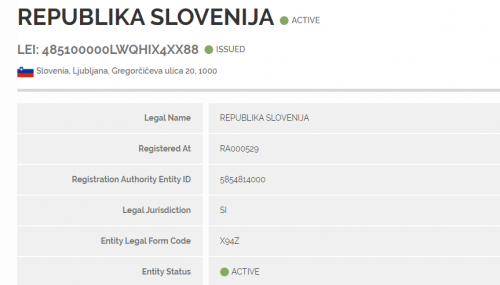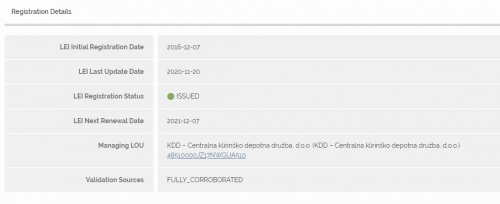 Vir: https://www.leinumber.com/leicert/?lei=485100000LWQHIX4XX88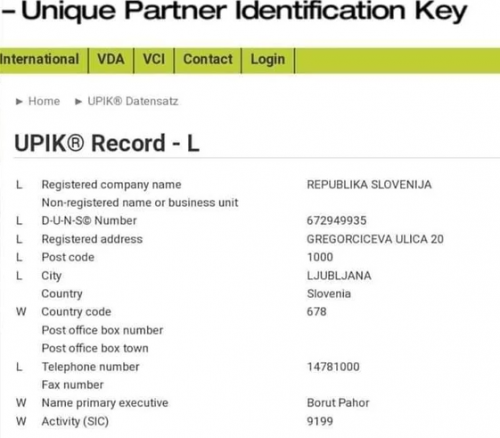 Vir: https://www.rodnazemlja.eu/single-post/gospod-predsednik-ali-ste-direktor-korporacije-republika-slovenija
Na podlagi ugotovljenih dejstev se torej pojavljajo naslednja vprašanja:
- Državljani RS imajo svojo državo?
- Kaj je država in kaj je korporacija – je to deljena administracija, se vodi dvojno knjigovodstvo?
- Je predsednik države tako tudi direktor korporacije?
- Kakšno je razmerje med državo in korporacijo in kakšno vlogo imajo v tem državljani, kako to na njih posledično vpliva?
- Davkoplačevalci plačujejo davek državi ali korporaciji?
- Gre javno premoženje v privatno?
- Kakšni so interesi države in kakšni so interesi korporacije?
- Je korporacija del države, deluje v imenu države?
- Kakšno vlogo imajo tukaj državni organi – predsednik, vlada, ministrstva in drugi?
- Nam vodijo/usmerjajo javni interesi, ali privatni/zasebni interesi?
- Kdo odloča: državljani, država, banke, zasebni interesi, mednarodne organizacije?
- So kakšne skrite pogodbe?
- Je Republika Slovenija suverena država?
- Kakšno vlogo ima jurisdikcija, je korporacija izven jurisdikcije, si piše svojo jurisdikcijo?
- Je to legitimno, transparentno, zakonito?
- Kdo ogovarja za morebitne škode, povzročene slovenskemu narodu, državljanu?
- Je bila javnost o tem obveščena, se jo je vprašalo za mnenje?
- Obstajajo zasebni interesi, kateri preko KORPORACIJE črpajo javne finance, torej posledično tudi premoženje prebivalstva?
- Je državljan svoboden ali (novodobni) suženj?
- Glede na dejstvo da je naslov KORPORACIJE Gregorčičeva 20, 1000 Ljubljana (kjer je tudi sedež Generalnega sekreteriata Vlade Republike Slovenija), je posledično Vlada RS omenjena KORPORACIJA?
- Zakaj na Bizi.si ni vpisan ustanovitelj in zakonit zastopnik KORPORACIJE in kdo je odgovoren?
Podal sem nekaj bistvenih vprašanj, ki so se mi zdele bistvene. Zadeva je osnovno raziskana, a na ta vprašanja lahko zahtevamo RESNIČNE odgovore, brez prikrivanj, manipulacij, pogajanj in laganja.
Zadnje vprašanje: Komu potsavit ta vprašanja?