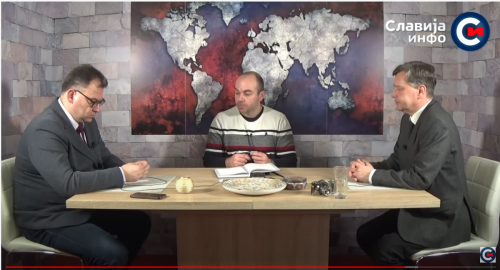 Gosta oddaje Dialog na info kanalu Slavija sta bila dr. Alek Račić in dr. Ivan Pajović.
V oddaji Intervju spoštovani akademiki Akademije RAS pravijo, da ukazov tako imenovanega kriznega štaba in ukrepov, ki jih želijo uvesti, sploh ne bi smeli sprejemati.
Ukrepi kriznega štaba so pogosto najpogostejša neumnost.
Danes v Srbiji vladajo mojstri denarja.
Kar zadeva izbiro cepiv, ljudem, ki jo želijo sprejeti, je dr. Račić priporočil Sputnik, vendar le, če je to res potrebno, nobenemu od njih ne svetuje po nepotrebnem.
Ostalo so znanstvena fantastika in popolnoma neznane tehnologije, posledice teh pa bomo ugotovili v 6 do 9 letih. Dr. Račić je potrdil, da oseba, ki ima protitelesa, ne sme prejemati protiteles, temveč se mora osredotočati le na ogrožene.
Posledice za gospodarstvo so katastrofalne, Srbija pa je zapadla v vrtinec zadolževanja, iz katerega se verjetno lahko izvleče brez določenih virov.
Danes mediji in banke odločajo o usodi državljanov in ne smemo se strinjati z ukrepi Kriznega štaba. To zanimivo oddajo priporočam vsem.