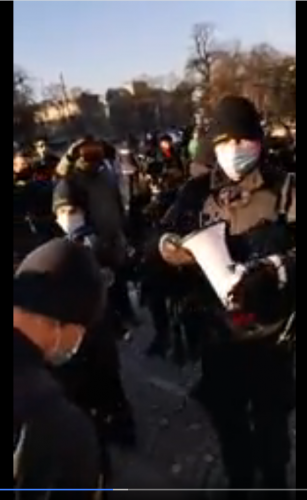 Zato, da bi oblast preprečila glas resnične volje naroda, so včeraj policaji, na tisočglavem shodu naroda, zasegli mikrofon in zvočnike - SRAMOTA !
Očitno se janša in celotna slovenska politika bojijo razmaha resnice, ki brutalno razgalja njihovo 30 letno krajo in ropanje naroda.
Namesto obljubljene druge švice, se je pokazala planirana zavajalska zabloda, ki nas je pripeljala na prag bankrota države, revščine in pustošenja slovenskega življa.
Ti razvajeni policajski pomagači, te nelegitimne vlade in politike, ti pohajači, ki živijo pravzaprav na naših žuljih, imajo plače tudi do 10 X večje od plače enega izmed nas, običajnega delavca, ki z vsemi dodatki ne preseže 500 eur mesečno.
Narod naj ve, da imajo šerifi policijskih postaj tudi do 5000 in več plače.
In kaj naredijo ti samooklicani šerifi za ta ukraden denar iz ust obubožanega naroda?
Pošiljajo svoje podrejene pisat globe ljudem taistega naroda zaradi nezakonitih odlokov vlade na osnovi lažne epidemije, ki je sklicana na temelju lažnega virusa.
.
Da bo narod enkrat za vselej razumel,
"virusa" SarsCov2 nikoli noben znanstvenik ni videl pod elektronskim mikroskopom,
"virusa" SarsCov2 noben znanstvenik ni posnel na micrograph v obliki elektronske fotografije,
"virusa" SarsCov2 nihče od znanstvenikov nikoli ni izoliral in prečistil, tako imenovani izolat virusa SarsCov2 ne obstaja, to je uradna trditev, ki sta jo podala ameriški CDC - center za nadzor bolezni in nedavno Irska NHS državna zdravstvena uprava,
nalezljivosti in patogenosti "virusa" SarsCov2 nihče ni znanstveno dokazal z znanstveno metodo Kochovih postulatov ali Riverjevega kriterija,
skratka ta "virus" nikoli ni bil znanstveno dokazan!
Torej te zločinske pijavke so uvedle vrsto nezakonitih ukrepov proti narodu. Vsi ti ukrepi so umetno nastavljeni, samo da bi preprečili zbiranje naroda, ker vedo, da je združen narod njihov konec.
Pošiljajo te policijske lakaje strašit ljudi z globami zaradi zbiranja in pojavljanja na javnih mestih.
S tem hočejo zatreti prodor resnice, izvajajo cenzuro na vse mogoče načine, pri tem uporabljajo metode kontraobveščevalnih služb z motenjem komunikacij, s kontra propagando diskreditacije vseh poštenih državljanov, ki se borijo, da bi resnica prišla na dan.
Skratka država je v tem trenutku sovražnik naroda, policija ji v tem pogledu pomaga in je tudi sovražnik naroda, sodišča so neodvisna veja oblasti in tudi niso odreagirala, da bi presekala to zločinsko početje.
Narod budno spremlja, upor je že v razmahu in računi bodo položeni.
Nič več ne bo preprečilo legitimnega srda naroda.
Iz protesta v protest vse do prevzema ljudske oblasti.