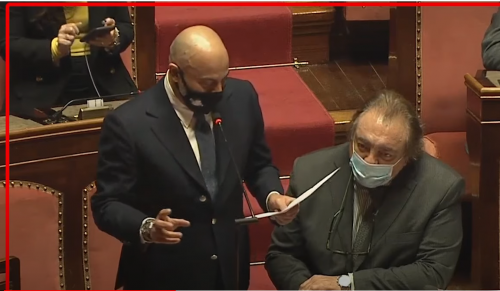 Podaljšanje izrednega stanja do aprila in novi ukrepi kmalu, z novim dekretom - Dpcm: minister za zdravje Roberto Speranza je med 291. javnim zasedanjem senata posredoval nadaljnje ukrepe za obvladovanje izrednih razmer COVID-19. Na koncu njegovega govora je potekala razprava senatorjev.
V tem videu je odgovor senatorja Gianluigija Paragoneja, ki je tako komentiral govor ministra Speranze.
"Gospod predsednik, obtoževanje žrtve je postopek, pri katerem se človek počuti krivega. To je neke vrste samoobtoževanje. V finančni krizi so denimo žrtvam bankirjev očitali, da živijo izven svojih zmožnosti in v časopisih in v pogovorih je zmagal ekonomist, ki je pojasnil, da je treba pas zategniti, da je prišel čas varčevanja kot pravičnega izteka.
Z zdravstveno krizo se ponavlja enak mehanizem krivde: za to so krivi državljani, ki širijo virus, se gnetejo v centru, pijejo aperitiv, ki bi celo radi, da se njihovi otroci vrnejo v šolo, ali ki bi celo radi javni prevoz. Virolog zavzame mesto ekonomista v enakem smislu. Skratka, krivi so ljudje, ki niso uvedli samodejnega zaklepanja.
Vlada dela, kar lahko; barva cone in vsake toliko daje priložnost, da gremo ven, vendar le, da se vidi učinek, kot "posledica", in nam nato lahko pove: vi ste krivi, kaj zdaj želite?
Minister Speranza je dejal, naj zdravje izločimo iz politične bitke. Ne, minister Speranza, izločite zdravje iz poslov z maskami - pretvarjajte se, da ne slišite - z blagovno znamko FCA ali uvožene iz Kitajske. So emblem vaše podložnosti moči. Minister za zdravje, izločite se iz pohlepa multinacionalk.
Multinacionalne družbe za zdravila ne morejo pisati pogodb, o katerih ni mogoče poznati podrobnosti. Vlade plačajo in lahko noč in v primeru poškodbe cepiva je Big Pharma imuna pred odgovornostjo, ker ji boste zagotovo dali tudi tega celotnega malleurja. Pravica do zdravja ne izhaja iz pravice Big Pharme, da z našim denarjem poveča promet in dobiček.
Končno, minister Speranza, svojega zdravja ne prepustite Arcurijevi nezmožnosti in aroganci. Dovolj je! Dovolj je! Dovolj je! Kakšno bolano gledališče, ko ta Arcuri grozi s tožbami, zaprite usta novinarjem s hrbtenico, ki želijo le razkriti škandal trgovine z maskami s Kitajske, napihnjenih stroških in čudnih borznoposredniških družbah. Še enkrat nam bodo sodniki povedali, kdo je postal "tajkun", ker tu diši po velikem "tajkunu".
Vlada Italijanov ne spoštuje ustavne pravice do zdravja, temveč jih postavlja v vlogo krive žrtve, in tako se mora gostinec ali trgovec v temi obupa upreti neizprosnemu bankrotu svoje dejavnosti. Ta gostinec in ta trgovec se je prisiljen zoperstaviti odlokom in propagandni medijski kampanji.
Minister zdravja, Speranza, eno leto vaše nesposobnosti se odraža v obrazu Arcurija, v maskah Elkanna ali Kitajcev ali v brizge naslednjega, ki bo zaslužil po zaslugi vlade. Bolj kot izrednih razmerah smo v izredno velikih profitnih priložnostih. "