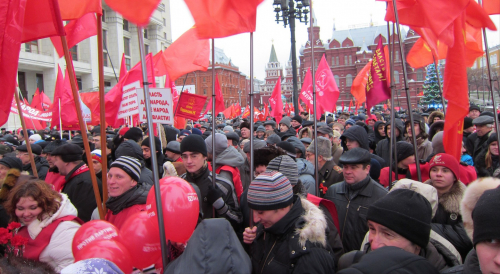 Nagobčniki, socialno distanciranje in virtualno učenje so v resnici namestitev KOMUNIZMA
Vse glede "nove normale" je oblikovano po komunistični Kitajski. Večina Američanov misli, da gre zgolj za zaščito pred Covid-19, a to je le naslovnica, tako kot je 11. septembra bila naslovnica zakona Patriot Act, ki je ameriški vladi omogočil vohunjenje za vsakim Američanom in onemogočanje ustavnih pravic. V komunističnem režimu ljudje ne smejo imeti osebnosti, podjetij, religije, zdravih socialnih stikov ali več denarja kot ostali. Vsi so revni, zato so vsi enaki - podrejeni tiranski vladi, ki konča ustvarjalnost, podjetništvo, verjame v Boga, govori svoje misli in tiska mnenja o vladi.
Zato je Covid popolna fronta za namestitev komunizma v Ameriki in seveda po celem svetu. Z nameščenimi nagobčniki ne moremo videti izrazov ali nasmehov drug drugega ali celo imeti običajnih pogovorov. S socialnim distanciranjem nismo enotni ali organsko sodelujemo. Namesto tega smo virtualni. Jemo GSO. Gensko smo mutirani s cepivi in ​​tega ni mogoče nikoli razveljaviti. Korporacije brez poslovanja vodijo mala in srednje velika podjetja, plandemija pa je popoln izgovor, zato Američani ne bodo vstali in strmoglavili režima, še preden bo prepozno.
Je šola za ameriške otroke postala skoraj brez vrednosti? To je načrt, ki prihaja iz Biden-ovega režima, ki je kradel volitve. Je zdaj doma več trenja, ko so vsi na "virtualni" zapori? To je načrt, ki prihaja iz globalističnega režima. Ali otroci dobesedno obiskujejo šolo, sedijo sami v svoji učilnici, medtem ko učitelji na svojih računalnikih poučujejo tako rekoč od doma? Da. To se trenutno dogaja v Ameriki. Gre za komunizem, ne za ublažitev bolezni.
Se sprašujete, zakaj to zimo gripa ne razsaja, samo Covid? To je plandemija, kar pomeni, da je bila načrtovana.
Ste vedeli, da je komunizem ubil več ljudi kot lakota, jedrsko orožje ali bolezni skupaj?
Komunizem je najbolj smrtonosni "virus" na svetu in socializem je tisto, kar ga širi. Socializem sistematično odpravlja srednji sloj. Državljani so bodisi svinjsko bogati bodisi smrtno revni. Na sredini ni ničesar. Usposobljeni smo, zaprti in izobčeni kot ogromne črede govedi ali ovac. Nagobčniki, socialno distanciranje in navidezno "učenje na daljavo" nas izolirajo in odvzamejo skupinsko razmišljanje. Nič več načrtovanja za peone. Brez kritičnega razmišljanja. Vsi bomo prešibki, revni in izolirani drug od drugega, da bi se uprli.
To je Hitler naredil z Judi v koncentracijskih taboriščih. Potem jim je dal fluor v vodo. Sliši se znano? Amerika je trenutno pod komunističnim dežnikom, le še ni tako očitno, ker so skoraj vsi kupili pripoved o pandemiji. To je pravilo, ki temelji na strahu, vendar se pripravite.
V ZDA vlada režim, ki temelji na strahu, znanem tudi kot NPKA - Nova Plandemična Komunistična Amerika.
V socializmu (komunizmu) nihče ni lastnik zemlje, lastnega podjetja ali orožja. Kritizirajte voditelje ali politike nasploh in znajdete se v zaporu, kjer vam odstranijo organe in jih prodajajo na črnem trgu, enega za drugim. Se sprašujete, zakaj poteka lažna rasistična vojna, ki jo vodi Antifa? Ker pretres prepriča množice, da sprejmejo vojaško stanje za "zaščito", in to je konec naše republike. V njem so vsi družbeni mediji, televizijske novice in vsi časopisi - razprodani komunizmu, novemu ponudniku, ki je ponudil največ.
Amerika je zadolžena približno 25 bilijonov dolarjev, kar hitro narašča pod komunističnim režimom Bidena. Močna inflacija in naraščajoče obrestne mere so tik pred ovinkom, skupaj z novim pokom nepremičninskega balona. Tokrat recesije ne bo. To bo depresija, ki je nerazumljiva.
Pripravite se na zelo dolge prehrambene linije in prisilno cepljenje na vseh delovnih mestih. Bodite pripravljeni na množični nadzor, Natova policija (komunistični plačanci), droni in roboti, ki nadzorujejo vsako metropolitsko mesto. V Rusiji je bil holokavst pred Nemčijo, če niste vedeli, in to je bil zelo temen, okruten svet. Torej se zavedajte in zapomnite si to: Nagobčniki, socialno distanciranje in virtualno učenje so v resnici namestitev KOMUNIZMA v Ameriki.