Koncentracijska COVID taborišča za Avstralce; dogaja se | Jon Rappoport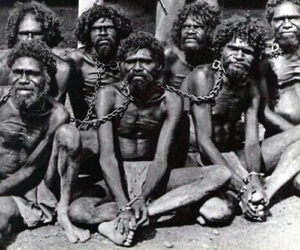 22. november 2021: »Avstralska vojska je začela na silo odstranjevati prebivalce severnih ozemelj v karantensko taborišče Howard Springs, ki se nahaja v Darwinu, potem ko je bilo v skupnosti Binjari ugotovljenih devet novih primerov Covid-19. Ta poteza je nastala po tem, ko so bile v soboto zvečer uvedene stroge zapore v skupnostih Binjari in bližnjega Rockhole.
»Prebivalci Binjarija in Rockhole nimajo več petih razlogov, da bi zapustili svoje domove,« je dejal glavni minister severnega ozemlja Michael Gunner in se skliceval na pet dovoljenih razlogov v državi, da se izognejo zaprtju (kupovanje hrane in zalog, vadba do dve uri , oskrba ali nego, delo ali izobraževanje, če tega ni mogoče opraviti od doma, in cepljenje na najbližji možni lokaciji).
"'Lahko zapustijo [dom] samo zaradi zdravljenja, v nujnih primerih ali v skladu z zakonom'."
»Zelo verjetno je, da bo več prebivalcev danes premeščenih v Howard Springs, bodisi kot pozitivni primeri ali tesni stiki,« je nadaljeval in dodal: »Identificirali smo že 38 tesnih stikov iz Binjarija, vendar se bo to število povečalo. Teh 38 je zdaj premeščenih.
»Sinoči sem kontaktiral predsednika vlade. Hvaležni smo za podporo približno 20 osebja ADF, pa tudi vojaških tovornjakov za pomoč pri premeščanju pozitivnih primerov in tesnih stikov – in za podporo skupnosti.
"Danes delamo oceno, kakšna dodatna sredstva bi morda potrebovali od Federacije, in premier je pripravljen pomagati še naprej - zahvaljujem se mu za to."
»Pred petimi dnevi je senatorka NT Malarndirri McCarthy povedala za ABC, da je prevelika gneča v avtohtonih skupnostih 'ogromna težava', s čimer je opozoril na drugo skupino novih okužb v regiji – ki je vključevala devet članov McCarthyjeve neposredne družine, vključno z njeno sestro, ki je priletela iz Katherine. v Robinson River, medtem ko je nevede s seboj prinesla COVID-19, v skladu s poročilom."
Sociopati in njihovi viharniki, ki vodijo Avstralijo, bi v Hitlerju in Stalinu podžgali bolestno zavidanje.
"Mislite, da lahko izvajate železni nadzor nad celim narodom na podlagi ZGODBE O VIRUSU?"
Prejel sem poročilo iz Avstralije, ki prikazuje število protestnikov proti nacionalnemu mandatu cepljenja v ključnih mestih za vikend od 20. do 21. novembra.
Skupno je blizu milijon ljudi – v 25-milijonski državi. To je osupljivo.
Upajmo, da se bodo te številke povečale.
Posodobitev: še eno poročilo iz Avstralije; vojska je začela vsiljevati cepljenje staroselcem na severnem ozemlju.
Povsem jasno je, da ne živimo v istem svetu, v katerem smo živeli pred dvema letoma.
Ta svet ne obstaja več.
Oglejte si ta šokantni videoposnetek, ki ga je posnela June Mills, staroselska starešina na severnem ozemlju. Posnetek obremenjuje fašističnega glavnega ministra ozemlja Michaela Gunnerja in poziva svoje ljudi v drugih mestih, naj poročajo o tem, kaj se jim dogaja in kaj počne vojska.
Vprašajte se: Ali je to iracionalno divjanje ženske, ki je šla čez rob, ali je natanko tako reagirala zdrava oseba, ko se vladni morilci svobodno izživljajo v njeni soseščini?
viri:
https://www.zerohedge.com/covid-19/australian-army-begins-transferring-covid-positive-cases-contacts-quarantine-camps
https://www.facebook.com/TerritoryChief/posts/435285761296933 (Micheal Gunner's statement)
https://aecom.com/projects/manigurr-ma-village/ (Howard Springs COVID concentration camp)
https://www.brighteon.com/cf5650c2-4167-4be8-9ca6-47d2bb52961d (June Mills's call to action)