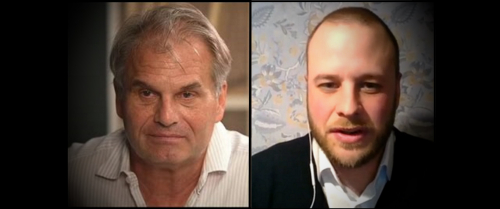 »… Odgovorni bodo vsi, ki so vpleteni v to – politiki, mediji, vsi.
Najpomembnejša stvar, kot namigujete na Evropsko unijo, je, da se to lahko zgodi le zato, ker je bilo storjeno od daleč. Ker nas ljudje poskušajo prisiliti, da delamo tisto, kar hočejo od nas – ljudi, s katerimi nimamo nič, ljudi, ki jih nikoli nismo izvolili. To je popolnoma nedemokratičen proces, na katerega gledamo, katerega rezultat nas ubija.
Če bi v vseh regijah – na Švedskem, v naših regijah v Nemčiji, v naših ločenih majhnih regijah na Danskem. v vseh teh krajih — če bi uveljavili svojo besedo, se to ne bi nikoli zgodilo.
Zato se moramo odklopiti od vseh teh globalnih korporacij, ki niso nič drugega kot plenilci. Ne proizvajajo ničesar. Samo kradejo…
Vzpostaviti moramo lastne lastne dobavne verige, kmetijske dobavne verige, zdravstvene dobavne verige, verige oskrbe z energijo in za to imamo sredstva.
Mi – tisti, ki ne bomo dobili strupenega COVID vboda – smo tisti, ki imamo ob sebi vse dobre ljudi, pametne ljudi. Vsi drugi, ki sledijo ukazom, ne vedo nič.
Ničesar ne razumejo.
Na koncu nas bodo potrebovali, da jih rešimo, če obstaja način, da jih rešimo.
Vendar se moramo zavedati, da gre za regije.
Moramo se povezati med seboj, izmenjati najboljše ideje.
Toda samo mi v naših skupnostih, v naših ločenih regijah, samo mi vemo, kaj je najboljše za nas.
In nikoli več ne bomo dovolili, da nam noben od teh barab pove, kaj naj naredimo. To se ne bo zgodilo. Razkrivamo jih in to bo zanje konec vrste."
~ Dr. Reiner Fuellmich
Jesper Johansson, Perspektiva
z Ulfom Bittnerjem, državnim novinarjem in blogerjem
10. januarja 2022
bitchute: https://www.bitchute.com/video/EyB0Mbz4z7N1/
Potem ko so zaslišali izjavo priče pred nemškim preiskovalnim odborom za korono, ki jo je dal nekdanji podpredsednik Pfizer dr Mike Yeadon, ki je znanstvenik že 36 let, odvetniki Reinerja Füllmicha povzamejo dejstva v smeri enakega zaključka:
injekcije, ki se običajno imenujejo cepiva proti Coroni, so zasnovane za eksperimentiranje na človeški rasi in ugotavljanju, kakšen odmerek še neznanega toksina je potreben za ubijanje ljudi.
Stopnja umrljivosti, povezana s cepivi, je po Yeadonu sledljiva glede na število serij različnih sarž, saj se zdi, da so nekatere serije bolj smrtonosne kot druge. Če pogledamo razpoložljive dokaze, je po mnenju vpletenih pravnikov glavni cilj injekcij po vsem svetu globalna depopulacija.
Dr Füllmich je za Perspektiv povedal, da odvetniki, ki pripravljajo mednarodno tožbo, niso več v dvomih: zastrupitev in množični umori s tako imenovanimi cepivi Corona se namerno izvajajo nad narodi sveta.
Državljanski novinar Ulf Bittner z bloga EU/EES Healthcare in Sverige Granskas sta v intervjuju izjavila, da je situacija s sledljivimi številkami lotov ter poškodbami in smrtjo, povezanimi s številkami sklopov, podobna v različnih regijah zdravstvenega varstva na Švedskem. Bittner je v stiku s koordinatorjem cepiv, ki je posredoval dokumente za spremljanje, koliko ljudi je bilo poškodovanih in izgubilo življenja v zvezi z različnimi serijami tako imenovanih cepiv.