Medtem ko se pripravljate na dopust, ne pozabite nanj pripraviti tudi vašega jeklenega konjička. Pri pripravi avtomobila na daljše potovanje lahko veliko naredite kar sami. Recimo odstranite nepotrebne stvari, ki jemljejo prostor, pregledate delovanje brisalcev, uredite dokumentacijo avtomobila ter zabojček za prvo pomoč in preverite zračni tlak v pnevmatikah ter njihovo ustreznost.
Neglede na to kam se odpravljate, boste slej ko prej naleteli na dolge cestne kolone, vročina, razgreti asfalt, dolga vožnja ter z njo povezana utrujenost pa bodo še dodatno oteževali vaše potovanje. Pri www.gume-direkt.si poudarjajo, da je zelo pomembno voziti se v izpravnem vozilu z zanesljivimi gumami, ki vas bodo varno in brezskrbno pripeljale do cilja.
Ne samo v zasneženi zimi, tudi v vročem poletju in na vročem asfaltu, mora biti vaše vozilo obuto v kvalitetne pnevmatike, ki bodo omogočale varno vožnjo in pravilno odzivanje avtomobila v nepredvidenih situacijah. Zmes letnih gum je manj elastična v primerjavi z zimskimi pnevmatikami in zato bolj primerna za oprijem cestišča pri višjih temperaturah. Kotalni upor in obraba so nižji, vožnja pa je bolj udobna. Dodatna prednost uporabe letnih pnevmatik je tudi manjša poraba goriva, kar je posebej še če gre za dolgo vožnjo, zelo dobra novica za denarnico.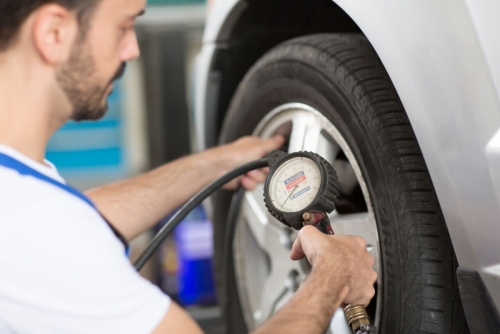 Pri nemškemu podjetju Delti.com, enemu največjih spletnih prodajalcev pnevmatik vseh vrst pri nas pa opozarjajo še na eno pomembno značilnost pnevmatik in sicer da so ustrezno napolnjene oziroma da imajo dovolj zračnega tlaka. Ker se boste na dopust verjetno odpravili s polno naloženim avtomobilom imejte v mislih, da je zaradi dodatne teže potrebno tlak v avtomobilskih gumah nekoliko povečati. Ponavadi za 0,2 do 0,3 bara, vendar pa je to odvisno od vsakega vozila in gum posebej, zato preverite tovarniško specifikacijo vašega avtomobila, oziroma tako imenovana »navodila za uporabo«. Pri tem seveda ne pozabite tudi na rezervno pnevmatiko, ki jo po vsej verjetnosti imate pospravljeno v zadnjem delu avtomobila.
Tlak v pnevmatikah se sicer preverja pri hladnih gumah, še preden se vozilo začne premikati in se segreje. Ustrezno visok zračni tlak v pnevmatikah omogoča izboljšan odziv na krmiljenje vozila, porabi manj goriva, vožnja pa je nekolika trša in pnevmatike se hitreje obrabijo po sredini. Nižji tlak v pnevmatikah obljublja bolj gladko vožnjo, vendar pa se na tak način pnevmatike hitreje obrabijo ob straneh, pa tudi konsumpcija goriva je višja, saj pnevmatike potrebujejo več moči za potiskanje vozila.
Vsekakor je pnevmatike, njihov način delovanja in osnovne značilnosti vredno dobro poznati ali vsaj vedeti kje najti ustrezno informacijo o vaših pnevmatikah, ko jo potrebujete. Označbe pnevmatike se sicer nahajajo na njih samim, na tej povezavi pa si lahko ogledate kaj posamezna označba sploh pomeni.
Imejte kar se da prijetne in močno zapomnljive počitnice in ne pozabite, da je kvalitetno obuvalo vašega avtomobila tako zelo pomembno, kot vaše lastno.