Poletje. Morje, sonce, počitnice, prosti čas, avanture, veter v laseh, romantično šepetanje, dalmatinske balade … vsi tisti zapomnljivi trenutki, s katerimi lahko vsaj za nekaj časa pobegnemo pred vsakdanjo rutino, pozabimo na stres in probleme ter se prepustimo sproščanju in polnjenju baterij.
Kaj pa, če človek vseh teh lepih in sproščujočih trenutkov nima s kom deliti?
Kaj pa, če ga/jo zdelujeta osamljenost, hrepenenje?
Potem je čas, da prime stvari v svoje roke in si najde moškega/žensko svojih sanj. Morda že to poletje :)
Splača se preveriti Dogodke za Samske, saj organizirajo zares raznolike spoznavne dogodke, kjer verjamem, da se za čisto vsakega kaj najde.
Kljub temu da je čas počitnic in dopustov, pri Dogodkih za Samske v poletnih mesecih beležijo povečano povpraševanje po nekaterih dogodkih, predvsem po Hitrih Zmenkih in Zmenkih v naravi, ljudi pa zanimajo tudi dopustovanja samo za samske, zato letos pripravljajo tudi počitnice na eksotičnem otoku Bali. Večje zanimanje pripisujejo temu, da se poleti ljudje bolj sprostijo, so bližje soncu, morju, ljubezen je v zraku in vsi si želimo biti del nje. Morda bo prav to poletje 2016 prineslo ljubezen tudi tebi.
V primerjavi s svetovnim trendom, so se Hitri Zmenki pri nas pojavili že zelo zgodaj. Prvič v Ameriki ob koncu devetdesetih, v Sloveniji pa smo jih doživeli že dobrih deset let kasneje. Kriva za to je Nina Slapnik, ki je že pred leti ugotovila, da je tako kot po svetu tudi v Sloveniji velik delež samskih ljudi, ki ne vedo kako, ali pa enostavno nimajo časa za spoznavanje novih ljudi. Zato je zanje, prvič leta 2010, organizirala Hitre zmenke, po zgledu judovskega Američana Rabbija Yaacova. Ta je prve Hitre zmenke organiziral leta 1998 v Beverly Hillsu, vzor pa je prevzel po judovski tradiciji. Judovski starši so namreč svojim hčerkam iskali partnerje na zelo podoben način. Danes so Hitri zmenki najbolj priljubljen spoznavni dogodek po vsem svetu.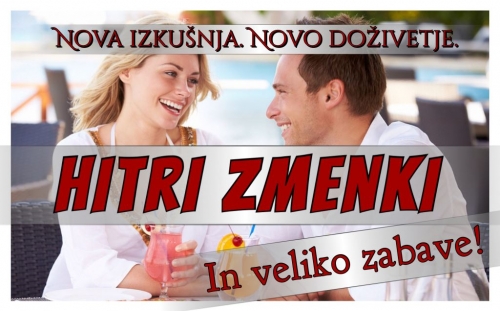 V mestih z veliko prebivalci jih organizirajo še bolj segmentirano - recimo glede na vero ali pa glede na izobrazbo in hobije, celo glede na telesno višino in premožnost. Tako so Hitri zmenki namenjeni samo katolikom, samo srednje izobraženim, tistim, ki imajo radi ali se ukvarjajo z glasbo, pa potem Hitri zmenki za geje, za starejše, mlajše … Pri nas v Sloveniji Hitre zmenke organizirajo glede na starost udeležencev - razdelijo jih v starostne skupine od 25 do 35 let, pa od 35 do 45 let, od 45 do 55 let in od 55 do 65 let. Če je oseba na meji z leti se lahko odloči, katera starostna skupina ji bolj odgovarja.
Koncept Hitrih Zmenkov je sila preprost. Ženske se usedejo vsaka za svojo mizo, na vsakih 7 minut pa se jim za mizo pridruži novi moški sogovornik. Tako imata na voljo sedem minut, da se spoznata, poklepetata, se nasmejita šalam … in nasploh začutita, ali bi si drug drugega še kdaj želela srečati, ali pa morda raje ne. Ob koncu večera tako vsak posameznik spozna tudi do dvajset oseb nasprotnega spola in se nato odloči, katere izmed njih želi srečati ponovno. V kolikor je simpatija vzajemna, jima organizatorji posredujejo kontaktne podatke in potem … je čas za daljše zmenke ...).
Samski so se, dokler na sceno niso prišli Dogodki za Samske, sicer lahko spoznavali preko različnih spletnih mest, vendar pa je tam manjkalo nekaj, kar jih je veliko pogrešalo. Osebno srečanje, osebno komunikacijo, spoznavanje v živo, ko lahko pri sogovorcu energijo začutiš in lastni intuiciji prepustiš presojo o tem, ali bi spoznano osebo še želel srečati. Nina Slapnik je z dobro načrtovanim pristopom, ki ga je preučevala in trenirala več let, se pri tem poglabljala v ogromno literature, predvsem pa močno sledila trendom Hitrih zmenkov po svetu, Sloveniji predstavila nekaj, kar mnoge samske osrečuje, jih kratkočasi, predvsem pa jim daje možnost, da se spoznavajo, družijo in včasih tudi »potarnajo« ali se veselijo med sabo. In se zaljubijo. Da, veliko se jih tudi zaljubi.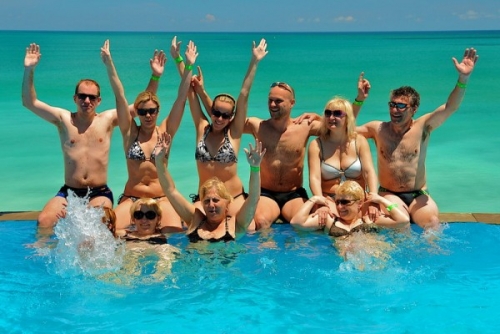 Ko smo že ravno v času dopustov in ko smo še toliko bolj razpoloženi za potovanja, raziskovanja in nove avanture, je vredno omeniti, da pri Dogodkih za Samske skrbijo tudi za željne potovanj in avantur. Kot že več let prej, tudi letos odhajajo na skoraj dvo-tedenske počitnice na enega najlepših, najbolj pravljičnih in definitivno najbolj zaljubljenih otokov – na indonezijski otok Bali.
Samski se bodo na 13-dnevno počitnikovanje odpravili 20. 9. 2016, poleg tega, da bodo nastanjeni v zares krasnih, prestižnih vilah s petimi zvezdicami, pa bodo spoznavali tudi divje živali, plavali z delfini, preizkušali lokalne dobrote, se učili balinezijskih tradicionalnih plesov, spoznali tropske ptice, jahali slone, občudovali romantični sončni zahod ... in se predvsem družili med sabo, se zabavali in spoznavali ob zanimivih interaktivnih aktivnostih, ki jih bo pripravilo osebje Dogodkov za Samske v sodelovanju z lokalnimi animatorji in vodiči.
Preverite Dogodke za Samske in si mogoče zapomnite poletje 2016 po tem, da ste se zaljubili ....