Nisem samska, ampak živim pa sama (s psičko). In tovrstna "samskost" je pri pravilnem in rednem prehranjevanju večkrat problem.
V Sloveniji je po nekaterih statističnih podatkih več kot 40% samskih ljudi, številka pa iz leta v leto narašča. Da je samskost v porastu in da so samski vedno bolj naklonjeni k raznoraznim spoznavnim, družabnim in drugim dogodkom, ki jih povezujejo in spoznavajo med sabo, pa priča dejstvo, da so Dogodki za Samske postali tako priljubljeni, da dandanes organizirajo že nekaj dogodkov na teden, vedno znova pa uvajajo tudi nove tematske dogodke. Tokrat je govora o kulinaričnih zmenkih.
"Samski ljudje so nemalokrat lačni ljudje" je rekel Simon Šketa in sama se močno strinjam. Jaz živim sama (s psičko sicer, ampak ona ponavadi z mano ne je, niti ne kuha) in če mislite, da je kuhanje pri meni vsak dan na seznamu opravil, se močno motite. Večino delavnih dni preživim delavno. Za računalnikom ali na terenu, kar mi od dneva ostane, pa namenim sprehodom z mojo najboljšo prijateljico Joejo, sicer hišno komandirko in inšpektorico na štirih tacah. Prosti čas investiram tudi v obiskovanje glasbenih dogodkov, druženje s sestro, fantom in prijatelji...
Tale video pa me je (premočno) spomnil na moje zelo neredne in neresne prehranjevalne navade. Kot že napisano, svoj prosti čas veliko raje investiram v sprehode, glasbo, druženje, prebiranje vsebin o novostih v digitalnem marketingu .. kot pa da bi si vzela čas in kaj kvalitetnega skuhala - zase. To je ponavadi problem, ker moram kuhati zase. Če kuham še za sestro, fanta, prijatelje ... je ponavadi drugače. Takrat me kuhanje celo veseli. In odkar imam fanta, vsekakor kuham več. Vsaj takrat, ko je on na obisku :))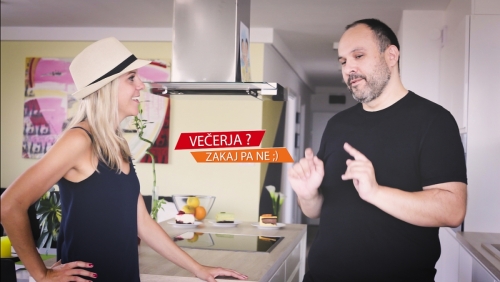 Ko pa sem bila samska, sem kuhala odločno premalo. Ko gledam video Nine in Simona, si mislim: "pa kje sta bila vidva, ko sem bila jaz samska?!" V samo nekaj minutah sta mi v svojem simpatičnem sproščenem pogovoru dala toliko dobrih idej, toliko uporabnih nasvetov, da mi je res žal, da ju nisem zasledila že prej. Ker če bi mi onadva svetovala pred par leti, bi danes verjetno imela kakšen (zdrav!) kilogram več, predvsem pa bi mogoče razvila večjo ljubezen do kuhanja. In kar je najbolj pomembno, če bi nanju naletela, ko sem bila še samska, bi morda danes bila jaz tista, ki bi svojega fanta navduševala s kulinariko, ne pa da mora on navdihovati mene :) Ampak ja. On je samozavesten. In postavlja pike. K sreči je tako tudi pri hrani :))
V Sloveniji zadnje čase vlada prav evforično navdušenje nad kuhanjem, pečenjem, dekoriranjem in vsem, kar je povezano s hrano. Če je eko / bio / gluten free itd itd, je zanimivo še toliko bolj. Zato vam vsem tistim 40% samskih ljudi polagam na srce, premislite, če je morda ravno hrana lahko tisti mali čudež ki vam še manjka, da razbijete led, pristopite k njemu/njej in ga/jo očarate prav s kulinariko, pa naj bo to v teoriji ali praksi :)
Sicer pa predlagam, da za več super nasvetov ali pa celo kak zanimiv dogodek preverite tukaj.