Prof. Zlatko Miliša: 'Svjetska zdravstvena organizacija zaslužila je najstrože sankcije i biti trajno diskreditirana'
Daniel Colnar : 6.10. 2020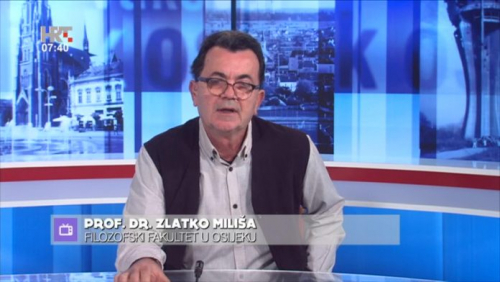 Objavio sociolog in pedagog prof. Zlatko Miliša -5. listopada 2020. u 16:17
Vjerujem da će nove inkriminirajuće radnje vezane uz Svjetsku zdravstvenu organizaciju (WHO), uz već dokazanu spregu s farmaceutskom mafijom, dovesti do toga da WHO bude konačno stavljana tamo gdje zaslužuje – na stup srama! Ova priča ujedno je i dokaz kako je i pravosuđe na svjetskom nivou involvirano u razne lobističke grupe.
Najnoviji skandal Svjetske zdravstvene organizacije je da pedesetak žena optužuje osoblje te Organizacije da su suzbijanje ebole koristili kao paravan za seksualna uznemiravanja i silovanja u Demokratskoj republici Kongo i to između 2018. i ožujka ove godine.
U Zakladi Thomson Reuters ove su navode istraživali gotovo godinu dana, a Svjetska zdravstvena organizacija nakon objave njihovih optužbi konstatirala je tek u birokratskoj maniri da će svi navodi biti 'temeljito istraženi'. Većina optužbi za seksualno zlostavljanje ili silovanja odnosila se na liječnike, za koje se navodi da dolaze iz WHO-a. Mnoge su žene izjavile da su bile prisiljene na seks u zamjenu za posao.
Pandemija svinjske gripe: Koruptivne veze Svjetske zdravstvene organizacije i farmaceutske mafije
Nažalost, o Svjetskoj zdravstvenoj organizaciji, koja bi trebala biti dobronamjerna krovna svjetska stručna organizacija koja čuva zdravlje svih ljudi na planeti, iznova moram pisati u negativnom kontekstu.
Podsjećam, početkom 2011. godine Odbor za javno zdravstvo Europskog parlamenta odlučio se na ispitivanje veza farmaceutske industrije i Svjetske zdravstvene organizacije. Odbor donosi rezoluciju sa zaštitnim mjerama za sprječavanje sukoba interesa te da se ispita opravdanost proglašavanja pandemije svinjske gripe. Pandemija svinjske gripe je jedna od najvećih laži koja je trebala kompromitirati Svjetsku zdravstvenu organizaciju. Njemački parlamentarac dr. Wolfgang Wodarg, predsjednik Odbora za zdravstvo parlamentarne skupštine Vijeća Europe ocijenio je da je pandemija svinjske gripe zapravo "jedan od najvećih medicinskih skandala koji se ikad dogodio jer su vlade diljem svijeta nasjele na napuhane brojeve oboljelih i umrlih".
Prije nekoliko godina sam pisao da su tek rijetki odvažni liječnici i znanstvenici govorili o jednom od najmoćnijih lobija na svijetu – farmaceutskoj mafiji. Prodaja Tamiflua, virusnog lijeka protiv gripe, drastično je povećana, jer su se mediji raspisali o pandemiji svinjske gripe. Nitko nikada nije demantirao procjene da je farmaceutska industrija na cjepivu protiv svinjske gripe zaradila gotovo 700 milijuna dolara.
Liječnici i znanstvenici iz neprofitne organizacije Cochrane svojevremeno su izjavili da "ne postoje dokazi o djelotvornosti lijekova protiv te gripe, koju potencira virus H1N". Svi su se oglušili na njihov savjet da ne preporučuju serijsku uporabu antivirusnih lijekova "sve dok se ne dokaže rezistencija na njih te njihov učinak na središnji živčani sustav". Samo je tadašnja poljska ministrica zdravstva Ewa Kopacz odbila kupiti cjepivo protiv svinjske gripe dok se medicinski ne ispitaju posljedice.
Pandemija ebole: "Znajući za siromaštvo stanovništva, mnogi su se amoralni liječnici koristili seksualnom ucjenom"
Početkom 2011. Odbor za javno zdravstvo Europskog parlamenta odlučio je ispitati povezanost farmaceutske industrije i Svjetske zdravstvene organizacije. Donio je rezoluciju sa zaštitnim mjerama za sprječavanje sukoba interesa i za ispitivanje opravdanosti proglašavanja pandemije svinjske gripe. Od svinjske gripe do ebole djelovanje Svjetske zdravstvene organizacije je višestruko kompromitirano kriminalnim djelatnostima. Jedan od dokaza je da su se od pandemije "svinjske gripe" mjere zaštite maknule sa njihove web-stranice. Svjetska zdravstvena organizacija gnjusnu prijevaru započela je tijekom pandemije ebola virusa. (Izvor: WHO and the pandemic flu "conspiracies")
Tvrtke i razni lobiji imaju moć odabrati onoga za koga oni misle da se zaslužuje nazvati "stručnjakom"; izvrsnost kao takva nije nikakva determinanta tog izbora. Vidjeti izvor European Parliament to Investigate WHO and "Pandemic" Scandal.
Stručnjaci za svinjsku gripu Svjetske zdravstvene organizacije se dovode u vezu s farmaceutskim kompanijama. Sada ta visoko koruptivna Organizacija obećava kako će pokrenuti detaljnu istragu te kazniti seksualna zlostavljanja u Kongu tijekom pandemije ebola virusa. "Znajući za siromaštvo stanovništva, mnogi su amoralni liječnici koristili se seksualnom ucjenom kao uvjetom za zapošljavanje", izjavio je jedan zaposlenik SZO-a koji je izjavu dao pod uvjetom da ostane anoniman iz straha da mu se nešto ne dogodi.
Zašto još uvijek godišnje u svijetu umre više od 10 milijuna djece?
Svake godine od epidemija, neishranjenosti, zatrovanih voda i hrane te od strategije depopulista umire više od deset milijuna djece. (Vidjeti u: Robert E. Black, "Where and why are 10 millions children dying every year?")
Nakon što se razotkrilo da svinjska gripa nije smrtonosnija od obične sezonske, opet nitko nije odgovarao. Istraživanje časopisa British Medical Journal otkriva kako su tri visokopozicionirana člana Svjetske zdravstvene organizacije − Fred Hayden, Arnold Monto i Karl Nicholson − dobila golem mito od farmaceutskih kompanija koje su proizvodile "lijekove" protiv virusa tzv. svinjske gripe. Zato je 2011. Odbor za javno zdravstvo Europskog parlamenta donio rezoluciju sa zaštitnim mjerama s ciljem sprječavanja sukoba interesa onih koji šire laž o pandemiji svinjske gripe. Te je godine u Švedskoj cijepljeno više od 60% stanovništva i nije bilo znatne razlike u stopi smrtnosti u odnosu na Poljsku, u kojoj se nije cijepio nitko.
Iste je godine Hrvatska naručila 1,5 milijuna doza cjepiva i stotine tisuća kutija antivirusnih lijekova Tamiflu i Relenza. Samo je za to cjepivo trebalo izdvojiti oko 70 milijuna kuna. U Hrvatsku je tada stiglo oko 340.000 doza (ostalo je navodno zamijenjeno za sezonsko cjepivo), a potrošeno je, prema nekim podacima, manje od 20.000 doza.
Pandemija koronavirusa: Sprega Kine i Svjetske zdravstvene organizacije
Nakon proglašenja pandemije u ožujku ove godine i mnogih kontroverzi vezano uz funkcioniranje SZO američki predsjednik D. Trump je odlučio dovesti u pitanje njihovo financiranje. Hrabro je da prozvao SZO i najavio istupanje SAD_a iz te organizacije. Izvori: How to fix the WHO, according to an expert te FP.
Trump i bivša ministrica Poljske jedini su političari koji su odlučili opstruirati Svjetsku zdravstvenu organizaciju. Trump je beskompromisno odlučio na istupanje iz te organizacije, na što je imao apsolutno moralno pravo jer su SAD najveći pojedinačni financijer te dokazano koruptivne organizacije. Ukupni budžet Svjetske zdravstvene organizacije je ogromnih 2,5 milijardi dolara, piše Guardian.
Svjetska zdravstvena organizacja je od pojave koronavirusa nekritički branila poteze kineskih vlasti. Tako WHO odbila poslati neovisne međunarodne eksperte da istraže virusu u prvoj fazi izbijanja. Kada se virus proširio svijetom djelovanje WHO-a postalo još sumnjivije. Trump je tada doveo u pitanje neovisnosti te organizacije i upletenost Kine u njezino djelovanje. Tražio je drastičnu reorganizaciju WHO-a. Međutim, zbog birokratskih zavrzlama, izlazak SAD-a iz WHO-a nije se mogao provesti odmah jer mora proći kongresne procedure koje traju minimalno jednu godinu, uz napomenu kako su ovogodišnje obveze koje je SAD obvezan uplatiti već podmirene. (Izvor: BBC)
Zašto nije spriječena epidemija ebole?
Bolesti epidemijskih razmjera šire se u zemljama s pothranjenim stanovništvom. Virus ebole, koji se počeo širiti zapadnom Afrikom 2014. godine, do listopada je usmrtio više od 4.000 ljudi. I virus i bolest dobili su naziv po rijeci Eboli u Demokratskoj Republici Kongo, gdje je ta bolest prvi put prepoznata 1976. godine. Sve se moglo spriječiti, tvrdi Leigh Phillips u tekstu koji je u časopisu Jacobin objavljen pod naslovom "Politička ekonomija ebole".
Jasno je da farmaceutske tvrtke nisu zainteresirane za borbu protiv te bolesti koja pogađa tek najsiromašniji i većinom crnački kontinent. "Da su ljudi koji su zaraženi ebolom bijeli, problem bi bio riješen", tvrdi Phillips. I Antony Fauci, direktor američkog Nacionalnog instituta za alergije i infektivne bolesti, potkraj kolovoza 2014. upozorava kako sami znanstvenici ne mogu osigurati potrebna sredstva za suzbijanje širenja bolesti: "Imamo obećavajuće rezultate, ali farmaceutske tvrtke nemaju dovoljno poticaja da ulože sredstva u izradu cjepiva protiv bolesti koja uzrokuje epidemije svakih trideset ili četrdeset godina", izjavio je Fauci za Scientific American.
Pandemija ptičje gripe: "Političare je lako potkupiti, a zdrave i bolesne tako lako obmanuti"
Bilo je i u prošlosti "prethodnih slučajeva" lažnih alarma, poput ptičje gripe ovaj presedan ptičje gripe baca važne sumnje u vjerodostojnost Svjetske zdravstvene organizacije. Godine 2009. austrijska novinarka Jane Bürgermeister podnijela je državnom tužiteljstvu kaznenu prijavu protiv Svjetske zdravstvene organizacije, Baxtera AG, Baxter Internationala i Avir Green Hill Biotechnologyja, jer su, kako tvrdi u prijavi, namjerno izazvali pandemiju virusa ptičje gripe.
Danski profesor i specijalist interne medicine Peter C. Gotzsche, u knjizi iz 2013. pod naslovom "Smrtonosni lijekovi i organizirani kriminal farmaceutske industrije" (Deadly Medicines and Organised Crime: How Big Pharma Has Corrupted Healthcare), otkriva kada i kako farmaceutska industrija prodaje otrove, a ne lijekove. U knjizi obrazlaže glavnu tezu – da su lijekovi jedan od najvećih uzroka smrtnosti. Ti su podaci bili šokantni upravo zato što ih je iznio ugledan liječnik i priznat znanstvenik, jedan od najcitiranijih autora, koji ima više od 400 objavljenih radova indeksiranih u najpriznatijim bazama podataka radova. Evo jednog citata iz te njegove knjige: "Pacijenti vjeruju lijekovima jer vjeruju svojim liječnicima, a liječnici pak o lijekovima znaju samo onoliko koliko im to dopusti farmaceutska industrija. Klinička istraživanja većinom financiraju isti ljudi koji stoje iza ove industrije, a oni publicirani u znanstvenim časopisima prečesto su iskrivljeni ili lažni. Testiranje novih lijekova ne provodi se kako treba, regulacijske agencije ne obavljaju svoj posao pošteno i upletene su u brojne sukobe interesa. Političare je lako potkupiti, a zdrave i bolesne tako lako obmanuti."
Zaključno
Pravo pitanje je zašto je trebalo toliko vremena da utvrdi kriminalno djelovanje Svjetske zdravstvene organizacije? Svjetskoj zdravstvenoj organizaciji se mora oduzeti moć odlučivanja.
Ponavljam svoje teze iz 2015, godine… Krivotvorenje lijekova donosi visoku profitabilnost s malim ulaganjima i niskim rizikom za sudsko kažnjavanje, a nerijetko iza svega stoji međunarodna mreža organiziranog kriminala. Prije te "svinjske opasnosti" širila se panika pred KRAVLJIM LUDILOM, pa SARSOM… Iste su "bolesti" danas netragom nestale. Nema više "ludih" ptica, janjaca, krava, ni "divljih" svinja. Ostali su samo milijuni lakovjernih potrošača i dokazano kriminalne radnje Svjetske zdravstvene organizacije. Samo naivnima nije jasno zašto je farmaceutska industrija jedna od rijetkih koja je pošteđena recesije.
Vjerujem da će novi dokazi kako je farmaceutska mafija u simbiozi sa Svjetskom zdravstvenom organizacijom, tu organizaciju konačno dovesti gdje pripada, na stup srama. Ova priča je dokaz kako je i pravosuđe na svjetskom nivou involvirano s raznim lobističkim grupama!
* Prof. dr. sc. Zlatko Miliša je sociolog i pedagog. Rođen je u Trogiru 1958. Diplomirao je u Zadru na Filozofskom fakultetu 1982. godine na studijskim grupama sociologije i pedagogije. Poslije diplomiranja radi kao školski pedagog u Splitu, u Centru Juraj Bonači za djecu s posebnim potrebama. Od listopada 1983. godine zaposlen je na Filozofskom fakultetu u Zadru. Magistrirao je 1988.g. na Filozofskom fakultetu u Rijeci s temom Formiranje vrijednosnih orijentacija mladih prema radu. U ožujku 1997. godine doktorirao je na Filozofskom fakultetu u Sarajevu, disertacijom Teorijsko-metodološki problemi istraživanja odgojne vrijednosti rada. Autor je (ili suautor) petnaest znanstvenih knjiga-monografija u Hrvatskoj, dviju knjiga iz područja publicistike i više od osamdeset objavljenih znanstvenih i stručnih radova.
https://dokumentarac.com/covid-19/prof-zlatko-milisa-svjetska-zdravstvena-organizacija-zasluzila-je-najstroze-sankcije-i-biti-trajno-diskreditirana/