New World Order = Great Reset
https://www.facebook.com/HighWireTalk/videos/1562204627500968
Del Big Tree od 1.00.00 minute dalje
*
COVID-19 = Great Reset
Claus Schwab, Svetovni gospodarski forum
https://www.amazon.com/COVID-19-Great-Reset-Klaus-Schwab/dp/2940631123
*
https://www.facebook.com/watch/?v=1062154094218292&notif_id=1603358242095883&notif_t=watch_follower_video&ref=notif
ali
https://www.youtube.com/watch?v=_CKy5dm4eKM&fbclid=IwAR0twFxQ7mn7SiNIKg5GFrujwqd2oNaD-wkIw8PBI36Bqbu21vQ6sF9VZyM
(več linkov za isti videoposnetek je danih in bomo videli kaj bo prej izbrisano FB ali Youtube)
ali
https://www.youtube.com/watch?v=_CKy5dm4eKM&feature=youtu.be
ali
https://www.bitchute.com/video/HeS8OYhIllpB/?fbclid=IwAR1X_cu17IeZKxlrUjgFUwPlExKYOhdjNThFMmZw5Rk6BDbxGE-G5xGRmIs
*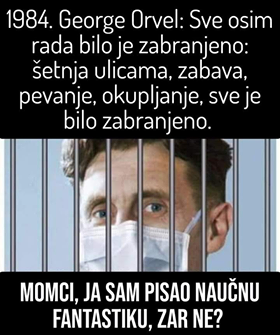 *
https://www.youtube.com/watch?v=zogMbHdw2w4&feature=youtu.be&fbclid=IwAR3iY5x4VO9Mss5DdLPoEUQzBIoVA2jIlqGhKEi1fieV1PfnDB_bvxSySpE
*
Načrti za depopulacijo
https://vimeo.com/36465618?fbclid=IwAR3zeAMVH_Rw1hesekgwDD4u3i9igq_5VZMLNhgrT_rqT53vNRi9Cse6UK4
*
Patric Wood: Tehnokracija in The Great Reset Svetovnega gospodarskega foruma
https://www.youtube.com/watch?v=_UQuNzVZK84&feature=youtu.be
* * *
Celovit opis COVIDGATE plandemije
In this video Claire Edwards, BA Hons, MA who worked for the United Nations 1999 to 2017 lays bare what is actually happening and I urge you to share this everywhere as Claire quotes Robert F Kennedy.
https://www.bitchute.com/video/Gr1kgqOSrSX7/
ali
https://www.facebook.com/andy.lewis.3785/videos/10222034623808747
*
prof. dr. Mila Alečkovič, psihijater: farmakomafija z globoko državo in bančniki vodijo vojno proti človeštvu, o kateri je pisal že Malthus v 18. stoletju, ki je zapisal: bi bila bila ekonomija zdrava, je potrebno zmanjšati populacijo s širjenjem kuge v revnih predelih
https://www.youtube.com/watch?v=q9NF_oqgTiw&feature=share&fbclid=IwAR0EnFJIPj2CRVBa3Hs69jdrJL4U0XouF1SCO5TZYoSMjq0qfIxbhpY7uso
*
https://www.zdravo-slovenija.com/tu-in-tam-1/2020/11/23/medicinska-revija-bmj-covid-19-je-politizacija-korupcija-in-zatiranje-znanosti
'
Zombi COVID-19 ritual v Švici
https://www.facebook.com/100009423649683/videos/2785673688423392
*
Veliki reset: Svetovni gospodarski forum, Davos
https://vimeo.com/478949421?ref=fb-share&fbclid=IwAR2EPVQ7iRxJj4Mj4lYVbkuwlDSwbxoqvHZr-bs5OlDzspDasH2UO359YoI
*
https://www.silverdoctors.com/headlines/world-news/world-leaders-planning-new-lockdowns-to-introduce-the-world-debt-reset-program-which-includes-universal-basic-income-and-more/?fbclid=IwAR19Ecc5ewd4fhIR-TwMqxU-ccAV3ActS4H_xQSlaoP7Bm64hrUeu-3PY9w
COVID-19 taborišča v Kanadi : https://www.youtube.com/watch?v=3yyKczzyLoU&fbclid=IwAR0cl7hI-gawUIGNuX5V3v-9YNm37eWWkO2gg8HP_DL5scsW2f2r3fl60Pk&app=desktop
Kanadski scenarij in napoved Billa Gatesa o novem biološkem orožju, ki bo pritegnil večjo pozornost kot SARS COV-2 - COVID-19: https://www.youtube.com/watch?v=lKCTkLJbtT4&fbclid=IwAR34QPjUv9FW16nqO6F6kdzYePLq7noro66S_X65HjVmY2hw7iM02Mx9rKk
*
*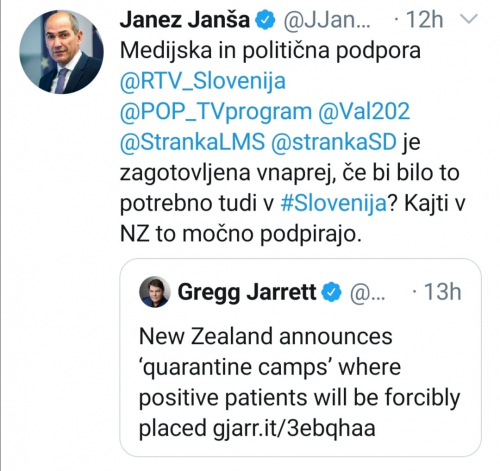 Ali predsednik vlade RS na Twitterju išče medijsko in politično podporo za koncentracijska COVID-19 taborišča, kjer bi prisilno nameščali pozitivne ljudi po vzoru Nove Zelandije?
*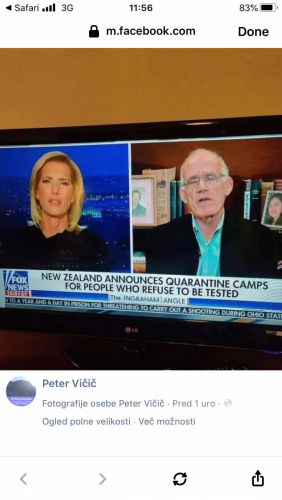 Ali na Novi Zelandiji gradijo hotele ali karantenska taborišča za ljudi, ki zavračajo testiranje? Ali je FOX NEWS objavil lažno novico ali resnico?
https://www.nzherald.co.nz/entertainment/covid-19-coronavirus-hilary-barry-responds-to-fox-news-laura-ingrahams-quarantine-camp-comments/SVLW35E7JOTQFTOYCEM2UISYWY/
https://www.facebook.com/HighWireTalk/videos/3624560877565056
*
David Icke o COVID-19 agendi
https://www.facebook.com/beverlyjanedixon/videos/10222049642522802
*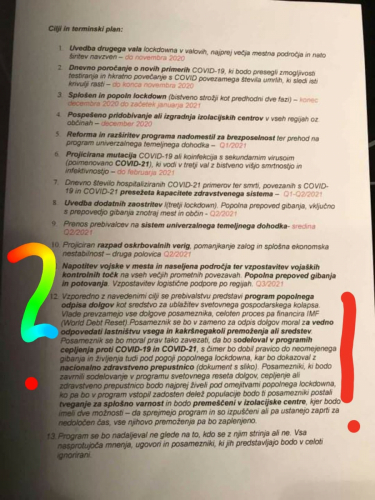 Kaj to pomeni? Lažna novica ali resnica?
https://www.facebook.com/permalink.php?story_fbid=232005041822635&id=101017414921399&notif_id=1604261820412111&notif_t=page_highlights&ref=notif
* * *
Če na kratko povzamem sporočilo, v (sedaj že bivših) demokratičnih državah, kot so Kanada, Nova Zelandija in ZDA, organizirajo ter gradijo namestitvene centre, ki so namenjeni karanteni oziroma izolaciji "bolnikov" s Covid-19. V Kanadi že imajo 11 "karantenskih centrov", planirajo jih še vsaj 9. Na Novi Zelandiji so "karantenski centri" prav tako že delujoči. Zakaj sem "karantenske centre" dala v narekovaje? Ker so namenjeni tudi za družinske člane tistih, ki so na testu pozitivni (pazite – nisem napisala bolnike!), prav tako pa tudi za oporečnike – tiste, ki se ne strinjajo z ukrepi in se nočejo testirati. Seveda te centre prikazujejo kot odlično priložnost za pomoč "visokorizičnim skupinam", a ni treba veliko inteligence, da bereš med vrsticami leporečja.
Kot je povedala novozelandska predsednica vlade Jacinda Ardern, bodo tisti, ki se ne bodo hoteli testirati, "ostali v izolaciji dalj časa". To je povedala s sadističnim izrazom na obrazu. Srhljivo! Oglejte si sami.
Tudi v Kanadi so "karantenski centri" že realnost. Zelo poučen posnetek iz kanadskega parlamenta nam razkrije zelo veliko. Politik iz Ontaria sprašuje za razlago vladnega poročila o nastanitvenih centrih, ki jih imenujejo kar karantenska izolacijska taborišča. Postavlja vprašanje glede kriterijev, kateri ljudje so oziroma bodo nameščeni v te centre. Ker ne dobi pravih odgovorov in vztraja, mu nazadnje izklopijo mikrofon in vzamejo besedo. Torej so to vprašanja, o katerih se ne razpravlja!?!
Vir: https://czb8.wordpress.com/2020/10/31/neposlusne-cakajo-taborisca/?fbclid=IwAR0HurvANIHRjnn4bLnUYQpa1xFnd98kLBCq-wOjSyIix_OLRPUl2X9yQ9c
* * *
Premier avstralske vlade Scott Morrison: Nova normalnost je New World Order:
https://www.youtube.com/watch?v=yOhkIbjp_UQ&feature=youtu.be&fbclid=IwAR0PhF2EhucZqPpwABFbtQKpq-M-E5QW61UTzLll8RVW4oa1wMvxh5N0Qg0
Ernst Wolff, strokovnjak iz Wall Street-a o finančni krizi in COVID-19 plandemiji, Svetovnemu ekonomskemu forumu iz Davosa in diktaturi velikih koncernov, kot so Amazon, Microsoft, Facebook, Google, Blackrock, Vanguard, ki so vodilni na svetovni borzi
Ernst Wolff: Gre za absolutno diktaturo finančnega kompleksa. Uresničiti želijo sanje Benita Mussolinija o avtoritarnem korporativizmu.
https://vimeo.com/473566771?utm_source=email&utm_medium=vimeo-cliptranscode-201504&utm_campaign=28749
Wolff:Moram reči, da je z vsakim dnem vedno bolj očitno, da za vsem tem tiči nekakšen načrt. Ko vidimo, pandemija po stari definiciji organizacije WHO sploh ni bila pandemija. WHO, svetovna zdravstvena organizacija, je leta 2009 spremenila definicijo pandemije. Do takrat je šlo za pandemijo, če je izbruhnila epidemija v več državah z zelo velikim številom mrtvih. Izraz 'zelo veliko število mrtvih' je bil prečrtan in zelo velikega števila mrtvih tudi sedaj nimamo. Nekaj je bilo storjenega že vnaprej, kar se dejansko pri nas šele sedaj kaže. Sicer pa lahko rečemo, da se dogaja tudi veliko drugih stvari, ki so med sabo povezane in ki bodejo v oči. Finančni sistem je bil v zadnjih dveh letih v hudih težavah....Bilo je torej jasno, da prihaja recesija, ki se je pokazala že lansko leto. Če si torej natančno ogledamo časovno premico, je prišlo do zloma cen nafte, preden se je zgodil lockdown. Ta se je zgodil kmalu za tem. Lockdown je bil pretveza, da so se znova ogromne mase denarja prilile v sistem. Menim, da bi bilo zelo težko razložiti ljudem, zakaj se mora na bilijone priliti v sistem, ne da bi jim ponudili neko pretvezo. Ljudje so namreč od 2007/2008 začeli postajati pozorni. Vemo, da je ves ta denar v glavnem koristil peščici, velika večina pa od tega ni imela nobenih koristi. Gre za zaporednje slučajev, ki se mi zdijo malo verjetno, torej da nenadoma neka pandemija pripelje do lockdowna, kar človeštvo v zgodovini še ni doživelo in potem se sistem rešuje z najvišjimi vsotami denarja, ki so bile kadarkoli mobilizirane.
Da, točno, Klaus Schwab je ustanovil Forum leta 1969, star je torej 50 let. Že 50 let se vedno v januarju srečujejo najpomembnejši prestavniki velikih koncernov, vlad in ultra bogati. Prav ta Klaus Schwab je letos julija izdal knjigo z naslovom 'Covid-19 - velika ponastavitev' (Covid 19- Great Reset) in v njej piše…Veliko ljudi mu postavlja vprašanje, če se bo prejšnje življenje povrnilo. In njegov odgovor je bil: nikoli več. Sedaj gremo naprej v nek novi svet in ta novi svet opisuje seveda z veliko nakladanja o socialnem izboljšanju.
N : Bi lahko pri tem rekli, da hočejo v ozadju – zahrbtno, v smislu hočemo zeleni planet...blablabla - dejansko uvesti diktaturo?
W. Da, in sicer diktaturo velikih koncernov. Trenutno je na svetu situacija, ko le peščica koncernov določa vso dogajanje. To je pet digitalnih koncernov, Google, Apple, Microsoft, Amazon in Facebook. Ti tudi poganjajo delniške trge. Če preverite na Nasdaq (ameriška borza, ki se osredotoča predvsem na tehnološka podjetja), se vidi, da jo vodijo izključno ta podjetja. Če pa dodamo k temu še dva največja podjetja, podjetja za svetovanje premoženja, Blackrock in Vanguard, ki skupaj upravljata 12 bilijonov premoženja, dobimo absolutno svetovno supermoč, ki določa vse. Niso vlade, ki ukrepajo. Saj vidimo tudi v tej Corona-krizi, da vlade neverjetno omahujejo..Prav nemočne so ali pa se obnašajo pretirano aktivistično, oz. počnejo stvari, ki za običajnega državljana niso več razumljive.
W. Tako je. Preprosto nimajo načrta, ker na njih pritiskajo ti veliki koncerni z smernicami, da naj ljudi odvrnejo od stvari, ki se dogajajo v ozadju. In to, kar se dogaja v ozadju, ni nič drugega kot priprava na absolutno diktaturo finančnega kompleksa.
N. Globalna diktatura?
W. Da, da, jasno. Menim, da je to verjetno končni cilj globalne diktature teh velekoncernov, pa saj jo v večji meri že imamo. Mislim, da so ti koncerni, ki sem jih pravkar navedel, že v vseh državah na svetu odločilni, imajo popolnoma odločilne pozicije.
N. Da smo spet svobodni.
W. Tako je. A to se ne bo zgodilo. Menim, da bodo vse te ukrepe tako dolgo uveljavljali, dokler ne bodo dosegli svojega končnega cilja, namreč, da bodo uresničili življenske sanje Benita Mussolinija – avtoritarni korporativizem. Prav v to se trenutno usmerjajo.
N. A kdo so ti? Merklova? Politiki? Vodje koncernov?
W. Vodje koncernov so odločujoči. Torej veliki koncerni in digitalna industrija ter kombinacija digitalne in finančne industrije. Torej kot rečeno, to so ti res veliki koncerni, ki imajo vse v svojih rokah, poleg tega pa obstaja še mednarodno sodelovanje, ki je tudi zelo zanimivo. Vedno se govori o konfliktu med ZDA in Kitajsko, a resnici delujejo skupaj...Torej, deluje se skupaj, veliki koncerni, vsi delujejo skupaj. Dejansko stojimo na pragu sveta, ki praktično izpolnjuje vse to, o čemer je vedno sanjal Benito Mussolini. ...
N. To so vendar grozljivi scenariji za prihodnost. Ali lahko sploh mirno spiš?
W. Trenutno je malce težko, ampak imam upanje. Kot rečeno, če se bodo ljudje prebudili, prebudili pa se bodo takrat, ko bodo spoznali, da so jim lagali in to bodo opazili. Ko bo prišlo do ogromnega vala brezposelnosti, ko se bodo vsa podjetja sesula, bo nastopil ta moment.
* * *
https://publishwall.si/narava.zdravi/post/544615/kdo-je-povzrocil-pandemijo-in-spin-covid-19
* * *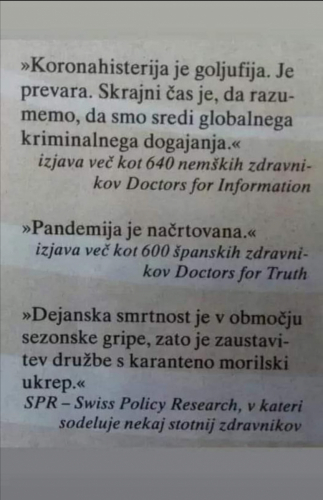 *


Jelko Kacin je že 26.10. 2020 napovedal možnost prepovedi izhoda iz hiš

https://www.facebook.com/virusuporazavse/videos/653883481963954
*
The Liberal party Canada o situaciji v Kanadi- dr. Rashid Buttar (od 31.00 min dalje): https://www.facebook.com/rashid.buttar/videos/3476804249075803 Poročajo o tretjem valu COVID-21, ki naj bi povzročil več smrti, februarja 2021. Obvezno cepivo za COVID-19, dosmrtna koncentracijska taborišča in razlastitev zasebne lastnine za tiste, ki se ne bodo cepili v letu 2021-2022
https://homunizam.wordpress.com/2020/10/21/zvizdac-dugovi-ce-biti-otpisani-svima-koji-pristanu-na-cjepivo-covid-19-i-covid-21/?fbclid=IwAR3HPe_gW0AyTRTaiwFHj4-ll1eqnnaFG9m7fl6XXiQiwP7i73bVd6HyfIQ
https://www.youtube.com/watch?v=5vLqdsNxI9Q&ab_channel=Today%27sVideo&fbclid=IwAR1xim4c9ETMdZfGehAUGYFiKnfO1TcgraZN09U6efBu9YzXKdVd_UT2ZIk
* * *
Robert F Kennedy 24.10. 2020 : https://www.facebook.com/rfkjr/videos/vb.1411189272541151/350532626233207/?type=2&theater
* * *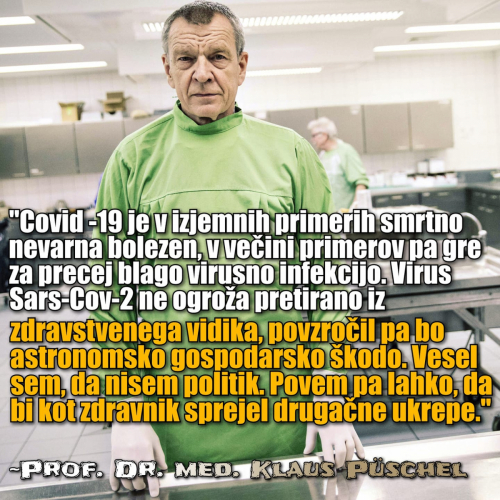 *
Na Kitajskem v trgovino ali službo lahko vstopijo samo tisti, ki imajo zeleno kodo v aplikaciji na pametnem telefonu. Kdor ima rdečo kodo, ne more v službo, tudi če je popolnoma zdrav. Vsi podatki se pošiljajo policiji. Ali je Kitajska izrabila pandemijo za totalitarni nadzor nad svojim prebivalstvom? https://www.youtube.com/watch?v=EqqjEe3VtUU&fbclid=IwAR2J7-RdDn9tYycbTEpcGn3g2kAazp7JreZYO-2dcojS5E1hQ7mC2dYUbls
* * *
https://dokumentarac.com/covid-19/vasim-zivotom-nakon-covid-a-upravljat-ce-aplikacije-za-pracenje-i-pracenje-koje-financiraju-fondacije-rockefeller-i-clinton/
Rockefeller Fundacija in Clinton Fundacija sta razvili serijo COVID-19 aplikacij, ki bodo strogo kontrolirale vaše življenje po COVIDA-u. Inicijativo začenja neprofitna fundacija "Commons Project Foundation" ki je del Svetovnega ekonomskega foruma.

Projekt Commons uključuje tri COVID aplikacije: CommonHealth, COVIDcheck i CommonPass. Skupaj bodo zbirale, shranjevale in nadzirale naše zdravstvene podatke, na osnovi katerih bodo te aplikacije odločile, ali izpolnjujemo pogoje za potovanje, učenje in odhod v službo itd...


The Commons Project
Projekt Commons je neprofitno javno dobro osnovano uz financijsku podršku Zaklade Rockefeller za potrebe uspostavljanja platformi i usluga koje će čvrsto regulirati život nakon COVID-a.
Inicijativa je dio Svjetskog ekonomskog foruma koji provodi agendu Velikog reseta.
Web stranica Projekta Commons opisuje svoju ulogu kao:
Commons Project je neprofitno javno dobro, osnovano uz potporu Zaklade Rockefeller za uspostavljanje digitalnih usluga koje ljude stavljaju na prvo mjesto.
Commons projekt ispunjava prazninu između tehnoloških tvrtki, državnih agencija i tradicionalnih neprofitnih organizacija za uspostavljanje i upravljanje digitalnim uslugama koje čine javnu infrastrukturu u digitalnom dobu.
Common Project uključuje tri COVID aplikacije:
1. CommonHealth
2. COVIDcheck
3. CommonPass
Rockefeller and Clinton Foundation financiraju COVID aplikacije – CommonHealth, COVIDcheck and CommonPass
1. CommonHealth
CommonHealth će prikupljati i upravljati vašim osobnim zdravstvenim podacima i dijeliti ih sa zdravstvenim službama, organizacijama i drugim aplikacijama.
CommonHealth ima za cilj proširiti prenosivost zdravstvenih podataka i model interoperabilnosti koji je pokrenuo Apple Health na 73% ljudi širom svijeta koji koriste Android uređaje.
Razvijen je u suradnji s UCSF, Cornell Tech i Sage Bionetworks.
2. COVIDcheck
COVIDcheck je razvijen u suradnji sa CDC-om, Clintonovom zakladom i Svjetskom medicinskom asocijacijom.
Stvorit će novu normalu za škole, sveučilišta, poslodavce i agencije za javno zdravstvo kroz set pitanja koja će odlučiti što dalje trebate učiniti.
3. CommonPass
CommonPass je digitalna zdravstvena putovnica koja bi trebala imati ovjereni status COVID-19 testa ili pokazati da li ste cijepljeni u budućnosti na način dizajniran da udovoljava različitim vladinim propisima.
Propusnicu rade putnici koji polažu test u certificiranom laboratoriju prije nego što je otpreme. Generira QR kôd koji zrakoplovno osoblje i granični službenici mogu skenirati.
Međutim, od vlada će se tražiti da vjeruju testovima na koronavirus koji su provedeni u stranim laboratorijima. Na temelju vašeg CommonPass statusa, možda vam i neće biti dopušteno putovanje.
U međuvremenu, CommonPass COVID tehnologija putovnica već se testira na letovima iz zračne luke Heathrow
Rockefellerova operacija Lockstep
Zaklada Rockefeller 2010. financirala je vježbu planiranja scenarija koja pokazuje kako globalne elite mogu manipulirati i utjecati na javne politike tijekom pandemije.
Dokument "Scenariji za budućnost tehnologije" predviđa četiri naracije scenarija, od kojih se jedna, nazvana "Lock Step", bavi globalnom pandemijom.
Mnogi ovaj dokument smatraju svojevrsnim "operativnim priručnikom", priručnikom za stvaranje kako stvoriti novi normalan slučaj nakon globalne pandemije.
Izvor: https://greatgameindia.com/rockefeller-clinton-covid-apps/
p.s. Kao što ste vjerojatno sumnjali (i do sada ste to očekivali), Bill Gates je također uključen u traženje kontakata.
Zaklada Bill i Melinda Gates pregovarali su o ugovoru o traženju kontakata koji podržava vlada, vrijednom 100 milijardi dolara, u kolovozu 2019. godine – šest mjeseci prije nego što je 'pandemija' stigla u Sjedinjene Države i četiri mjeseca prije nego što je zahvatila Kinu.
Šokantna otkrića u podcastu Thomas Painea i emisiji Moore Paine na Patreonu otkrila su dvojica istražitelja koji su zazviždali o masovnoj poreznoj prijevari Zaklade Clinton tijekom saslušanja u Kongresu 2018. godine.
https://podcasts.apple.com/us/podcast/ep-27-investigators-who-dissected-clinton-foundations/id1491435111?i=1000477418276
2019. godine savez ID2020 je lansirao program digitalni ID s cjepivima
Digital ID i Big Pharma su već u Sjedinjenim Američkim Državama. Veliki farmaceutski i tehnološki divovi prebacili su se na čipiranje vas i vašeg potomstva putem biometrijskih cjepiva. Obvezali su se da će ovaj svijet doći. ID2020 partneri su odabrali Digital ID-a za vas i vašu obitelj putem BioMetričkih cjepiva. ID2020 i njihovi partneri u 2019. godini već su lansirali implementaciju Digital ID s BioMetričkim cjepivima. Grad Austin, savez ID2020 i nekolicina drugih partnera rade zajedno s beskućnicima i pružateljima usluga koji s njima rade na razvoju platforme digitalnog identiteta ID omogućene "blockchain" tehnologijom pod nazivom Moja putovnica "MyPass" kako bi beskućnici imali podatke o identitetu. Bangladeš je prva zemlja koja je odabrana za početak implementacije digitalnog identiteta na svim stanovnicima, a s programom je započela krajem 2019. godine. Savez ID2020 gradi novi globalni model za dizajn, financiranje i primjenu digitalnih ID rješenja i tehnologija. Ne postoje drugi napori s više sudionika usmjereni na korisnike, koji štiti privatnost i prijenosni digitalni ID. Otkrijte nove gospodare svijeta – Gavi – savez za cjepiva, Microsft, The Rockefeller Foundation, Ideo.org, Accenture). Cilj saveza ID2020, agencija UN-a i civilnog društva je korištenje BioMetrijskih cjepiva za digitalnu identifikaciju vas i vaše braće. Ovaj će sustav dodatno usmjeriti novorođenčad prema BioMetrijskim cjepivima povezanim sa Digitalnim identitetom ID. Gavi savez za cjepiva sebe identificira kao superheroja koji će vam ugraditi Digitalni identitet ID-om mrtvom ili živom. GAVI podržavaju Svjetska zdravstvena organizacija WHO i elitni partneri, a sve sponzorira Big Pharma.
https://dokumentarac.com/covid-19/covid-19-certificat-of-vaccine-identity-cipiranje-ili-bolest/
* * *
Kanada doista priprema kampove za puno više osoba nego što ih je navodno oboljelo od koronavirusa, ali ne daje konkretan odgovor za koga točno priprema ostatak kapaciteta. Odluku o objavljivanju ove poruke, koja se pojavila nedavno, donijeli smo danas, jer i u Francuskoj najavljuju mjere do travnja 20021. godine. Sve se ovo radi na temelju lažnih statistika o navodnoj zaraženosti, a ne o previše osjetljivim PCR testovima. U isti dan, kada je u mainstream medijima najavljeno eventualno totalno zatvaranja Francuske do travnja 2021., potvrđena je vijest da su statistike oboljelih lažne zbog preosjetljivih PCR testova.
Međutim, kada smo spoznali, također iz francuskih mainstream medija, da broj primljenih bolesnika i onih na reanimaciji vjerojatno ne štima, shvatili smo da ova ispod poruka ne smije biti zanemarena. Ako je 10 % istina ovo što u njoj piše, moramo biti svjesni da smo svi u velikoj opasnosti, jer će nam psihopati doći glave.
PORUKA ČLANA ODBORA U LIBERALNOJ STRANCI KANADE:
"Želim da vam pružim neke vrlo važne informacije. Član sam odbora u Liberalnoj stranci Kanade. Sjedim u nekoliko grupa odbora, ali informacije koje pružam potiču od odbora za strateško planiranje (kojim upravlja Premijer).
Moram početi tim da nisam sretan što ovo radim, ali moram. Kao Kanađanin i, što je još važnije, kao roditelj koji želi bolju budućnost, ne samo za moju djecu, već i za drugu. Drugi razlog što ovo radim je taj što otprilike 30 % članova odbora nije zadovoljno pravcem kojim idemo u Kanadi, ali naša mišljenja su zanemarena i oni planiraju da krenu naprijed ka svojim ciljevima. Također su vrlo jasno stavili do znanja da ništa neće zaustaviti planirane ishode.
Mapu puta i cilj utvrdio je Premijer i oni su sljedeći:
Faza u sekundarnim ograničenjima zaključavanja laganom razinom, počevši od glavnih gradskih područja, a šireći se prema vani. Očekuje se do studenog/novembra 2020.
Požurite s nabavkom (ili izgradnjom) objekata za izolaciju u svakoj provinciji i teritoriji. Očekuje se do prosinca/decembra 2020.
Svakodnevni novi slučajevi COVIDA-19 će premašiti kapacitet testiranja, uključujući povećanje broja smrtnih slučajeva povezanih s COVIDOM prateći iste krivulje rasta. Očekuje se do kraja studenog/novembra 2020.
Potpuno sekundarno zaključavanje (mnogo strože od ograničenja prve i druge tekuće faze). Očekuje se do kraja prosinca/decembra 2020. i početkom siječnja/januara 2021.
Reforma i proširenje programa nezaposlenosti treba prijeći u program univerzalnog osnovnog dohotka. Očekuje se do prvog kvartala 2021.
Predviđena mutacija COVIDA-19 i / ili koinfekcija sa sekundarnim virusom (nazvanim COVID-21) što dovodi do trećeg vala s mnogo većom stopom smrtnosti i većom stopom infekcije. Očekuje se do veljače/februara 2021.
Svakodnevni novi slučajevi hospitalizacija od COVIDA-21 i smrtnih slučajeva povezanih sa COVIDOM-19 i COVIDOM-21 premašit će kapacitet medicinskih ustanova. Očekivano Q1 – Q2 2021.
Bit će primijenjena pojačana ograničenja i karantena (koja se nazivaju Treće zaključavanje). Uvest će se potpuna ograničenja putovanja (uključujući međuprovincijska i međugradska). Očekivano Q2 2021.
Prelazak pojedinaca u program univerzalnog osnovnog dohotka. Očekivano sredinom Q2 2021.
Projektirani slom lanca snabdijevanja, nestašica zaliha, velika ekonomska nestabilnost. Očekuje se krajem Q2 2021.
Raspoređivanje vojnog osoblja u glavna gradska područja, kao i na sve glavne puteve radi uspostavljanja putnih kontrolnih punktova. Ograničiti putovanja i kretanje. Pružiti logističku podršku području. Očekuje se do trećeg kvartala 2021.
Zajedno s tom mapom puta, od odbora za strateško planiranje zatraženo je da osmisli efikasan način tranzicije Kanađana kako bi ispunili neviđeni ekonomski pothvat. Ono što bi promijenio lice Kanade i zauvijek promijenilo život Kanađana. Rečeno nam je da će, kako bi nadoknadila ono što je u suštini bio ekonomski kolaps na međunarodnoj razini, savezna vlada Kanađanima ponuditi potpuno olakšanje duga.
Ovako to funkcionira:
Savezna vlada će ponuditi da obriše sve osobne dugove (hipoteke, zajmove, kreditne kartice, itd.). Za to će biti osigurana sva sredstva za Kanadu od MMF, a što će postati poznato kao Program za vraćanje svjetskog duga. U zamjenu za prihvaćanje ovog ukupnog oproštaja duga, pojedinac bi zauvijek izgubio vlasništvo nad bilo kojom imovinom i osobnom svojinom. Pojedinac bi također morao da pristane da sudjeluje u rasporedu cijepljenja protiv COVIDA-19 i COVIDA-21, koji bi pojedincu omogućio neograničeno putovanje i neograničen život čak i pod potpunim zaključavanjem (korištenjem identifikacije s fotografijom koja se naziva kanadski HealthPass).
Članovi odbora pitali su tko će postati vlasnik oduzete imovine u tom scenariju i što će se dogoditi sa zajmodavcima ili financijskim institucijama, jednostavno nam je rečeno da će "Svjetski program poništavanja duga obraditi sve detalje". Nekoliko članova odbora također je pitalo što će se dogoditi s pojedincima ako odbiju da sudjeluje u programu za vraćanje svjetskog duga ili HealthPass ili rasporedu vakcinacija, a odgovor koji smo dobili bio je vrlo zabrinjavajući.
U osnovi, rečeno nam je da je naša dužnost osigurati plan koji će osigurati da se to nikada ne dogodi. Rečeno nam je da je to u najboljem interesu pojedinaca da sudjeluju. Kada je nekoliko članova odbora neumorno tražilo da dobiju odgovor, rečeno nam je da će oni koji su to odbili prvo živjeti pod ograničenjima zaključavanja na neodređeno vrijeme. I da će se tijekom kratkog vremenskog perioda, kako bi sve više Kanađana prešlo u program oproštaja duga, oni koji odbiju da sudjeluju bili bi smatrani rizikom javne sigurnosti i bili premješteni u izolacione objekte.
Jednom kada se nađu u tim objektima, imat će dvije mogućnosti, sudjelovati u programu oproštaja duga i biti pušteni ili ostati na neodređeno vrijeme u izolaciji pod klasifikacijom ozbiljnog rizika po javno zdravlje i bila bi im oduzeta sva imovina.
Dakle, kao što možete zamisliti, nakon što ste čuli sve ovo, slijedila je prilično burna rasprava i eskalirala je iznad svega čega sam ikada bio svjedok. Na kraju je PMO nagovijestio da će se cijela agenda kretati naprijed bez obzira na to tko se s tim slaže ili ne. Da to neće biti samo Kanada, u stvari će sve države imati slične mape puta i agende. Da treba da iskoristimo situacije koje su pred nama da promoviramo promjene na sve većoj skali za boljitak svih. Članovi koji su se protivili i oni koji su pokrenuli ključna pitanja koja su proizašla iz svega bili su potpuno ignorirani. Naša mišljenja i zabrinutosti su zanemareni. Jednostavno nam je rečeno da to samo uradimo.
Znam samo da mi se ne sviđa i mislim da će sve to Kanađane odvesti u mračnu budućnost."
VELIKI RESET IPAK NIJE TEORIJA ZAVJERE
Veliki reset kao kontrolirani proces, opisan je na portalu Logično prije godinu dana. Dok su drugi objašnjavali da se trebamo otvoriti, sve rasprodati, biti konkurentniji nego Kinezi, govori da su naše zemlje male da bi samostalno opstale… nama je matematika jasno pokazala da iz dužničkog ropstva nije moguće izaći bez Velikog reseta. Monetarni sustav, temeljen na neotplativim kreditima, koji stvaraju monetarnu depresiju, već stoljećima parazitira radnike i poduzetnike.
Kriminalne ideje neće biti dovoljne za realizaciju Velikog reseta. Nastradat će siromašne zemlje i veliki broj radnika, ali se postavlja pitanje što će biti sa štednjom i obveznicama, direktno i indirektno u rukama srednje klase? Kako će se ponašati Rusija i Kina, nakon što maske padnu i upali se svjetlo, te shvatimo da su svi igrali igru i čekali svoj trenutak?
Inflacija je zadnja faza ovog globalnog projekta, a koja će poslužiti da umanji vrijednost štednje i obveznica u vlasništvu zemalja koje su izvozom domaćih resursa i prodajom jeftine radne snage prikupile na tisuće milijardi dolara. Svi dobro znamo, da velika osiromašenja puka vrlo lako rezultiraju raznim krvavim sukobima. Stalno ponavljamo i sada ćemo: "Pamet u glavu. Imamo posla s nesposobnim socio-patološkim profilima, spremnim na sve."
Pogledajte ispod video u kojem Randy Hillier postavlja pitanja i izolacijskim kampovima i pita jesu li ti kampovi namijenjeni samo bolesnima od koronavirusa ili i nekim drugim osobama. Odgovor nije dobio, pa je iznova postavio isto pitanje, nakon čega mu je rečeno da sjedne.
Vir: https://www.logicno.com/politika/veliki-reset.html?fbclid=IwAR3MQ5n3748iQjDshaWRjgay7Mn4hFvDY7uYVUWcv7-yvhWLCyT9fD2Mc3s
* * *
Celoten del te knjige je posvečen temi »Spreminjanje človeka«. Tu se slini nad »zmožnostjo novih tehnologij, da dobesedno postanejo del nas«, in prikliče kiborško prihodnost, ki vključuje »zanimive mešanice digitalnega in analognega življenja, ki bodo na novo opredelile našo naravo«. (38) Zapisal je: »Te tehnologije bodo delovale v naši lastni biologiji in spremenile naš odnos do sveta. Sposobni smo prestopiti meje telesa in duha, povečati naše fizične sposobnosti in celo trajno vplivati na samo življenje.« (39) Zdi se, da nobena meja ni predaleč za Schwaba, ki sanja o »aktivnih vsadljivih mikročipih, ki razbijajo kožno pregrado našega telesa«, »pametnih tetovažah«, »biološkem računalništvu« in »organizmih po meri«. (40)


Z veseljem poroča, da so »senzorji, pomnilniška stikala in vezja lahko kodirani v običajnih človeških črevesnih bakterijah« (41), da lahko »pametni prah, z nizi računalnikov z antenami, veliko manjši od zrnca peska, deluje v telesu, ter da bodo »vsadljive naprave verjetno pomagale tudi pri sporočanju misli, ki so običajno izražene ustno prek »vgrajenega« pametnega telefona, in potencialno neizraženih misli ali razpoloženja z branjem možganskih valov in drugih signalov. (42) V svetu Schwaba in 4IR je na vidiku »sintetična biologija«, ki tehnokratskim kapitalističnim vladarjem sveta daje »sposobnost prilagajanja organizmov z urejanjem DNK«. (43)

Ideja o nevrotehnologiji, v kateri bodo ljudem v možgane vgradili popolnoma umetne spomine, zadostuje, da se nekateri od nas počutimo slabo, kot tudi zaradi »možnosti povezave možganov z VR prek kortikalnih modemov, vsadkov ali nanobotov
https://www.zdravo-slovenija.com/tu-in-tam-1/2020/10/27/klaus-schwab-in-njegov-faistini-prevzem-sveta?fbclid=IwAR39_BpiSlHageFtu6JNOawFXTCdOBMo41HA5d3ybjrAPdzcRSONMZZBpb0
*
https://www.zdravo-slovenija.com/tu-in-tam-1/2020/5/28/nov-nadzor-ljudi-digitalni-imunski-potni-list?fbclid=IwAR126uMrzR2YnykMPedFZ9TFL26-5rfjHj8OoDnZvu8bzCfsUZrHcibRnFI
* * *
https://www.naturalnews.com/2020-10-20-covid-19-isnt-a-pandemic-plan-its-an-extermination-plan-for-humanity.html
* * *
https://www.hop.com.hr/2020/08/07/ekskluzivno-prof-dr-sc-vrcek-iako-je-covid-19-bezopasan-bas-poput-ostalih-igraca-iz-obitelji-koronavirusa-pristali-smo-unistiti-gospodarstvo-ugusiti-drustveni-zivot/
* * *
https://www.hop.com.hr/2020/08/30/dr-n-jurincic-ljudi-zasto-pristajete-na-vlastito-ubojstvo-bill-gates-otvoreno-poziva-na-masovnu-likvidaciju-covjecanstva-on-to-njezno-zove-depopulacija-i-nitko-ga-ne-lisava-slobode/
* * *
https://www.hop.com.hr/2020/10/23/sandulovic-se-ne-plasi-reci-koronavirus-je-plan-kriminalnih-korporacija-i-prebogatih-pojedinaca-koji-su-zbog-viska-novca-i-poluga-moci-proizveli-sebe-u-uzvisenija-bica-od-nas-sa-vlastitom-mistifik/
* * *
https://zivitrenutak.wordpress.com/2020/10/05/korona-maskarada-je-zavrsena-sve-je-vise-dokaza-o-korona-udruzenom-zlocinackom-pothvatu/?fbclid=IwAR21KesAFRBi89HmqwTLXKnAa1B9O1gVr8zS4zIc5eh2VXgIocsDKge1dc4
* * *
Olimpijske igre v Londonu 2012: https://www.youtube.com/watch?v=gDvjxm9xPQE&feature=youtu.be&fbclid=IwAR3wp0bABJsjrQQ8mpQ1PkZzDY_7QtjYxibi3IMblJjYejip9SWo6RBPXyU
*
https://www.wakingtimes.com/2020/10/23/the-global-takeover-is-underway/?fbclid=IwAR0sn3uQCUceMwDR9t8O698r9lBd9i-bMCi_ZJ75KxvGiEzCTmTG6c0LzUM
*
Dr Lary Pallevsky: Razkritje agende COVID-19: https://www.youtube.com/watch?v=gH0HLZMQzdg&feature=youtu.be&fbclid=IwAR0vbW8U6Fn6DoshzIbLYRmi7BKpatWAAv8ZvA3inM8gZxRwdZ4e29IxuOk&bpctr=1603876157
*
The Globalists
While I mention Gates a lot, he's not acting alone, of course. It just so happens that as you trace the connections between the decision-makers of the world, you'll find him in an astonishing number of places.
For example, In October 2019, Gates co-hosted a pandemic preparedness simulation for a "novel coronavirus," known as Event 201, along with the Johns Hopkins Center for Health Security and the World Economic Forum.
The event eerily predicted what would happen just 10 weeks later, when COVID-19 appeared. Gates and the World Economic Forum, in turn, are both partnered4 with the United Nations which, while keeping a relatively low profile, appears to be at the heart of the globalist takeover agenda.
Gates is also the largest funder of the World Health Organization — the medical branch of the U.N., while the World Economic Forum is the social and economic branch of the U.N. Other key partners that play important roles in the implementation of the globalists agenda include:5
Foundations such as the Rockefeller Foundation, the Rockefeller Brothers Fund, the Ford Foundation, Bloomberg Philanthropies, the UN Foundation and George Soros' Open Society FoundationAvanti Communications, a British provider of satellite technology with global connectivity2030 Vision, a partnership of technology giants to provide the infrastructure and technology solutions needed to realize the U.N.'s 2030 Sustainable Development Goals. 2030 Vision is also partnered with Frontier 2030, which is a partnership of organizations under the helm of the World Economic ForumGoogle, the No. 1 Big Data collector in the world and a leader in AI servicesMastercard, which is leading the globalist charge to develop digital IDs and banking servicesSalesforce, a global leader in cloud computing, the "internet of things" and artificial intelligence. Incidentally, Salesforce is led by Marc Benioff, who is also on the World Economic Forum's board of directors
The Fourth Industrial Revolution Is the Technocratic Agenda
In decades past, the technocrats, the global, mostly unelected, elite that steer the management of nations worldwide, called for a "new world order." Today, the NWO has been largely replaced with terms like "the Great Reset,"6 "the Fourth Industrial Revolution,"7 and the slogan "Build Back Better."8
All of these terms and slogans refer to the same long-term globalist agenda to dismantle democracy and national borders in favor of a global governance by unelected leaders, and the reliance on technological surveillance rather than the rule of law to maintain public order.
As expressed by Matt Hancock, the British Minister for Digital, Culture, Media & Sport, during a speech before the All-Party Parliamentary Group on the Fourth Industrial Revolution in 2017:9
"One of the roles of Parliament is to cast ahead, to look to the horizon, and tackle the great challenges of our time. So, I applaud the creation of the APPG on the fourth industrial revolution, which surely is one of the greatest challenges we face, as a nation, and as a world.
The nature of the technologies is materially different to what has come before. In the past, we've thought of consumption as a one-off, and capital investment as additive. Yet put resources into the networks that now connect half the world, or into AI, and the effects are exponential …
I'm delighted to speak alongside so many impressive colleagues who really understand this, and alongside Professor Klaus Schwab who literally 'wrote the book' on the 4th Industrial Revolution. Your work, bringing together as you do all the best minds on the planet, has informed what we are doing …
Our Digital Strategy, embedded within the wider Industrial Strategy, sets out the seven pillars on which we can build our success. And inside that fits our 5G strategy, like a set of Russian Dolls.
Our Strategy covers infrastructure, skills, rules and ethics of big data use, cyber security, supporting the tech sector, the digitization of industry, and digitization of government."
The Great Reset — A Techno-Fascist Recipe
If you listened to my interview with Wood, you will recognize the technocratic elements of Hancock's speech: the focus on technology — in particular artificial intelligence, digital surveillance and Big Data collection (which is what 5G is for) — and the digitization of industry (which includes banking) and government, which in turn allows for the automation of social engineering and social rule (although that part is never expressly stated).
"The promised Utopia comes with a price — it sets shackles on our personal freedom."
Then there's the direct reference to professor Klaus Schwab, chairman of the World Economic Forum. Schwab is also highlighted in the June 29, 2020, Technocracy.news article,10 "The Elite Technocrats Behind the Global 'Great Reset," which reads, in part:11
"The UN Agenda 2030 with its Sustainable Development Goals is claimed to 'ensure peace and prosperity for people and the planet.' The actions are said to tackle poverty and hunger, bring better health and education, reduce inequalities, and save the oceans, forests and the climate.
Who can argue against such benevolent goals? But the promised Utopia comes with a price — it sets shackles on our personal freedom …
The leading partners of the United Nations Global Goals project reveal the real technocratic agenda that lies behind the polished feel-good façade — it involves a plan to fully integrate mankind into a technological surveillance apparatus overseen by a powerful AI.
The current pandemic scare has been a perfect trigger to kickstart this nefarious agenda … The current COVID-19 crisis is seen by the World Economic Forum and its chairman Klaus Schwab as the perfect trigger to implement their grandiose technocratic plan. Big Tech will come to 'rescue' the world.
In June 2020, Schwab declared … the need of a Great Reset to restore order in a world steeped in panic, conflict and economic turmoil:
'The COVID-19 crisis has shown us that our old systems are not fit anymore for the 21st century. It has laid bare the fundamental lack of social cohesion, fairness, inclusion and equality. Now is the historical moment in time, not only to fight the real virus but to shape the system for the needs of the Post-Corona era.
We have a choice to remain passive, which would lead to the amplification of many of the trends we see today. Polarization, nationalism, racism, and ultimately increasing social unrest and conflicts.
But we have another choice, we can build a new social contract, particularly integrating the next generation, we can change our behavior to be in harmony with nature again, and we can make sure the technologies of the Fourth Industrial Revolution are best utilized to provide us with better lives.'
This techno-fascist recipe will then, in an utmost non-democratic fashion without any public debate or skeptic inquiry, soon be integrated into the agenda of G20 and the European Union — relabeled as the Great Green Deal …
Unsurprisingly, Klaus Schwab fails to mention his own and his cronies' role in creating this global economic mess in the first place — as it was 'foreseen' with stunning accuracy in World Economic Forum's and Bill Gate's Event 201 (October 2019) and in the Rockefeller Foundation report12 Scenarios for the Future of Technology and International Development (2010)."
UN Calls for Nations to 'Build Back Better'
The U.N.'s central role in the technocratic agenda is hard to miss once you start looking. As reported by the U.N.'s Department of Global Communications April 22, 2020, in an article about climate change and COVID-19:13
"As the world begins planning for a post-pandemic recovery, the United Nations is calling on Governments to seize the opportunity to 'build back better' by creating more sustainable, resilient and inclusive societies …
'With this restart, a window of hope and opportunity opens… an opportunity for nations to green their recovery packages and shape the 21st century economy in ways that are clean, green, healthy, safe and more resilient,' said UNFCCC Executive Secretary Patricia Espinosa in her International Mother Earth Day message … It is therefore important that post-COVID-19 stimulus packages help the economy 'grow back greener' …
As Governments approve stimulus packages to support job creation, poverty reduction and economic growth, UNEP will help Member States 'build back better,' and capture opportunities for leap-frogging to green investments in renewable energy, smart housing, green public procurement and public transport — all guided by the principles and standards of sustainable production and consumption. These actions will be critical to fulfilling the Sustainable Development Goals."
Here too, we see the technocratic agenda shining through. As described by Wood (see interview hyperlinked above), technocracy is an economic system based on the allocation of energy resources, which necessitates social engineering to control the population and the technological infrastructure to automate this control.
Rather than being driven by supply and demand and free enterprise, this system is one in which companies are told what resources they're allowed to use, when, and for what, and consumers are told what they are allowed to buy — or rather, rent, judging by the World Economic Forum video above.
If you need something, you'll be allowed to rent it. You probably won't even own the clothes on your back. Everything will be "fair" and "equitable." There will be no need for hard work, ingenuity or higher-than-average intelligence. Everyone will be the same — with the exception of the technocrats themselves, of course. And in true social engineering fashion, they tell us we will be "happy" in our 24/7 enslavement to boot.
The Encroaching Dystopia
It's important to realize that one way by which this globalist plan is being pushed forward is through the creation of new global laws. Gates already wields powerful influence over global food and agriculture policy, in addition to his influence over global health and technology (including banking and digital IDs).
The Great Reset, or the "build back better" plan, specifically calls for all nations to implement "green" regulations as part of the post-COVID recovery effort. It sounds like a worthwhile endeavor — after all, who doesn't want to protect the environment?
But the end goal is far from what the typical person envisions when they hear these plans. The end goal is to turn us into serfs without rights to privacy, private ownership or anything else.
To get an idea of just how dystopian a future we might be looking at, consider Microsoft's international patent14 WO/2020/060606 for a "cryptocurrency system using body activity data." The international patent was filed June 20, 2019. The U.S. patent office application,15 16128518, was filed September 21, 2018. As explained in the abstract:16
"Human body activity associated with a task provided to a user may be used in a mining process of a cryptocurrency system. A server may provide a task to a device of a user which is communicatively coupled to the server. A sensor communicatively coupled to or comprised in the device of the user may sense body activity of the user.
Body activity data may be generated based on the sensed body activity of the user. The cryptocurrency system communicatively coupled to the device of the user may verify if the body activity data satisfies one or more conditions set by the cryptocurrency system, and award cryptocurrency to the user whose body activity data is verified."
The U.S. patent application includes the following flow chart summary of the process:17
This patent, if implemented, would essentially turn human beings into robots. If you've ever wondered how the average person will make a living in the AI tech-driven world of the future, this may be part of your answer.
People will be brought down to the level of mindless drones, spending their days carrying out tasks automatically handed out by, say a cellphone app, in return for a cryptocurrency "award." I don't know about you, but I can think of better, more enjoyable ways to spend my time here on Earth.
The World Economic Forum — A Trojan Horse
I've mentioned the World Economic Forum multiple times already in this article, and it, along with the U.N., is at the heart of the global takeover agenda. As noted in the Canadian Truth blog post,18 "World Economic Forum Wheel of Evil":
" … this is about two things, the implementation of the UN SDG's [Sustainable Development Goals] and the WEF [World Economic Forum] Fourth Industrial Revolution. End game: total Technocratic lock-down where they control every aspect of our lives and all resources on the planet."
The blog post includes the following illustration, created and released by the World Economic Forum, showing the widespread impact of the COVID-19 pandemic and the global response to it. If you go to the original site for the illustration,19 you'll also find listings of publications, videos and data relating to all of these facets.
In short, the pandemic is being used to destroy the local economies around the world, which will then allow the World Economic Forum to come in and "rescue" debt-ridden countries.
As mentioned earlier, the price for this salvation is your liberty. The World Economic Forum will, through its financial bailouts, be able to effectively control most countries in the world. And, again, one of the aspects of the technocratic plan is to eliminate nation borders and nationalism in general.
COVID — Symptoms of Power
There's a lot more that could be said on this, but I've already covered many of the different aspects of the globalists agenda in other articles, including "COVID Symptoms of Power: Tech Billionaires Harvest Humanity," "Tech Billionaires Aiming at a Global Currency," "Harvard Professor Exposes Surveillance Capitalism," "How Medical Technocracy Made the Plandemic Possible" and "US Surveillance Bill 6666: The Devil in the Details."
None of it is pleasant reading, but it's important to understand where we're headed. We no longer have the luxury of sticking our heads in the sand and waiting for the bad news to pass.
The COVID-19 pandemic has dramatically widened the economic gap between average people and the wealthy elite, with billionaires raking in trillions of dollars in mere months.20,21 Without the competition from small businesses, large multinational companies have been allowed to gobble up business, expanding both their wealth and their influence, while extreme poverty has risen for the first time in two decades.22
If you think the Great Reset and the Green New Deal are going to even out this financial disparity and turn the world into an equitable Utopia, you're bound to be disappointed. The globalist plan isn't about creating a better world for the average person. Microsoft's patent illustrates what the plan heralds for us.
Medical Tyranny Will Get Worse if We Let It
The medical tyranny and censorship of anti-groupthink that has emerged full-force during this pandemic are also part and parcel of the Great Reset. After all, if they won't allow you to own anything, and they want to put biosensors into your body to turn you into a cryptocurrency mining minion, do you really think they're going to let you make medical decisions for yourself?
Over the past several months, Gates has made the media rounds discussing the need to silence dissenting views and information about the virus, it's treatment and the vaccines being made.
According to a survey cited by RT,23 less than half of all Americans now say they would not take the COVID-19 vaccine even if they were paid $100 to do it. There are good reasons for this hesitancy, as trials are starting to reveal serious side effects.
For Gates, who is funding no fewer than six different COVID-19 vaccines, this is no small problem. In an October 2020 interview, Gates urged American health officials to start "thinking about which voices will help reduce the hesitancy, so we can get a level of vaccination that really has a chance of stopping" the pandemic.24
Despite the risks associated with these novel mRNA vaccines, which have never before been approved for human use, and despite the fact that children and adolescents have a minuscule risk of serious illness or death from COVID-19, vaccine proponents like Dr. Paul Offit are now calling for children to be added to the COVID-19 trials.25 Hopefully, the number of parents willing to offer up their children as guinea pigs will be few.
In closing, keep in mind that technocracy is inherently a technological society run through social engineering. This is why there's such a strong focus on "science." Anytime someone dissents, they're therefore accused of being "anti-science," and any science that conflicts with the status quo is declared "debunked science."
The only science that matters is whatever the technocrats deem true. Logic, however, will tell you that this cannot be so. Science is never settled. Science is never one-sided. Science can be wrong. Getting to the truth demands that an issue be looked at from many different angles.
Over the past year in particular, scientific inquiry and inquisitiveness has been censored and stifled to an astonishing degree. If we allow it to continue, the end result will be devastating.
We must keep pushing for transparency and truth. We must insist on medical freedom and personal liberty. Do not allow yourself to be bullied into silence by those who counter your objections with "anti-science" or "conspiracy-theory" slurs. The future of mankind is at stake. Be brave. Resist tyranny.
*
Tajni načrt https://www.youtube.com/watch?v=uqaVkn08kdc&fbclid=IwAR3wBZ48ITgVrnYGV5BCzPFvp8Thv3BDnCgLeLEKNNbFxqUcUxy2QcK3o_4
*
https://dokumentarac.com/cijepljenje/lijecnici-i-znanstvenici-progovaraju/prof-dr-sc-valerije-vrcek/
Prof dr sc. Valerije Vrček: krizni štabi postajajo celice kriptomarksizma
*
https://www.zerohedge.com/geopolitical/klaus-schwab-great-reset-will-lead-fusion-our-physical-digital-biological-identity?fbclid=IwAR3pcSIJSM81_hlLgib4yFApe81_RZep3qTIMTl547nqHR3YZU6kDTtnvR4
*
Nujne prepovedi, ki ustavijo vsa uvajanja 5G, vsa cepljenja proti COVID 19, katera koli in cepljenja, zaklepanja, pridržanja, koncentracijska taborišča in načrtovano ponastavitev zaradi neposredne in nepopravljive škode, povzročene človeštvu zaradi genocida in zločinov proti človeštvu. Mandamusovi zapisi v sili, ki vračajo neupravičeno obogatitev pandemičnih dobičkarjev. Na primer: Neupravičena obogatitev med pandemijo - Povečanje Jeffa Bezosa (Amazon) = 36,2 milijarde USD Mark Zuckerberg (Facebook) povečanje = 30,1 milijarde USD Povečanje Elona Muska (Space X) = 14,1 milijarde USD, povečanje Sergeja Stevea Brina (Google) = 13,9 milijarde USD Larry Page (Google) = 13,7 milijarde USD Steve Ballmer (Microsoft) = 13,3 milijarde USD
MacKenzie Bezos (Amazon) = 12,6 milijarde dolarjev Michael Bloomberg (Bloomberg) = 12,1 milijarde dolarjev Bill Gates (Microsoft / BMGF) = 11,8 milijarde dolarjev Larry Ellison (Oracle) = 8,5 milijarde dolarjev Mark Zuckerberg - Po poročilu je Zuckerberg od 18. marca do 4. junija svoje bogastvo povečal za 52% na več kot 83 milijard USD. CNBC Po poročilu se je celotna neto vrednost ameriških milijarderjev v dveh mesecih povečala za 15%, in sicer z 2,9 bilijona na 3,4 bilijona. FORBES Jeff Bezos, ustanovitelj in izvršni direktor Amazona, je bil največji zmagovalec, saj se je njegovo bogastvo med 18. marcem in 4. junijem povečalo za 36,2 milijarde dolarjev na 202 milijarde dolarje
*
KLJUČNI AKTER NI VIDEN, SAJ OPAZOVALCI GLEDAJO VSTRAN IN NE VIDIJO V KRVAVO VATO ODET - VATIKAN
A pred nami so figure na šahovnici, ki bijejo boj proti navadnim zemljanom. V tem boju bomo dozopreli ali pa se hudo RAZREDČILI.
__
Sam Parker: "Po "Lockdownu" - Načrt igre Rockefeller, 1. del
To je nadaljevanje članka, imenovanega Operation Lockdown - zlovešča agenda za Covid-19. Nekaj ​​dejstev moramo najprej razčistiti. Nadzor nad prebivalstvom ali evgenika in z njo povezani načrti za bio-vojskovanje je osrednja značilnost Rockefellerjevega imperija ali New Yorka. Londonski Rothschildi imajo druge prioritete. V trenutni krizi nudita Britansko cesarstvo in Rothschildi stransko pomoč. Glavni program Rothschilda je Jeruzalem in izpolnitev misije, ki jim je zaupal svet iluminatov. Tako London kot Pariz nima pomembne vloge v tej Covidovi "pandemiji". Kot bo razvidno kasneje, je EU prav tako žrtev newyorške "pandemične" agende.
Na naslednjih straneh bomo opisali načrt igre Rockefellerjevega cesarstva. Upoštevajte, da se kaos, ki se je sprožil v svetu, izkazuje na treh glavnih vidikih. Prvič v vplivu na splošno človeško populacijo. Drugič vpliv na gospodarstvo, finančne trge v državne finance. Nazadnje je to tudi geopolitični vidik. Rockefellerjevo carstvo se postavlja nov svet preko Covid-19. Začnimo z dejstvi.
Ključni akterji - glavne javne osebnosti, ki so v ospredju in objavljeni itd.
Vsi delujejo znotraj Rockefellerjevega imperija. Nobena oseba ni niti iz Londone, niti Pariza, niti znotraj Rothschildove mreže. Nekateri ključni akterji v institucijah, tako Bill Gates, Moderna, AMRIID iz Fort Detrick, WHO, GAVI in univerza John Hopkins.
Treba je omeniti še to, da New Yorška loža običajno dolgoročno načrtuje. Imajo načrt za vsako možno verzijo agende in za vsako državo na svetu. Takšni načrti so izdelovani mesece, celo leta vnaprej. 9-11 je bil predviden več kot eno leto vnaprej.
Ker poznamo Rockefellerjev modus operandi (že skoraj pet desetletij jih preučujemo), je bilo trenutno vprašanje virusa načrtovano že bistveno več kot pred enim letom. Simulacije in zaključna pripravljalna dela sprožanja panike pa so potekale v drugi polovici leta 2019. Projekt je bil zeleno osvetljen novembra 2019. Prvi cilj je bila Kitajska, ki ji je kmalu sledil preostali svet.
V Rockefellerjevem "totem-polu-moči" ima Mike Pompeo višji položaj kot Trump. Ne pozabite, Pompeo je bil šef Cie, preden je postal državni sekretar. Vodja Cie je odgovoren samo glavi družine - kartela Rockefeller in NE predsedniku ZDA. To je resničnost moči v ameriški vladi. Za nadaljnjo potrditev te izjave si oglejte spodnji video posnetek. Tu Pompei pravi, da je ta »pandemija« »VADBA V ŽIVO«! kjer slišite tudi kako je Trump mrmral, da bi mu morali to sporočiti!
Najprej pride na vrsto farsa, (skoraj) univerzalna laž vlad po vsem svetu o smrtonosnem virusu, ki poimenovan COVID-19. Odločitev za globalno blokado - dobesedno za propad svetovnega gospodarstva - je bila že sprejeta in o tem so bili obveščeni ključni delegati na konferenci WEF v Davosu, 21. - 24. januarja 2020.
WHO je 30. januarja razglasil COVID-19 za nujno zdravstveno krizo (PHEIC). Takrat je bilo zunaj Kitajske znanih le 150 primerov COVID-19. Tako ni bilo nobenega razloga za razglasitev pandemije. Generalni direktor WHO dr. Tedros je 11. marca PHEIC spremenil v pandemijo. To je dalo zeleno luč za začetek izvajanja »načrta«.
Pandemija je bila potrebna kot izgovor za zaustavitev in propad svetovnega gospodarstva in zrušitev osnovne družbene strukture.
Naključja ni. Izvedeni so bili številni pripravljalni dogodki, ki so vsi usmerjali v smeri svetovne monumentalne zgodovinske nesreče. Začelo se je pred vsaj 10. leti - verjetno pa še precej prej - z zloglasnim poročilom Rockefellerja iz leta 2010, ki je zarisalo prvo fazo pošastnega načrta, imenovanega scenarij "Lock Step". Med zadnjimi pripravljalnimi potezami za "pandemijo" je bil dogodek 201, ki je bil v New Yorku 18. oktobra 2019.
Prireditev so sponzorirali Center za javno zdravje Johns Hopkins, Fundacija Billa in Melinde Gates (BMGF) ter Svetovni ekonomski forum (WEF), klub bogatih in močnih, ki se vsak januar sestaja v švicarskem Davosu. Sodelovali so številni farmacevtski izdelki (interesne skupine za cepiva), pa tudi Centri za nadzor in preprečevanje bolezni (CDC) iz ZDA in Kitajske.
Eden od ciljev dogodka 201 je bila računalniška simulacija pandemije koronskega virusa. Simulirani virus se je imenoval SARS-2-nCoV oz. kasneje tudi 2019-nCoV. Rezultati simulacije so bili katastrofalni: v 18 mesecih bi umrlo 65 milijonov ljudi, delniški trg pa bi padel za več kot 30%, kar je povzročilo neizmerno brezposelnost in bankrote, natančno po scenariju katererga začetek že živimo te mesece.


Scenarij Lock Down

predvideva številne grozljive in vznemirljive dogodke ali sestavne dele načrta, ki naj bi se izvajali s tako imenovano Agendo ID2020 Bill Gatesa, ki je v celoti vključena v cilje trajnostnega razvoja ZN (SDG) - ciljni rok za dokončanje - 2030 (imenovana tudi Agenda 2030, ki je skrita agenda in tako večini članic OZN neznana), ima pa isti ciljni datum za dokončanja izvedbe kot Agenda ID2020.
Tu so le ključni elementi, ki so predhodnik tega, kar zdaj živi svet, in kaj bo, če tega ne ustavimo, da pokažemo, kako je bila načrtovana ta povsem kriminalna navideznost. Deli scenarija so:
Ogromen program cepljenja, verjetno z obveznim cepljenjem - sanje in zamisli Billa Gatesa cepijo 7 milijard ljudi.

Množično zmanjšanje prebivalstva, evgenični načrt - delno s cepljenjem in drugimi sredstvi (Ref. Bill Gates,

"če res dobro opravimo delo s cepljenjem, bomo lahko svetovno prebivalstvo zmanjšali za 10% do 15%".

Glej "Inovacije za Zero! «Govor na letni konferenci TED2010, Long Beach, Kalifornija, 18. februarja 2010).

Bill Gates že leta zagovarja potrebo po obsežnem spreminjanju prebivalstva - in res je več kot 20 let obsežnih programov cepljenja BMGF v Afriki, Indiji in drugod po svetu zabeležil prisilno sterilizacijo žensk med 14. in 14. letom. 49 let.


Elektronski osebni dokument za vsako osebo na planetu - v obliki nano čipa, ki ga lahko vbrizgate skupaj z obveznim cepljenjem. Ta nano-čip je mogoče naložiti na daljavo z vsemi osebnimi podatki.

Digitaliziran denar, nič več gotovine.

Univerzalno uvajanje 5G, kasneje pa 6G.
To vodi k popolnemu nadzoru vsakega posameznika na planetu. Javnosti se prodajajo kot Internet stvari (IOT), kar pomeni samovozeče avtomobile, robotizirano kuhinjsko opremo in umetno inteligenco (AI) za proizvodnjo in vsepovsod. Česar prodaja ne govori, je, kako bi bili ljudje obrobni in zasuženi. Za nadaljevanje tega glavnega načrta so potrebni visokofrekvenčni elektromagnetni valovi. Zato je uvedba 5G nujna, ne glede na vpliv na zdravje ljudi, favne in flore - in ne glede na to, kako lahko vpliva na virusne okužbe, kot je trenutno COVID19.o je predhodnica za razumevanje načrtovanja stvari. Morda bo pomagalo pri povezovanju pik za prihajajoče.
Prav tako nam lahko pomaga razumeti, kaj se dogaja zdaj, v prvi fazi scenarija Zakleni. V živih barvah prikazuje kriminalno naravo Dark Deep State, ki je sama po sebi del Rockefellerjevega imperija.
Svet je zaveden glede vzrokov in posledic koronske krize.
Krizo COVID-19 zaznamuje "izredna situacija" na področju javnega zdravja pod pokroviteljstvom SZO, ki se uporablja kot pretveza in opravičilo za sprožitev svetovnega procesa gospodarskega, družbenega in političnega prestrukturiranja.
Uporablja se socialni inženiring. Na vlade se pritiska, naj kljub njenim uničujočim gospodarskim in socialnim posledicam podaljšajo "zaklepanje" aktivnosti državljanov.
To, kar se dogaja, je brez primere v svetovni zgodovini.