https://www.youtube.com/watch?v=TDP25n5T5EI
https://www.youtube.com/watch?v=SndF_NzL5XE
Voditeljica: Dober dan prof. Raoult. Hvala, ker ste nas sprejeli v najvrečji francoski infekcijski kliniki IHU v Marseju (prof. Raoult je generalni direktor te bolnišnice). Vsak dan se borite z virusi in drugimi mikrobi, skupaj z 800 ljudmi, ki delajo tukaj. Govorili bomo o načrtu cepljenja, ki ga je predstavil javnosti prvi minister Jean Castex. Naročili so 200 milijonov odmerkov, kar je dovolj za 100 milijonov ljudi. Cepljenje bo potekalo v več fazah, najprej v domovih za starejše občane, v ostalih fazah pa še drugo prebivalstvo. Imunolog profesor Alain Fischer je izbran za odgovornega strokovnjaka v zvezi s cepljenjem in on je zelo previden glede novega cepiva, kar smo lahko videli na novinarski konferenci. Ali imate vi podobno mišljenje?
Prof. Raoult: Najprej bom predstavil Alana Fischer-ja, ki je en največjih znanstvenikov v Franciji in je izvrsten zdravnik. Za razliko od mnogih, ki le sodelujejo v protokolu testiranja, je on odkril gensko terapijo za imunodeficitarne smrtnonosne bolezni otrok. Bil je prvi, ki je to naredil in s tem je razvil to področje znanosti. Vendar ima vse svoje meje. Vsaka intervencija z nukleinskimi kislinami, DNK in RNK, prinaša nepredvidiljve spremembe, kar se je tudi redno dogajalo. dr. Alain Fischer je najbolj merodajna oseba, ki lahko oceni, kako naj se deluje v zvezi s cepivom. Iskreno povedano, to bo dvignilo nivo komunikacije v javnosti, ker zdaj slišimo marsikaj.
Voditeljica: Francozi so previdni, 61% nima zaupanja v COVID-19 cepivo, medtem ko je uspeh cepljenja odvisen od števila cepljenih, kot vi to najbolje veste. Ali ima lahko to mRNA cepivo neželjene posledice in ali lahko spremeni naš genom?
Prof. Raoult: O vsem tem se ne ve dovolj, plavamo v dokaj neznanih vodah. Načrt mi deluje kot znanstvena fantastika in to kar sem do sedaj videl, je reklama za cepivo. Ni znanstvenih študij in ni objavljenih znanstvenih podatkov.
Voditeljica: Laboratoriji niso objavili znanstvenih podatkov testiranja.
Prof. Raoult: Testiranje ni le ugotavljanje, ali so ali niso nastala protitelesa. Opazujejo se različne skupine populacije v različnih pogojih v določenem obdobju. Za cepivo za gripo na primer vemo, da slabše zaščiti starejšo populacijo, ker s staranjem imunski sistem slabše deluje, kar odvzame 10% učinkovitosti ali imunskega odziva.
Voditeljica: To pomeni, bolj kot smo stari, slabše deluje cepivo.
Prof. Raoult: Ja, pri vseh cepivih, ki so zdaj v uporabi je tako. To pomeni, da dokler ne vidimo pomembnega učinka cepiva, ki ne sme biti nevarno za zdravje, kar imenujemo ravnotežje med učinkovitostjo in tveganjem, ne moremo biti prepričani. Trenutno imamo atmosfero strahu in panike in zato je težko sprejemati razumne odločitve. Od začetka te epidemije obstaja zanikanje realnosti. Kadar je tveganje neznano in imate zdravila, ki pomagajo, je potrebno razmišljati o prebivalstvu. Kaj je najboljše za ljudi in kako negovati bolnike. Mi smo analizirali 10.000 bolnikov, ki smo jih sprejeli, testirali in negovali in mortaliteta je 1 na 1000. (0,1%). Potrebno je iti ven iz norosti, v kateri se širi strah s ponavljanjem, da ni zdravila. Če ne delate na izboljševanju terapije, je naravno, da bo smrtnost večja. To se lahko izboljša z izmenjavo podatkov med strokovnjaki in z dopolnjevanjem terapije na podlagi svojih in tujih izkušenj.
Voditeljica: Ja, ampak ekonomija propada in govori se, da bi cepljenje omogočilo vrnitev v normalno življenje.
Prof. Raoult: Živimo v norem svetu. Pogoji in načini, na katere se obravnava ta epidemija, so podobni pogojem v preteklih stoletjih. Ni rešitev da govorite ljudem naj sedijo, naj se ne premikajo in ne hodijo nikamor. Celo Hipokrat ne bi tega rekel. Namesto da bi rekli ljudem, da se testirajo tisti, ki so bolni in da tiste zdravimo in negujemo, so šle stvari v drugo smer. Nekdo je zaključil, da je mogoče s politiko voditi to pandemijo in ne na medicinski način in da se bo problem rešil s pospešeno metodo. Tu vidite različne vladne strokovnjake, ki leta dolgo sodelujejo s farmacevtsko industrijo in od nje pričakujejo čarobno palčko.
Voditeljica: Mislite na cepivo?
Prof. Raoult: Ne, najprej smo imeli afero z Remdesivirjem - bili so prevarani in so dali milijarde EUR za nakup zdravila, ki sploh ne deluje. Zdaj je nova čarobna palčka cepivo. tega ne moremo obvladati na slepo in hitro, temveč s strokovnostjo in prakso. To je kot razlika med strategijo Napoleona III in gverile na terenu.
Voditeljica: Ali se boste vi cepili?
Prof. Raoult: To vprašanje ni akutalno, ne obstaja cepivo in ni potrebe.
Voditeljica: Toda cepiva so na poti, v Veliki Britaniji bodo s cepljenjem začeli ta teden.
Prof. Raoult: Jaz ne bom šel v Veliko Britanijo, da bi se cepil s tem cepivom.
Voditeljica: Ali ste zaskrbljeni zaradi mRNA cepiva, ali upate na nekaj boljšega iz francoskih laboratorijev, kot sta Sanofi ali Pasteur?
Prof. Raoult: Da bi vam pojasnil, vam bom dal primer ene strokovne komisije, v kateri sem sodeloval s prof. Fischer-jem, prof. Delfreis-om in še tremi kolegi. Rekli so mi, naj ocenim, kajo bi razvili področje infektologije. Povedal sem, da se zapravlja ogromno denarja za iskanje cepiva proti AIDS (retrovirusu HIV) in proti malarije ter da ga ne morejo proizvesti.
Voditeljica: Ali danes enako mislite tudi za cepivo proti koronavirusu SARS CoV-2?
Prof. Raoult: Bomo videli. Bili so poskusi, da se naredi cepivo za nekatere druge respiratorne viruse, a niso bili uspešni. Vidite, pri gripi je zelo nerodno, ker imate toliko različnih sevov v različnih področjih. K nam so prišli bolniki, ki so imeli COVID-19 v marcu ali aprilu in so spet zboleli v avgustu zaradi drugega seva koronavirusa. To pomeni, da naravna imunost ni vedno varna zaščita. Zato mislim, da ne bo COVID-19 cepiva. To ni bolezen, ki jo dobite enkrat in imate trajno zaščito kot pri ošpicah. To je prvo mRNA cepivo in potrebujemo čas, da bi videli rezultate.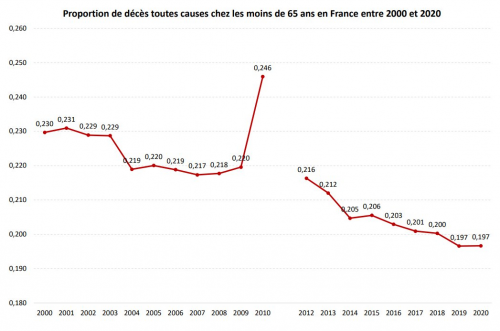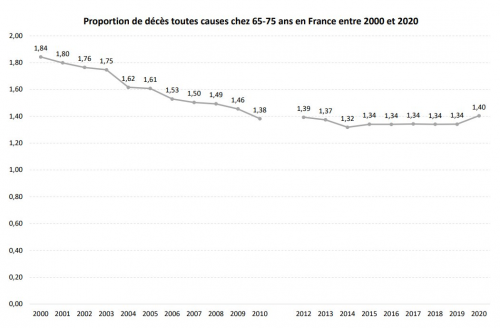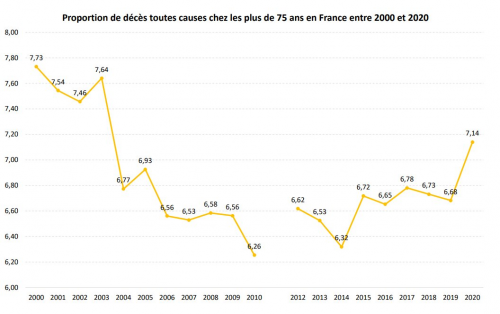 Vir: https://twitter.com/raoult_didier/status/1359851301232852992
Prof Raoult Didier in prof. Ioannidis: https://www.youtube.com/watch?v=9szCNNZrPK8
*
There follows an extract of an interview published by French news website Entreprendre with Professor Didier Raoult, the Director of the Méditerranée Infection Foundation – translated from French to English by Google. Professor Raoult argues that there should be more clarity about the benefits and risks associated with taking Covid vaccines.
For the moment, the vaccine is not compulsory. Medical practitioners must advise their patients whether or not to take the vaccine.
The most important point is, of course, to ask: what is the balance between the risks and the benefits?
When people tell you there is no risk, that is not true. We are starting to understand some of the risks of taking the AstraZeneca vaccine. There are really dangerous risks of allergy due to the compound we use, polyethylene glycol, with people who have anaphylactic shock which may be fatal and people who have thromboses. So the numbers suffering in this way need to be solidified so we know how many people are in potentially fatal accidents. Is it 1 in 100,000 or 1 in 10,000? These are things we need to know so we can say "this is the risk you are taking with the vaccine".
What is the risk you take when you are not vaccinated? Well, it's a mix between the proportion of people who are infected and the proportion of people who are infected with a severe form. So, to avoid severe forms, this vaccine is probably of interest. We must give people the choice to think. For those over the age of 75 or 80, the number of sick people who are at risk of dying is significant. Mortality among those over 85 is over 20% so the benefit to be hoped for in a period when the virus is circulating for people over 80 is very good.
And if, in these great times of terror we live in, people are reassured to be vaccinated, they must be vaccinated. But there are more downsides than they say. There is work that just came out in Nature that shows 75% of participants in a Pfizer vaccine trial reported side effects. We have never seen this with another vaccine: it is two to three times more than the flu shot. There are also some lethal effects. Is the risk worth taking? Certainly when you are part of a population at risk, but when you are part of the population without risk, you can ask yourself the question. It is everyone's choice.
Professor Didier was asked: at the community level, is it worth getting vaccinated to avoid infecting others?
Current data does not allow us to say that we will control the circulation of the virus in England with the vaccine. There is a decrease in the severity of infections when one is vaccinated. As for a decrease in the circulation of the virus, there is, as yet, no work that convinces me. The target of this vaccine is so narrow that it will be very easy to see new variants appear which will resist the antibodies generated by this vaccine. So again, the vaccine is not the magic wand hoped for to keep this virus and its variants from circulating.
I think we have to come back to the idea of ​​what a disease is… We need to maintain credibility with the population if we want to be able to implement effective public health measures.