Je Jože Mencinger s prijavo pogojne terjatve do sinovega podjetja Delikatesa, ki študentom za opravljeno delo dolguje 73 tisočakov zgolj rešil sina pred pogubno revizijo njegovega managerskega prevzema?
Jože Mencinger je v zadnjem trenutku pred stečajem prijavil neko pogojno terjatev do Delikatese, jo konvertiral v lastništvo, s tem pridobil glasovalne pravice, Delikateso pa na ta način v ključnem trenutku rešil nadzora stečajnega upravitelja, ki bi revidiral posle njegovega sina in imel celo možnost razveljavitve že sklenjenih poslov. Delikatesa, ki je eden izmed treh največjih neplačnikov študentskega dela je sicer v večinski lasti sina Jožeta Mencingerja - Tomaža Mencingerja.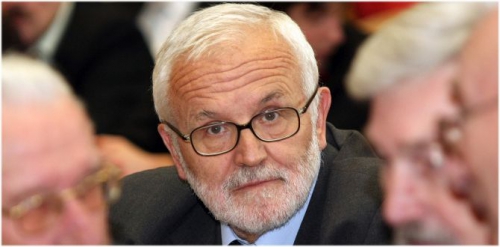 Jože Mencinger v povsem enaki maniri kot Boško Šrot, Igor Bavčar ter Igor Lah, za nastalo situacijo krivi banke in ne vidi nikakršne odgovornosti v lastnih ravnanjih ali pa idejah, ki jih zastopa. Foto: www.mediaspeed.net
Tomaž Mencinger, sin znanega ekonomista Jožeta Mencingerja in prvi mož Delikatese, študentom sporoča, da bodo po letu dni čakanja, na svoje že zaslužene plače čakali še približno tri leta, takrat pa naj bi le prejeli plačilo, a zgolj polovico. Preostale polovice pa nikoli, saj je Delikatesa po neuspešnem, čeprav "učbeniško izvedenem" managerskem prevzemu, kot je to zagovarjal Jože Mencinger, v prisilni poravnavi in je s 73.000-evrskim dolgom do študentov med največjimi tremi dolžniki do študentov v državi.
Ne glede na to, da Mencinger študentom le obljublja izplačilo že pred več kot letom dni zasluženih plač in čeprav le polovico, saj je Delikatesa zaradi Mencingerjevega poizkusa uničujočega prevzema popolnoma uničena, je jasno, da študentje ne bodo dobili niti toliko, saj bo zaradi razmer, ki v tem obdobju vladajo v gospodarstvu, premoženje zavožene Delikatese le še kopnelo. Dolg v višini 4,9 milijona evrov, ki so ga v postopku prisilne poravnave prijavili upniki pa ne in bo le malo verjetno poplačan. Tako naj bi študentje, ki jim Mencingerjevi dolgujejo 73.000 evrov, svoj denar v najboljšem primeru prejeli šele čez 3 leta. In še to zgolj polovico.
To je izkušnja, ki so jo študentje dobili ob poslovanju z najbolj vplivnim ekonomistom v Sloveniji.
Mencinger v zadnjem trenutku prijavil 328.000-evrsko pogojno terjatev do Delikatese in sina rešil revizije stečajnega upravitelja, s tem pa tudi revizijo nastanka dolga Delikatese do njega samega
S tem, ko je Jože Mencinger 200.000 evrov terjatve do sinove Delikatese konvertiral v lastniški delež, je povečal svoje glasovalne pravice za količnik, ki ga določa zakon. S tem, ko je bila izglasovana prisilna poravnava, je Mencinger namreč izključil možnost stečaja, s tem pa tudi možnost, da stečajni upravitelj razveljavi vse posle, sklenjene v zadnjem letu.
Ob tem blagodejnem učinku vpliva, ki si ga je na ta način v Delikatesi zagotovil Jože Mencinger, se pojavlja vprašanje, kako je v resnici sploh nastal dolg Delikatese do Jožeta Mencingerja. Razlika med prisilno poravnavo in stečajem je namreč ta, da prisilno poravnavo vodi obstoječi direktor – v tem primeru Mencinger, medtem ko bi stečajni postopek vodila tretja oseba, nekdo neznan. Odgovor na vprašanje, ali je Mencingerjeva terjatev v višini 328.000 evrov zgolj fiktivna in ali služi zgolj prikrivanju spornega poslovanja Delikatese d.d., bo tako ostal jasen le družini Mencinger.
"Delikateso so uničile banke!"
"Banke so krive, da podjetja (kot je Delikatesa, op.p.) zaidejo v plačilno nesposobnost," pojasnjuje oče prvega moža Delikatese Tomaža Mencingerja in solastnik Delikatese – Jože Mencinger. "Ker niso hotele dajat novih kreditov," pojasni Mencinger, in niti ne zato, ker bi hotele posojen denar nazaj, kot bi morda kdo pomislil. Dokler so banke dajale kredite, pove Mencinger, je vse šlo. Zaustavilo se je, ko so banke s kreditiranjem prenehale, je še dodal.