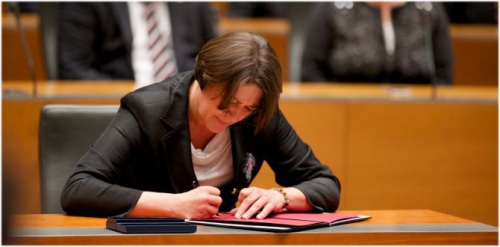 Mesijansko napovedovanje prihoda nove civilizacije prek spreminjanja duše v postopku podjetniškega inoviranja je žaljivo in ne spada ne v 21. stoletje ne v Evropsko komisijo, ampak v družbo vaških posebnežev. Foto: www.mediaspeed.net
Nisem veren, ne v klasičnem ne v kateremkoli "new age" smislu. Sem skeptik in racionalist. Verjamem v znanost in zavračam katerokoli metafizično idejo, s katero naj bi razlagali svet, ki nas obdaja.
Interdisciplinarni (in znanstveni!) pristop eksperimentalne ekonomije in nevropsihologije daje bistveno boljše odgovore na zelo kompleksna psihološka in ekonomska vprašanja kot blodnje indijskega shizofrenika Mehre Babe.
V četrtek, 9.10., smo na Portalu Plus objavili, da je Violeta Bulc "rahlo ezoterična", s tem da je v zraku obviselo vprašanje, ali bi morali takšno informacijo vzeti resno ali pa jo samo razumeti kot zanimiv element njene kompleksne in radovedne osebnosti.
Še preden se je lahko začelo resno debatirati o tem (in sodeč po odzivih Spiegla in Der Standarda jih "new age" pristop Violete Bulc ni ravno fasciniral), smo v Delu že dobili namig, kako naj razumemo "srčkano posebnost" Violete Bulc: kot tehniko za dostop do univerzalnega znanja. Skratka, če Delo pravi, da ni panike, potem je že vse OK? Ali pa je morda ravno to znak, da s tem ni prav nič OK?
Po mojem mnenju ezoterika Violete Bulc ni ne srčkana, ne zanimiva, niti ni normalna, kaj šele, da bi bila zaželena izven štirih sten njenega doma. V tem članku bom pokazal zakaj.
O šamanizmu
Violeta Bulc si je vzela čas in dokončala šolanje za šamanko v Peruju in na Škotskem. Slednje ji je, po njenih besedah v intervjuju za Jano, omogočilo spoznati tehnike, "ki dajo globok vpogled in hkrati okrepilo vero v človeka, ter v to, da smo odgovorni za svoja dejanja". Ali kot smo izvedeli v Delovi petkovi predstavitvi bodoče evrokomisarke, preko šamanizma je spoznala tehniko za "univerzalni dostop do znanja". Vse to naj bi nam dalo misliti, da gre za posebnosti človeka, ki sicer deluje na zelo resnem področju.
Menim, da je to napačno razmišljanje in zavajajoča predstavitev. Prvič, ne obstaja nič takega, kot je univerzalno znanje, zatorej tudi ne obstajajo tehnike, ki bi omogočale dostop do univerzalnega znanja. Če odmislite enciklopedije, znanstveno literaturo in učbenike, posebnega univerzalnega znanja, ki naj bi se nahajal nekje globoko v naši podzavesti, ni. Do enciklopedij, znanstvene literature in učbenikov pa lahko, če tega na Delu še ne vedo, dostopate brez licence za šamana. Bulčeva zato v najboljšem primeru prodaja meglo, v najslabšem norosti.
V 21. stoletju, pri vsem znanstvenem napredku, je naravnost idiotsko trditi, da nekje v človeku samem obstaja neka posebna knjižnica univerzalnega znanja, ki se jo lahko uporabi pri razmišljanju o inovacijskem potencialu podjetij in do katere se dostopi preko šamanskih tehnik. Argument je nor. Če verjamete v vso to "mumbojambo" retoriko, ste nori tudi sami.
Drugič. Če nekdo trdi, da potrebuje znanje o metafizičnih tehnikah zato, da bolje razume osnovne koncepte etike, kot je denimo Bulčeva, ki ji je šamanizem dal poglobljeno "vero v človeka" in razumevanje koncepta odgovornosti, je dislociran od realnosti.
Če ne verjamete meni, verjemite Richardu Dawkinsu, katerega argumentacija, da je žalostno, če v enaindvajsetem stoletju nekdo verjame, da je za obstoj etike nujni predpogoj metafizika, je v zadnjih letih postala legendarna. Povedano drugače, če je Bulčeva morala odjadrati v metafiziko, da bi razumela, kaj so interakcije med posamezniki, potem je njena vera v racionalnost, svobodnega in odgovornega človeka, sama po sebi nična.
Nenazadnje, vzeti si čas, da študiraš šamanstvo in spiritualne natege, kot je hoja po žerjavici (zato da odkleneš inovativno in podjetniško samozavest, kot pravijo na šoli, kjer se je certificirala tudi za to dejavnost (Povezava), namesto da bi ta čas investiral v študij razumevanja in reševanja kompleksnih problemov procesa inoviranja z uporabo znanstvene metodologije, ne more biti prepričljiv element življenjepisa nikogar, ki išče svoje tržne priložnosti v podjetniškem svetovanju. Kaj šele nekoga, ki bi rad v enaindvajsetem stoletju soupravljal z državo in celo nadnacionalno skupnostjo, kot je EU.
O involuciji
Na internetu je prosto dostopen njen »članek« o povezavi med evolucijo in involucijo kot elementu nastanka eko-civilizacije. V članku izveste, da je involucija pojem, ki je za Bulčevo ključen, saj ta pripelje k novi družbi, takšni, ki je sposobna sprostiti svoj inovacijski potencial. Kaj je involucija?
Pozabite matematiko in biologijo (ti sta vedno posiljeni za namene trženja kakšnega guruja tipa Deepak Chopra in tudi v primeru Violete Bulc ni drugače), gre za koncept indijskega metafizika Mehera Babe (ki je samega sebe razglasil za avatarja, torej boga v človeški podobi), ki ga Bulčeva v svojem članku citira ravno tako, kot bi citirala resnega znanstvenika. Jedro tega koncepta je notranja pot duše k sami sebi (da temu debilnemu konceptu ne bi namenjal več prostora, kot je potrebno, si, fenomenalno bedarijo, preberite sami: Povezava).
Zakaj potrebuje Bulčeva involucijo? Ne zaradi retoričnih bravur in eksperimentov, ampak zato, da nam, kot pravi sama, pojasni "zakaj so se pojavili prvi vzorci in potrebe iz katerih lahko sklepamo, da prihaja nova civilizacija". Ja, pravilno ste prebrali: Bulčeva se ne poigrava zgolj z vpeljavo metafizike v inovacijski proces, ampak prek idej indijskega avatarja Babe sklepa o procesu inoviranja kot ključnem elementu prihoda nove civilizacije. Ali si bo kot evropska komisarka prizadevala s pomočjo karmičnih zakonov uvesti novo evropsko eko-inovativno civilizacijo, seveda v članku ne piše, saj ko ga je predstavila namreč ni bila del ekipe Swami Cerarja.