Za svojevrstno mašilo (v antropologiji se takemu mašilu reče mana), ki utrjuje Osmanagićev nateg – in tega mašila/natega (mane) se poslužujejo mnogi šarlatani, ki prodajajo raznorazne (zdravilne) reči/stvari – uporabi t. i. Shumanovo frekvenco oz. resonanco. Piramide kot (domnevne) grobnice, mu očitno niso dovolj. Za legitimnost svoje (psevdo)arheologije vpelje zdravilnosti! Ko utemeljuje zdravilnost bosanskih piramid in podzemnih tunelov, ki jih je – mimogrede rečeno (in s tem soglašajo tuji arhelologi) sam skopal – se sklicujejo ravno na »naravno« »Shumanovo resonanco/frekvenco« (ki jo je »določil« Otto Winfried Schumann, pač glede na razdaljo med zemljino površino in nekaj nad 50 km oddaljeno ionosfero. Za Zemljo se sicer da reči, da ima svojo frekvenco, vibriranje oz. »nihanje«. Mnogi so posledično začeli govoriti o naravni oz. značilna »zemeljski frekvenca«, 7,83Hz (oz. okrog 8 Hz). Ljubitelji raznoraznih teorij zarote (ki je kot fenomen psihološke narave) to frekvenco povezuje s »sovražnimi« HAARP generatorji. Nateg, ki se ga poslužuje tudi Osmanagić, se navadno glasi približno takole: »Schumannova resonanca je subtilna atmosferska energija, brez katere ni življenja. Že od pradavnin napaja z bio-elektriko vsa živa bitja in je osnova prane oziroma 'či' energije ozračja ter vse žive in nežive narave. V obliki geo impulzov utripa v osem-herčnem bioritmu naravne energije Zemlje. Spodbuja življenjske procese in ozdravitev, revitalizira, podarja energijo in odpira ustvarjalni in duhovni potencial.«
Da bi zapustil večji vtis, v javnost vnesel več senzacionalizma, vpelje civilizacijo, ki naj bi naredila »bosanske piramide« pred 30.000 let in naj bi bila – po Osmanagićevih bizarno-grotesknem mnenju (beri: nanašalnih blodnjah) – naprednejša in bolj pametna od sedanje (naše) civilizacije. Ne pomisli pa, da je »krapinski (kamenodobni) človek« (neandertalec) še nekoliko starejši kot Osmanagićeva »napredna civilizacija«, bil pa je seveda bistveno bolj primitiven od npr. Egipčanov, ki začeli graditi svoje piramide v Gizi pred skoraj 5.000 leti. Z malce špekulacije lahko rečemo, da bi Osmanagić izumrtje neandertalca (»krapinskega človeka«) – izumrl naj bi pred 27.000 leti (po uradni znanosti iz neznanih razlogov) – zagotovo povezal s »svojo« »višjo civilizacijo«, ki je pred 30.000 leti gradila piramide – seveda, če bi se tega domislil. Tako pač delujejo nanašalne blodnje oz. racionalizacije.
V enem od svojih »zgodnjih« intervjujev (s Krešimirjem Mišakom na HTV) govori o kapnikih (stalaktitih/stalagnitih) na katere so menda naleteli pri svojih izkopavanjih. Če to drži, bi se dalo mariskaj (do)reči o vseh teh »zasutih« tunelih in hodnikih … Ampak Osmanagić spretno izrablja tudi te nesporne dokaze, da gre v Visokem za naravne tvorbe in geološke zakonitosti, ki veljajo povsod po svetu. Meritve starosti teh kapnikov je poveril Poljakom (?!) – kljub temu, da imamo pri nas v Sloveniji veliko izkušenj z določanjem starosti kapnikov (glede na to, da imamo številne kraške jame s kapniki). Dve visoški/lokalni reki (Fojnica in Bosna) – očitno (vsaj delni) ponikalnici – so morda res nekoč tudi izdolbli določene podzemne rove/tunele in hodnike (»proširenja«) za svoje podzemne tokove. Starost kapnikov oz. doba nastajanja kapnikov je Osmanagić – na »izračun« Poljakov – določil 5.080 let, kar bi po njegovem pomenilo, da so bili umetno zgrajeni tuneli izkopani bistveno prej – ker mu to pač bolj paše/ustreza, da se izogne tezi, da so tuneli (če so sploh obstajali) in »proširenja« (razširjeni hodniki) nastali po naravni poti in to bistveno prej, torej pred to »njegovo«/Osmanagićevo »višjo civilizacijo«, ki naj bi zgradila piramide in vse te tunele. Drugače rečeno: kapniki ravno dokazujejo, da tuneli (če so nekoč res obstajali) niso (bili) »umetni«, torej delo človeških rok, pač pa geološki fenomen obeh lokalnih rek ponikalnic. Geološki namig: starost kapnikov (stalaktitov in stalagnitov) navadno presega vsej en milijon let (primer so naše kraške jame – npr. Postojnska, Škocjanska, Divaška …).
Da so Osmanagićeve groteskne »nanašalne blodnje« resnično plod njegove psihične pat(olog)ije – beri: bolestne (histrionične) obsedenosti s senzacionalizmi in nanje vezano narcistično gratifikacijo – so splača nanizati še nekatere njegove »cvetke« (večina jih gravitira v register teorije zarote):
V svojih intervjujih omenja beze nezemljanov na Mesecu. HALO?! Trdi, da je imel nam bližnji planet Mars nekoč civilizacijo (»marsovce«). HALO?! Dalo bi se ga vprašati, od kje je to izvedel. Morda iz prve roke?! Osebno dvomim, da bi si drznil reči, da je bil na Marsu in jih je videl … Osmanagić tudi sicer pogosto govori nezemljanih (NLP), o ameriškem Roswllu (kjer naj bi julija 1947 strmoglavil »leteči krožnik«, UFO/NLP), o »koti (območju) 51« …
V objemu svoje želje po medijskem uveljavljanju (in slavi) vpelje celo »notranje sonce« (ki naj bi se nahajalo v središču Zemlje) – to je verjetno pobral po pisatelju znanstvene fantastike Julesu Vernu (»Potovanje v središče Zemlje«) … HALO?!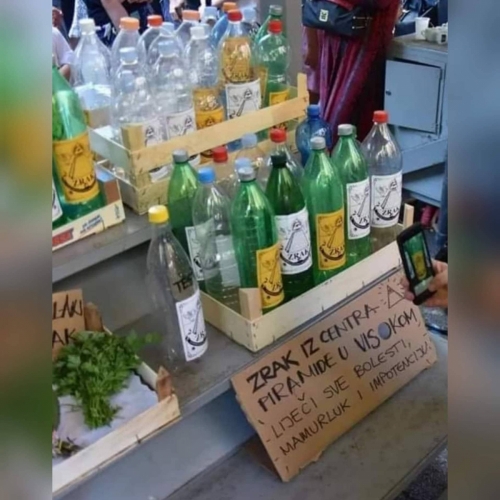 PS: Ali ste vedeli, da Bosanci nategujejo ljudi tudi tako, da prodajajo ustekleničen zrak iz tunelov (ki so 2 km stran od "piramid"). Najbolj prefrigani ljudi nategujejo tako, da pravijo, da je zrak direktno iz piramid, in da je zdravilen

– itak, da

zdravi tudi impotenco ...

HALO?!