V teh čudnih, da ne rečem težkih časih, prihajajo na dan tudi »drugačna« znanja. Če kdo, potem prav jaz slovim po teh »drugačnih« znanjih. Ne vsiljujem se, če pa sem ravno nagovorjen, pa ne skoparim z besedami, z drugačnimi interpretacijami.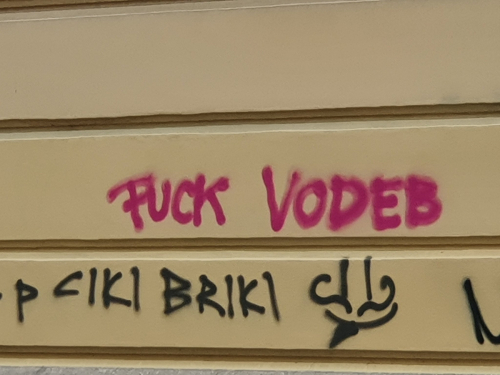 Sredi marca me je (Ne)Delov novinar nagovoril nekako takole:
»Spoštovani, pri časopisu Nedelo načrtujem(o) članek o moški nečimrnosti. Sprašujem vas, če je mogoče, da bi o tej lastnosti (drugega spola) podali svoje zgoščeno, definicijsko mnenje, recimo do 2000 znakov (smo seveda omejeni, dolžinsko). Je to že stoleten pojav, nekaj novega, eskalirajočega, zakaj se pojavlja, pri kateri vrsti moških bitij, gre za kakršenkoli manko? Če ne utegnete, mi prosim (tudi) sporočite, sicer najlepša hvala.«
Ker spoštujem novinarski poklic, nikoli ne rečem, da »nimam časa«, ali kaj podobnega. Vedno odgovorim. Ampak tokrat sem imel nekaj problemov. Nisem namreč točno vedel, kaj si novinar pod pojmom »nečimrnost« predstavlja. Zato sem ga nagovoril:
»… Ampak, dajte mi definirati "nečimrnost". Par stavkov mi napišite, kaj mislite pod to "oznako".«
In novinar mi je odpisal:
» … šminkanje lastnega življenja, življenje za zunanjo podobo (zdrava prehrana, fitnes depilacija ... skratka, posegi, ki jih je drugi spol doslej prilepljal prvemu, prvi in drugi spol mišljeno po vašem vrstnem redu).«
In še dodal:
»Konkretno: ko se cajteng s katerim od znanih obrazov dogovarja za intervju, tega bolj kot vsebina – ta je po navadi ustaljeno "floskulasta", zanima, kako bo izgledal na "naslovki". Pa naj gre za "popolnega" pevca ali dobrodelnika, ki se vsak dan srečuje s "podnom" življenja. Ko gre za "naslovko", zunanjo podobo, se popolnoma izenačita. Tu je še intelektualna nečimrnost, skratka ...«
In šele, ko mi je dotični novinar nekako predstavil, kaj točno pod pojmom »nečimrnost« misli, sem zastavil svojo odgovor. Zastavil sem takole:
»
Osebno nikoli ne uporabljam pojma nečimrnost – ker zame osebno nič ne pomeni. Gre za »staroslovenski« izraz. Sicer gre za enega od znamenitih sedem smrtne grehe, ki ima še drugo ime: napuh (ki simpatizira in delno sovpada z nadutostjo, domišljavostjo). Skozi psihoanalizo (Freuda ) bi bilo mogoče govoriti o patološkem narcizmu, za katerega je v osnovi značilna tudi moralna nerazsodnost, torej šibek Nadjaz s primesi nekakšne ego-manije. Rekel bi, da »nečimrn-nadutež« – beri: ego-manijak – daje svoj »Jaz sem … (karkoli že)« in svoje potrebe, hotenja in želje pred vse ostalo. Zanima ga samo tisto, kar njemu koristi in kar mu nosi ugodje, zadovoljstvo. Drugi ga v resnici ne zanimajo. Je sebičen, torej egoističen. Etiologija razvoja te negativne osebnostne lastnosti seveda gravitira v otroštvo, v primarno družino – natančneje v falično fazo, v kateri se razrešuje Ojdipov kompleks. Ravno ponesrečeno (ne)razrešen Ojdipov kompleks je kriv za razvoj mnogi negativnih osebnostnih oz. karakternih lastnosti človeka – v mislih imam seveda moškega. Ženske negativne lastnosti – vključno z nadutostjo/napuhom oz. narcizmom – so bistveno drugače strukturirana, in to zaradi fenomena kastracije, torej učinkovanja genitalnih razlik med spoloma na razvoj duševnosti, moškosti in ženskosti … Patološki narcisom h kateremu gravitira nečimrnost (in nadutost, skupaj z domišljavostjo in napuhom) nastane v primarni družini, skozi »gor-spravljanje« (»vzgojo«), v ojdipalni fazi, ko se, navadno mamica, nespretno/spodletelo obnaša do svojega sina. To pomeni, da ga »pogojno ljubi«, kot se reče v psihoanalizi, in ga na ta način »rani« oz. ponesrečeno osebnostno/karakterno zaznamuje. Zaradi primanjkljaja materine ljubezni oz. varne navezanosti – navadno še v povezavi z odsotnostjo očetovih pohval – deček postane ranjena duša, kar se odraža šele v odraslosti, delno sicer že v puberteti. Takšna ranjena duša sebe daje v ospredje, se t. r. nenehno bodri – seveda samega sebe – in na ta način postane za okolico moteč, nadut, domišljav, poln napuha. Takšna »ranjena duša« si nenehno »bilda Ego«, in to natančno zato, ker je ravno njegov Ego ranjen, deformiran, ker ni občutil dovolj varne navezanosti na (brezpogojno) ljubečo mamo. Nadutežu načeloma tudi oče ni vzgojno koristil – oče, ki bi kot »dovolj dober« korigiral »preveč slabo« mamo …
«
Itd. Itd. Itd.