Nedavno sem se na neki spletni ZOOM-konferenci, bežno razgovoril tudi o svojevrstni škodljivosti zavajanja otrok s strani staršev okrog dejstva, da Dedek Mraz v resni ne obstaja – niti Božiček in Miklavž, niti zobna miška, dobre vile in podobni mitološki liki. V teh časih imajo mladi starši, pa tudi dedki in babice, kar rahle pomisleke okrog tega, do kdaj – do katere starosti – je smiselno lagati otrokom o obstoju omenjenih mitoloških biti oz. likov. Glede na to, da so raznorazne teorije zarote v teh časih dobesedno ponorele, so na nekakšnem (spodletelem) pohodu, je treba ljudem – staršem pa tudi dedkom in babicam, tetam in stricem – povedati, jih poučiti, da je v resnici lahko kar malce škodljivo, če se otroke predolgo zavaja glede obstoja omenjenih mitoloških »junakov«, bitij oz. likov, ker lahko otrok, ki so ga predolgo zavajali, v odraslosti začenja kronično in fanatično – in seveda zmotno – verjetni v raznorazne teorije zarote.
Slovenija velja za državo – skorajda rekorderko –, kjer ljudje množično nasedajo tezi – torej teoriji zarote – da je cepljenje otrok škodljivo; posledično pa je »v modi« tudi apriorni odpor do cepljenja proti novemu koraona-virusu. Tudi vpeljava tehnologijo 5G je mnoge Slovence zmedla in vzpudila precej revolta. Tudi ideji o škodljivosti – celo smrtonosnosti – letalskih izpuhov (chemtrailsov) so nasedli mnogi Slovenci. Zdi pa se, da se je porast tovrstnih teorij zarote začel pred skoraj 20 leti, ko so talibani s tremi ugrabljenimi potniškimi let porušili oba WTC-nebotičnika, tretje letalo pa je strmoglavilo na Pentagon. Teorija zarote, ki se je takrat pojavila po celem svetu, pa tudi pri nas, je bila, da so Američani sami zrušili oba WTC-je – tako, da so jih zminirali – letal pa, da sploh ni bilo …
Freud je tovrstna bizarna in groteskna verjetja, v katere ljudje verjamejo že od prazgodovine, ko se še znanost niti ni rodila, pripisoval zavajanju otrok okrog resnice o seksualnem spočetju in rojstvu otrok. Freud je to pojasnil v dveh spisih iz leta 1907 in 1908 (»O seksualnem razsvetljevanju otrok« in »O infantilnih seksualnih teorijah«). Dandanes pa se otroke množično zavaja okrog ene drugo teme. Gre za temeljno zavajanje, ki ga še pred stoletji ni bilo, to pa je: vpeljava verjetja v Miklavža, v zadnjih desetletjih pa tudi Dedka Mraza in/oz. Božička. Tovrstna zavajanja so na dolgi rok škodljiva zato, ker otrok okrog petega leta starosti sam sebi že marsikaj razloži – tudi to, da Dedka Mraza oz. Božička (in Miklavža) v resnici ni; torej, da darila nosijo starši, dedki in babice, strici in tete ... Z avtonomnim logičnim sklepanjem se mladi vedoželjnež spontano zoperstavi staršem – prvim avtoritetam – ki ga zavajajo okrog tega predbožičnega in/oz. prednovoletnega obdarovanja. Ta nadležna paradigme zoprstavljanja prvim avtoritetam, ki ga zavajajo in se mu vehementno lažejo, je pomembna zato, ker se otroku v psiho naseli fundament, na katerem se bodo v odraslosti zoperstavljali mnogim avtoritetam, ki bodo razglašali določene izmuzljive resnice.
Ko se je lansko leto takle čas na Kitajskem pojavil novi korona virus (COVID-19), sem sam pri sebi natančno vedel, kako se bodo povsod po svetu začele pojavljati teorije zarote, češ, da se v ozadju nekaj skriva – nekakšna »prepovedana vednost«, zarota proti človeštvu. Moja napoved je temeljila na tem, da poznam, kako se »infantilna prvost« – torej otroštvo – simbolno vrača v odraslosti, kot oživljena »drugost«. Sprožilec tega simbolnega oživljanja je nekakšna skrivnost oz. netransparentnost, ki ima megalomanski celo senzacionalistični družbeni vpliv, razsežnosti. Tako, kot je bila za otroka prava senzacija, da nek »možicelj« decembra nosi darila (ali, da mu »zobna miška« za izpuljeni zob prinese denar), ali da se t. r. »iz nič«v njegovem življenju pojavi bratec ali sestrica (ali celo dvojčka), je za odraslega človeka senzacionalno, da se (zaradi zaletelih letal) zrušita dva WTC-nebotičnika, ali, da je človek prišel na luno, ali da se t. r. »čez noč« (na Kitajskem), pojavi smrtonosni virus.
Ljudje, ki so jih starši preveč suvereno in predolgo zavajali okrog Dedka Mraza/Božička (Miklavža), ali so jim v objemu sramu celo lagali, da otroke nosi štorklja, zbegajo pametnega otroka, ki po svoje – sam pri sebi – ve, da se mu avtoritete lažejo. In občutek, da uradna znanost (vlade, NASA, FBI, iluminati, »globoka država«, »svetovna mafija«, George Soros, Bill Gates …) laže, je domala psihotičen, popolnoma zavajajoč, nerealen. Mnogi ljudje so s tovrstnimi teorijami zarote kronično obsedeni – navadno gre celo za ene in iste ljudi. (Pri nas so redni gostje v TV-oddaji »Klepet ob kavi«, pri voditeljici Jasmini Kandorfer).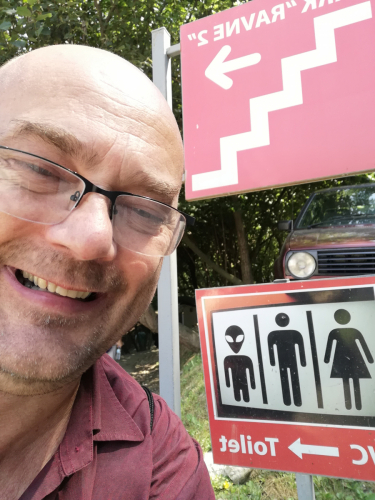 Zato – spoštovani starši (dedki in babice, strici in tete) – ne lažite svojim otrokom predolgo! Nehajte jih zavajati, če so otroci t. r. že sami pogruntali, da ni res to, kar jim govorite, ko jih zavajate, jim lažete. V trenutku, ko otrok (že) sam, z logičnim sklepanjem, podvomi – lahko, da je to slišal od drugih, od vrstnikov – ugotovi, da ga zavajate in mu suvereno lažete, morate razkriti resnico in to na obziren in pazljiv način. Vedeti morate, da gre pri decembrskem obdarovanju vselej za užitek tistih, ki obdarujejo – torej za užitek staršev, ki otroke obdarujejo in jih posledično zavajajo; otroško uživanje, ko prejemajo darila v resnici – teoretsko (v tem kontekstu) – po svoje niti ni bistveno.