Glede na to, da že par desetletji bolj ali manj odkrito kritiziram psihiatrično paradigmo razumevanja psihopatologije, moram nekaj reči tudi o anksioznosti oz. tesnobi oz. tesnobnosti, ki jo psihiatrija (po mojem videnju) nekako ne razume povsem dostojno. Tesnobnost in tesnobo pač ločujem, glede na to, da vem, da je to mogoče. Razlike so sicer majhne vezane pa so na trajanje tesnobe oz. tesnobnosti. Tesnoba je hipno občutenje, tesnobnost pa neko dalje in tudi bolj dolgotrajno (ob)čutenje.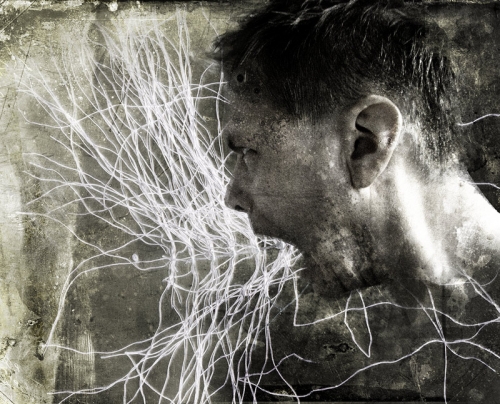 Anksioznost oz. tesnoba/tesnobnost, kot se reče po slovensko, je posebno psihično stanje, ki ima negativno valenco. Znotraj registra tesnobnosti/anksioznosti so razni derivati oz. »franšize«. Nekateri teoretiki celo ločujejo tesnobnost od anksioznosti. Pred dobrim desetletjem se je pri nas o tesnob(nost)i in/oz. anksioznosti razmišljalo nekako takole (Maja Hribar, Psihološko obzorja, 2007):
- »anksioznost« vsebuje izrazitejšo komponento telesnih občutkov kot »tesnoba«;
- »anksioznost« vsebuje izrazitejšo komponento »bolečine« kot »tesnoba«;
- »tesnoba« je širši pojem od »anksioznosti«;
- »anksioznost« ima bolj konkretnega referenta (tisto, na kar se nanaša) kot
»tesnoba«;
- »anksioznost« se uporablja bolj v empiričnem, »tesnoba« pa filozofskem diskurzu.
V tem tekstu gre pri anksioznosti in tesnobi/tesnobnosti za sinonim.
Tesnoba zagotovo ni strah (niti bojazen, še manj trema), pač pa nedefinirano in težko opisljivo negativno psihično stanje (trpljenje), ki ima nezavedne korenine v potlačitvah ali izrivanji iz preteklost, najpogosteje iz otroštva. Težko bi rekli, da gre pri tesnobnosti za klasično čustvo, ker to v resnici ni – gre pa za neko nedefinirano (ob)čutenje. Res pa je, da se tesnobnost v svojem nezavednem jedru napaja iz določenih negativnih čustev, najpogosteje iz tistih, ki se napajajo iz strahu in/oz. (negativnega) šoka, ki ga je bil človek kot otrok deležen v svojem odraščanju. Tukaj je še jeza in žalost ali pa zmedenost/dezorientiranost (ki je povezana s strahom).
S tesnobnostjo so bili ljudje zagotovo prežeti že v prazgodovini, čeprav zapisov na to temo (seveda) nimamo. Ko so ljudje v prazgodovini doživljali tesnobi, še niso znali niti pisati, kaj šele, da bi to »čustvo« oz. stanje v svojem psihičnem počutju sploh opisali, torej ubesedili. Tudi vseh poznejših zgodovinskih obdobjih je zapisov, ki bi dostojno opredeljevali/definirali tesnobnost, nimamo. Tudi najboljšim literatom (niti filozofom) v resnici ni uspelo povsem korektno opisati tega neprijetnega, negativnega psihičnega stanja. O tesnobnosti se tudi Freud ni detajlno in obširno razpisal. Danes se o tesnobnosti/anksioznosti ve več kot v Freudovem času. Freud pa je je zastavil fundament v razumevanju in interpretaciji tesnobnosti – najbolj z dikcijo, da je »otrok oče odraslega človeka«, kar je v osnovi dikcija angleškega pesnika Williama Wordswortha, ki je živel stoletje pred Freudom.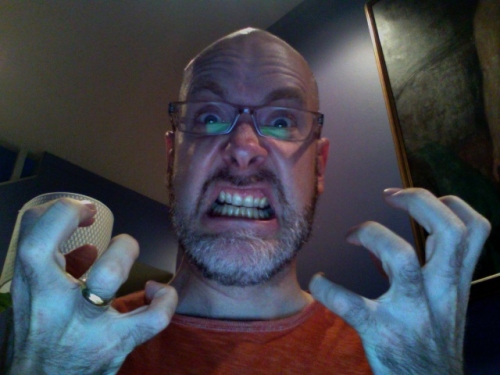 Tesnobnost je dandanes sicer splošno znana psihična anomalija, torej motnja. Psihiatri ji rečejo celo bolezen, ki se jo – po mojem osebnem (psihoanalitičnem) videnju – zdravi z medikamenti/»zdravili« (tableti, anksiolitiki – pogosto tudi z antidepresivi ali celo antipsihotiki). Koncept »zdravil«, ki ga pozna medicina/psihiatrija sploh ne vzdrži, ker tableti, ki jih predpisujejo psihiatri (ali celo splošni zdravniki), v resnici ne zdravijo, pač pa zgolj ublažijo oz. »ohromijo« nekatere simptome (kot neprijetna stanja). Sicer je anksioznost sama po sebi simptom (kot vrnitev potlačenega/izrinjenega), ki nosi s seboj še druge (fiziološke) simptome. Psihiatrija o tesnobi/tesnobnosti razmišlja zelo ohlapno – češ, da gre za neprijetno, strahu podobno čustveno stanje. Iz klinične (psihiatrične in psihoterapevtske) prakse se tesnoba pojavi bodisi postopoma ali nenadno, razlikuje pa se tudi glede intenzivnosti in trajanja. Telesne in vedenjske spremembe, ki jih doživljamo ob tesnobi, so podobne odzivu na stres, a običajno bolj izrazite oz. potencirane. Včasih se tesnobnost lahko prepleta s paničnimi napadi oz. se oba psihična fenomena prepletata, se dopolnjujeta, kar je logično, saj imata podobno etiologijo (nezavedna/potlačena jedra). Tako panični napadi kot tesnobnost sta prežeta s podobnimi fiziološkimi simptomi: pospešenim bitjem srca, s slabostjo v želodcu, potenjem, tresenjem, napetostjo mišic, pojavi se lahko hitra utrujenost oz. utrudljivost, pojavijo se lahko težave s prebavo (driska, oteženo je lahko dihanje. Včasih se lahko pojavi vrtoglavica, pogost spremljevalec je seveda nespečnost, nesposobnost koncentracije … Človek, ki je ujet v kronično tesnobnost (in/ali panične napade) se ima tako zelo naštudiranega, da se izogiba dejavnostim ali krajem, ki mu sprožajo tesnobnost oz. panične napade ali zgolj vzbujajo nekakšen nedefinirani strah. Na ravni čustev posameznik doživlja vznemirjenost, občutke ogroženosti, utesnjenosti, strahu in panike. Na nek način je zmotena tudi kognicija, torej mišljenje, saj človeka kronično skrbi, da se mu bo pojavila tesnobnost in/oz. panični napad(i). V tesnobnost ujet človek je lahko tudi stihijsko oz. kronično in nedefinirano preplašen, saj ima pogosto tudi strah pred (nedefiniranim) »strahom«, torej tesnobnostjo. Vsa ta »čustva« oz. stanja se v človeku vzpostavljajo povsem nekontrolirano, torej spontano, nehotno in/oz. nezavedno. Brez povezovanja tesnobe z nezavednem – torej s potlačenimi infantilnimi jedri – se o tesnobi ne da nič pametnega povedati.
Anksioznost oz. tesnobnost (tesnoba) je ohlapno oz. razpršeno čustveno stanje – nikakor pa eksaktno čustvo. Ne da se ga ubesediti na tak način kot npr. fobijo ali panični napad ali (športno) tremo. Predmeta oz. objekt tovrstnega »strahu« – bolje rečeno nadležnega nelagodja (neprijetnosti) – je neopredeljen oz. ga ni. Doživlja tesnobnosti je stihijsko in nedoločenega, vsekakor pa »nedefinirano ogrožujoče«, neubesedljivega.
V psihoanalitičnem žargonu bi se dalo reči, da je teoretsko bistvo tesnobe vezano na nezavedno jedro (ali več njih), na določene potlačitve, navadno v povezavi s »triggerji«/sprožilci, ki imajo nezavedno asociativno-simbolno zvezo s ključnimi (stresnimi, travmatičnimi) infantilni dogodki, navadno vezani na primarno družino oz. na »ne-varne« stile navezanosti na mamo (kot bi rekel John Bowlby).