Zaradi lažjega razumevanja tesnobe/tesnobnosti (in še česa – npr. paničnih napadov) je dobro, da tovrstne psihične fenomene pojmujemo kot (nadležen) SIMPTOM. Iz psihoanalize oz. psihoterapije vemo, da je bistvo simptoma vračanje potlačenih vsebin iz otroštva, iz nezavednega oz. »prejšnjosti«/»prvosti« v odraslost oz. »drugost«. Simptoma je nekakšen znanilec nečesa potlačenega. Simptomi imajo običajno neko simbolno formo, ki je po svoje zelo smiselno (simbolno) strukturirana, le simbolno logiko moramo ustrezno prebrati/razbrati. Simptom je t. r. paradigma, ki se (simbolno) vrača.
Človek lahko občuti tesnobo/tesnobnost (anksioznost), ki se napaja iz nekega enkratnega (šokantnega, travmatičnega) dogodka, ali pa ima tesnobnost lahko ponotranjeno iz daljšega travmatičnega obdobja iz otroštva – navadno/največkrat v kontekstu (po Bowlbyju in Ainsworthovi) »ne-varnega« stila/tipa navezanosti na mater. V takšnem primeru se da govoriti o generalizirani tesnobnosti/anksioznosti (pogosto pomešani z depresijo), ki je vtkana v celotno osebnostno strukturo in se je niti ne da povsem sterapirati. Psihiatri govorijo o anksiozni osebnostni motnji (kot diagnozi). Taka oseba ima preveč »virusov« naseljenih v svojem nezavednem (v potlačitvah) in/oz. v svojem »BIOS-u«. V vulgarnem žargonu bi lahko rekli, da ima »zapacano« psiho/duševnost. Takšni ljudje navadno že zelo zgodaj, nekateri že v puberteti, pristanejo pri psihiatru, ki jim predpišejo tablete – bodisi antidepresive ali/in/oz. anksiolitike – za katere se v resnici nikoli ne ve točno, kako bodo delovali/učinkovali. Nekaterim seveda pomagajo, nekaterim pa(č) ne. Medikamentozne »birgle« (tableti) so s psihoterapevtskega oz. psihoanalitičnega vidika (kronična, paradigmatska) konceptualna zabloda psihiatrije, ki – po mojem videnju – (pre)mnogim pacientom bolj škoduje kot koristi.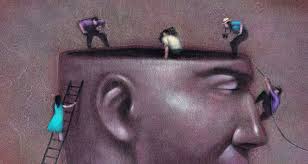 Mnogi ljudje občasno izkusijo epizode tesnobe/tesnobnosti, ki pa so navadno kratke in minejo/izzvenijo (ugasnejo) spontano, same od sebe. Pri mnogih lahko minejo/izzvenijo spontano tudi zato, ker se v etiološkem smislu ne napajajo iz klasičnih infantilnih potlačitev, pač pa iz poznejših izrivanj. V strokovno-teoretskem smislu je to izjemno težko ugotoviti oz. opredeliti. Izrivanja in potlačitve sta podobna obrambna mehanizma, ki imata podobno učinkovanje, le da potlačitve gravitirajo v otroštvo, izrivanje pa v mladost in/oz. odraslost. Vendar se tudi iz določenih izrivanih vsebin lahko napaja tesnobnost, ki pa je navadno milejša in se lažje »sanira« oz. »pozdravi« ali celo sama spontano izzveni, ugasne.
O bolezenski tesnobi/tesnobnosti oz. anksiozn(ostn)ih motnjah navadno (strokovno, teoretsko) govorimo, ko tesnoba traja več kot določeno (karjše) obdobje dneva oz. dlje kot par dni, in je pri posamezniku prisotnih več simptomov anksiozn(ost)nih motenj, ki jih posameznik ne zmore obvladovati in ga pomembno ovirajo v vsakodnevnem funkcioniranju. Nekateri simptomi anksiozn(ost)nih/tesnobn(ostn)ih motenj so pri nekaterih ljudeh prisotni pred nastankom/pojavom depresije ali med depresijo – morda tudi v kombinaciji s paničnimi napadi. V (širšo) skupino anksioznostnih motenj uvrščamo (oz. to delajo psihiatri) več različnih motenj – ob običajni/klasični tesnobi še generalizirano anksioznostno motnjo, panično motnjo, fobije, posttravmatsko stresno motnjo, obsesivno kompulzivno motnjo – po svoje pa v anksioznost gravitira tudi običajno (npr. športna) trema. Po mnenju srbskega psihoanalitika (ki deluje tudi v Nemčiji/Berlinu) Aleksandra Dimitrijevića, ima 90% depresivnih ljudi tudi anksiozne motnje – dalo pa bi se reči, da tudi obratno; torej, da ljudje, ki imajo anksiozne motnje občasno podlegajo tudi depresiji.
PS: Sledil bo še 3. (zadnji) del