Poslušal na TV3 Slovenija o našem heroju Cerarju in bil presenečen, prej še bolj šokiran na izrečeno, od pred kratkim člana SMC.
Sprašujem se, kako lahko tak človek še naprej zastopa vlado Slovenije, če dejansko dela proti državi in ne nasprotno, kakor mu predpisujejo Ustani zakoni, veleva dolžnost in prisega, ki jo je dal ob izvolitvi. Veliko napak je naredil, v nekatere bil celo prisiljen in kar je pomembno, da vsaj za določene stvari vedo tudi državljani, ki niso imeli priložnosti spremljati oddaje.
Omenil bi le nekaj perečega, kar se tiče o spremembah in dopolnitvah zakona o integriteti in preprečevanju korupcije, ki bi v naši državi počistili vso roparsko nesnago in bi za kriminalna dejanja tudi odgovarjali in bili kaznovani!..., v vseh letih, se ni potrudil, da bi šel ta zakon v proceduro, temveč ga je glasno zaviral!... In tak človek se ponovno poteguje za predsednika, ki je dal odstopno izjavo, da odstopa od te visoke funkcije!..., se vam zdi sploh primerno, da sedaj ponovno kandidira, pa kaj nas ima vse državljane za tepce ali kaj?
Samo G. Cerarja ni bilo moč prepričati, da se sprejme ta novi zakon za preprečitev korupcije, pa čeprav so ga opozarjali na to pomanjkljivost vsi, ki želijo, da nastane v Sloveniji že končno pravni red. Tudi Štefanec, ki je odgovoren v preprečevanju korupcije, ga je velikokrat opominjal, samo Cerar je vse preslišal. To je tisti človek, ki nam je toliko obljubljal , da bo delal na tem, da se v državi izpostavi spet pravni red!... in kaj je delal on?..., poskrbel je, da je v državi nastajalo še več kriminala, še posebno po bankah, ne mislite, da ni vedel tudi za pranje na NLB.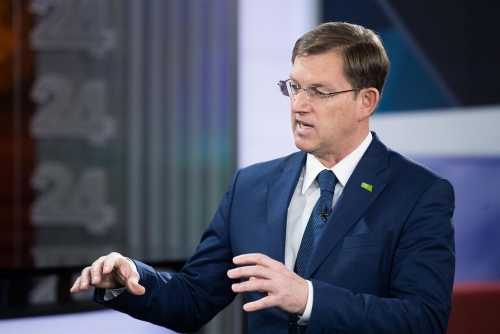 Zavezan je bil molčečnosti od mafije višjih in pritajenih, mafiozotov v državi, ki še danes lepo obdelujejo svoje vrtičke na račun države, pa čeprav ni slišati, da delujejo aktivno, imajo pa veliko moč, tudi nad oblastjo v državi in njim so podrejeni vsi, ki so na oblasti v državi. Tako tudi o spremembah in dopolnitvah zakona o integriteti in preprečevanju ni bil v obravnavi, ker bi jim škodil in ne koristil. V državi imamo roparje, ki so nad oblastjo že dolga leta in se nam še sanja ne, koliko neposredno izropajo državno blagajno, brez da bi bilo sploh kje opazno!..., o tem pa se molči in ne razglablja.
Pred kratkim je bil vložen tudi zakon o dobičkih na športni loteriji, ki bi državni blagajni doprinesel več kot 20 mil. letnega dobička. Samo NE!..., tik pred zdajci razprave tega zakona v parlamentu, je G. Cerar prekinil celo razpravo in striktno zapovedal, da se zakon umakne iz dnevnega reda, očitno je prišla derektiva od višjih, da ta zakon ne sme v obravnavo!..., kaj menite, zakaj?
Mafiji, ki streže našim, oblastnikom že vrsto let, bi se s tem zakonom zmanjšal buđet in vrtiček bi se zmanjšal, na tega pa budno pazijo.