Potrebno se je zamisliti, kdo seje vse to trpljenje. Vse že vpije in kriči, le v zavesti mnogih, še vedno vse spi, se nikakor ne uzavesti in ne prebudi!
**********************************************************************************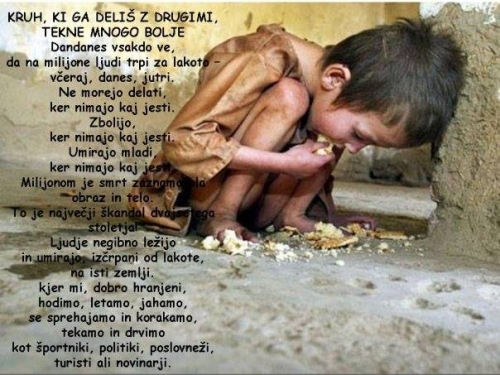 Vse le zaradi nepravične porazdelitve. In kdo so ti zajedavci, ki odžirajo najosnovnejše sočloveku?..., mislim, da ni potrebno veliko razmišljati o tej svetovno znani mafiji prestiža, katera si kopiči po nelegalni poti kapital in nad katerim ima velik delež zaslug, tudi NATO, RKC in še razne druge verske inštitucije, KRALJEVE VZVIŠENOSTI, in razni, svetovno znani mafijski mogotci!
Če bi obstajal Bog ali Alah in ne vem še koliko vsemogočnih, ne bi smelo prihajati do takih razlik in da je toliko trplenja v svetu. Ne bom polemiziral ne pametoval, vsak izmed vas ima toliko pameti, da lahko pri sebi razčisti in premisli, kaj narediti in kako ustaviti te krivice, ki jih ni Bogovi ne znajo ali ne morejo, morda celo ne smejo, nočejo rešiti. Pa ste morda sploh kdaj premišljali, da bi en mali delček odgovornosti za to stanje, ki nam ga povzročajo svetovne gamadi, prenesli lahko tudi na sebe in pričeli z malimi dejanji v prid zdravi- humani družbi v svoji bližini?
Premislite in zamislite se ob tem zapisu na žalostni fotki!..., vas pa morda loči le stena, za katero so že pred časom vsi obmolknili, krulijo jim le želodci, morda že solze več ne tečejo.
Povsod po svetu, pa je najbolj žalostno, da morajo trpeti živa in nedolžna bitja, še ne razsvetljenih duš!..., življenje riše jim uboštvo, lakota, da vreče polne so denarja, vsega Vatikana, svetovnih mogotcev in kraljevih družin! In kaj je še bolj žalostno, da jih bedaki še častite, se jim klanjate, kot bili bi slepi, gluhi, ne zavestni in vsi začarani!