Pa ga lahko praznujemo, smo dejansko opravičeni do tega praznovanja?..., če pomislimo, da imamo samo v Sloveniji nad 35,000 otrok, ki živijo na samem robu še vzdržnega, varnega in zadovoljivega življenja- zavetja!... Koliko je podhranjenih, koliko posiljenih, izkoriščenih in kar je najbolj boleče, da obstajajo tudi taki, ki so brez starševske ljubezni in to še kako boli.
Pa, da pogledamo malo v svetovnem merilu, ko vemo, da je mnogo, mnogo teh ubogih nožic lačnih in bi ravno tako lahko opisal vse, kakor za otroke v naši Sloveniji!..., le, da bi moral še veliko dopisati!... Koliko jih trpi, zaradi vojnih norij po svetu, koliko jih je mnogo prezgodaj končalo svoja življenja med poboji, ob begu iz vojnih področij, pregnanih od svojih ognjišč, koliko jih je med begom končalo svoja življenja v morju in še bi lahko naštevali.
Vsakega čutečega človeka zaboli srce ob vseh težavah, ki jih preživlja ogromno otrok pri nas in po vsem svetu. Največji razlog temu stanju, pa so prav nenasitne zverine, ki se bogatijo in napajajo tudi preko otroške krvi, le da dosežejo svoj cilj po še dodatnem bogatenju. Žalostno je za vsa ta trpljenja otrok slišati, kaj šele videti na lastne oči in občutiti vso to tiranijo trpljenja, ki jo po vsem svetu širijo prav iluminati, so naprimer mafija, ki nam že nekaj let grenijo naša življenja, pa tudi v svetu. Kdo so, pa prepuščam vam, da malo razmislite!..., mnogim vem, da to ne bo težko.
Iluminati pa so vmešani in nadzorujejo vse tajne združbe in se jim v zaenkrat še nedokazanih teorijah o svetovnih zarotah pripisuje, da bodisi neposredno, bodisi podtalno obvladujejo ves svet visoke politike!..., celotnega bančništva, industrije zabave in množičnih občil!... Poleg tega pa naj bi imela v lasti velik del strateških surovin in najbolj donosnih vej gospodarstva (kot so prehrana, računalniška, farmacevtska, letalska in orožarska industrija).
POTREBNO SE JE ZAMISLITI, KDO SEJE VSE TO TRPLJENJE. VSE ŽE VPIJE IN KRIČI, LE V ZAVESTI MNOGIH, ŠE VEDNO VSE SPI, SE NIKAKOR NE UZAVESTI IN NE PREBUDI!
Vse le zaradi nepravične porazdelitve. In kdo so ti zajedavci, ki odžirajo najosnovnejše sočloveku?..., mislim, da ni potrebno veliko razmišljati o tej svetovno znani mafiji prestiža, katera si kopiči po nelegalni poti kapital in nad katerim ima velik delež zaslug, tudi NATO, RKC in še razne druge verske inštitucije, KRALJEVE VZVIŠENOSTI, in razni, svetovno znani mafijski mogotci!
Če bi obstajal Bog ali Alah in ne vem še koliko vsemogočnih, ne bi smelo prihajati do takih razlik in da je toliko trplenja v svetu. Ne bom polemiziral ne pametoval, vsak izmed vas ima toliko pameti, da lahko pri sebi razčisti in premisli, kaj narediti in kako ustaviti te krivice, ki jih ni Bogovi ne znajo ali ne morejo, morda celo ne smejo, nočejo rešiti. Pa ste morda sploh kdaj premišljali, da bi en mali delček odgovornosti za to stanje, ki nam ga povzročajo svetovne gamadi, prenesli lahko tudi na sebe in pričeli z malimi dejanji v prid zdravi- humani družbi v svoji bližini?
Premislite in zamislite se ob tem zapisu na žalostni fotki!..., vas pa morda loči le stena, za katero so že pred časom vsi obmolknili, krulijo jim le želodci, morda že solze več ne tečejo. Povsod po svetu, pa je najbolj žalostno, da morajo trpeti živa in nedolžna bitja, še ne razsvetljenih duš!..., življenje riše jim uboštvo, lakota, da vreče polne so denarja, vsega Vatikana, svetovnih mogotcev in kraljevih družin! In kaj je še bolj žalostno, da jih bedaki še častite, se jim klanjate, kot bili bi slepi, gluhi, ne zavestni in vsi začarani!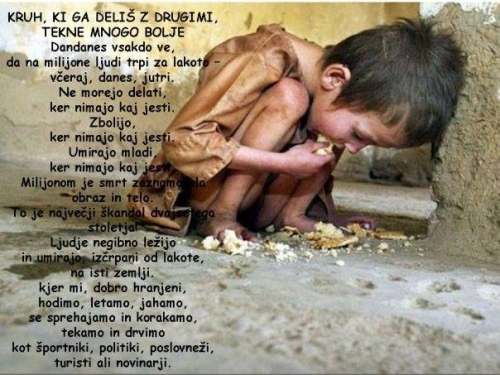 Še ena mojih žalostnih pesmi, ko govorijo otrokove oči!..., srček trpi in se krčevito z ročicami bori, v varnem materinem naročju!
vpijejo, zaviti so v odeje.
vodijo, težavne vse poti,
so z malimi otroki legle,
v svoje toplo me naročje,
le žalost in skrbi, mu sijejo iz oči,