SLOVENSKO OBLIKOVANJE NA OGLED NA SEJMU V KÖLNU
Danes odpira vrata mednarodni pohištveni sejem IMM v Kölnu, na katerem bo do konca tedna na ogled najnovejše pohištvo pomembnejših blagovnih znamk in podjetij s tega področja. Med razstavljavci so tudi slovenska podjetja: Donar, 3S design, Mizarstvo Bolčič, Mizarstvo Bogovič, 3OINK Jure Benčina, Ekotrade in Telnet.
Na sejmu, ki poleg aprilskega v Milanu predstavlja največji tovrstni dogodek, sodeluje več kot 1200 podjetij iz 50 držav. Na ogled so tako novi trendi v pohištveni industriji, nove smernice v oblikovanju, inovativne ideje uveljavljenih in tudi mladih oblikovalcev. Mednarodno priznane blagovne znamke običajno postavijo na ogled izdelke, ki so jih zanje zasnovala zveneča imena iz sveta oblikovanja. Kot so napovedali organizatorji sejma, na njem ne bodo manjkali niti Patricia Urquiola, brata Bouroullec niti Sebastian Herkner, ki sodijo med trenutno najbolj iskane. Nemški oblikovalec Sebastian Herkner je napovedal, da bodo izdelki, ki prihajajo iz njegovega studia, na ogled kar na devetih razstavnih prostorih.
Podjetja vse pogosteje ponujajo koncept bivanja in s tem nabor izdelkov za opremo celotnega doma. Sejem predstavlja tako refleksijo našega bivalnega okolja kot tudi vir navdiha za oblikovalsko stroko.
Častna gostja oblikovalka Lucie Koldova
Posebno pozornost v času sejma namenijo oblikovalcu, ki ga razglasijo za častnega gosta, ta pa se predstavi na posebni eksperimentalni platformi z imenom Das Haus (Hiša). Znotraj sejmišča postavijo simulacijo družinske hiše, kot si jo predstavlja izbrani oblikovalec. Letos je ta čast doletela češko oblikovalko Lucie Koldovo, ki jo je spremenila v poetično študijo svetil. Odločila se je, da bo tradicionalno steklo in kristal, ki prihaja iz češke pokrajine Bohemija, predstavila v sodobnem slogu. Koldova je namreč mednarodno zaslovela prav z oblikovanjem svetil in s tem tudi prepričala organizatorje sejma, da so jo povabili k sodelovanju. Tokrat so v ospredju sejma svetila in njihova pomembna vloga v oblikovanju. Štirintridesetletna oblikovalka pri snovanju svetil poleg stekla uporablja tudi les, medenino in baker.
Prvič so projekt Das Haus na sejmu v Kölnu predstavili leta 2012, ko sta se naloge lotila indijsko-britanski oblikovalski dvojec Nipa Doshi in Jonathan Levien. Za tem pa so sodelovali še italijanski industrijski oblikovalec Lucca Nichetto, danska oblikovalka Luise Campbell, kitajska arhitekta Rossani Hu in Lyndonu Neriju, nemški oblikovalec Sebastian Herkner in oblikovalec Todd Bracher.
Slovenska podjetja na skupnem razstavnem prostoru
Šest slovenskih podjetij (Donar, 3S design, Mizarstvo Bolčič, 3OINK Jure Benčina, Ekotrade in Telnet) se v Kölnu predstavlja pod okriljem Javne agencije Spirit Slovenija na dveh različnih skupnih razstavnih prostorih.
Na skupnem razstavnem prostoru se v Kölnu predstavljajo tri slovenska podjetja: Mizarstvo Bolčič, Donar in 3S design. Pri Mizarstvu Bolčič so se zaradi manjše razstavne površine, ki jo imajo na voljo na skupnem razstavnem prostoru, odločili izpostaviti stole, ki so jih razvili skupaj z različnimi oblikovalci. Tako je po besedah Loredane Matkovič obiskovalcem na ogled nova družina stolov in jedilna miza Cockpit, ki jo je oblikoval Guillaume Delvigne iz Francije, preoblikovani stol Frame z naslonom iz tehnične tkanine, zaradi katere je stol z masivnim ogrodjem peresno lahek (ta je delo oblikovalca Oliverja Schicka iz Nemčije), stoli iz kolekcije Kalota, ki sta jih zanje zasnovala hrvaška oblikovalca Neven in Sanja Kovačić. Slednji so po besedah sogovornice njihovi najbolje prodajani stoli, v njih pa so združili več tehnik, med drugim tradicionalno upogibanje, struženje in sodobno CNC rezkanje.
"Na sejmu se tokrat predstavljamo tretjič, dvakrat smo se predstavili samostojno, letos pa se nam je ponudila možnost razstavljati v okviru razpisa Javne agencije Spirit Slovenija. Prvo leto so nas kupci samo ogledovali, pridobili smo sicer dva agenta za Francijo in Nizozemsko, naslednje leto pa smo na sejmu že sprejeli nekaj naročil. Glede na to, da večji del naše ponudbe predstavljajo stoli, je za nas pomembno, da jih potencialni kupci preskusijo in to najlaže naredijo na sejmu," pravi Loredana Matkovič in dodaja, da večina njihovih poslovnih sodelovanj za kolekcijo Mitja izhaja prav iz tovrstnih sejmov. S prisotnostjo na sejmu pridobivajo zaupanje kupcev na dolgi rok.
Na sejmu prvič sodeluje podjetje 3S design, ki se po besedah arhitektke Kaje Strle želi predstaviti širšemu nemškemu in evropskemu trgu. "Naš cilj je povečati razpoznavnost in spoznati nove poslovne partnerje," poudarja sogovornica in dodaja, da bodo na ogled postavili stojalo za obleke Plutoo v izvedbi iz masivnega hrasta, linijo kovinskega pohištva Steelline, klubski mizici Wizzo in Varo, najbolj izpostavljen na njihovem razstavnem prostoru pa bo sistem osnovnih plošč in magnetnih dodatkov Steeline, ki je bil v osnovi razvit za kuhinje, zaradi fleksibilnosti in kreativnega potenciala pa so jim dodale nove dodatke, ki so primerni tudi za pisarne, spalnice, predsobe in otroške sobe.
Mizarstvo Bogovič, ki na sejmu v Kölnu sodeluje od leta 2007, bo tokrat poleg rednega programa pohištva predstavilo dve patentirani novosti. V prvem primeru gre za zložljiv, a samonosilen posteljni vložek, v drugem pa za najnižji motorni okvir, katerega skupna višina je 65 mm. Kot pojasnjujejo, so bili v preteklih letih na sejmu odzivi pozitivni, zato se ga tudi tokrat udeležujejo. "Pričakujemo obnovitev tekočih pogodb z obstoječimi kupci, utrditev položaja na evropskem tržišču v tem segmentu in seveda še kakšen preboj na Srednji vzhod. Lani smo namreč uspeli pridobiti kupca iz Iraka, tako da si v prihodnosti obetamo več poslovanja v tem delu sveta," pojasnjujejo v podjetju in dodajajo, da sodelovanje na sejmu v Kölnu zanje pomeni biti inovativen, razvojno usmerjen in produktiven, saj je na tem področju močna konkurenca.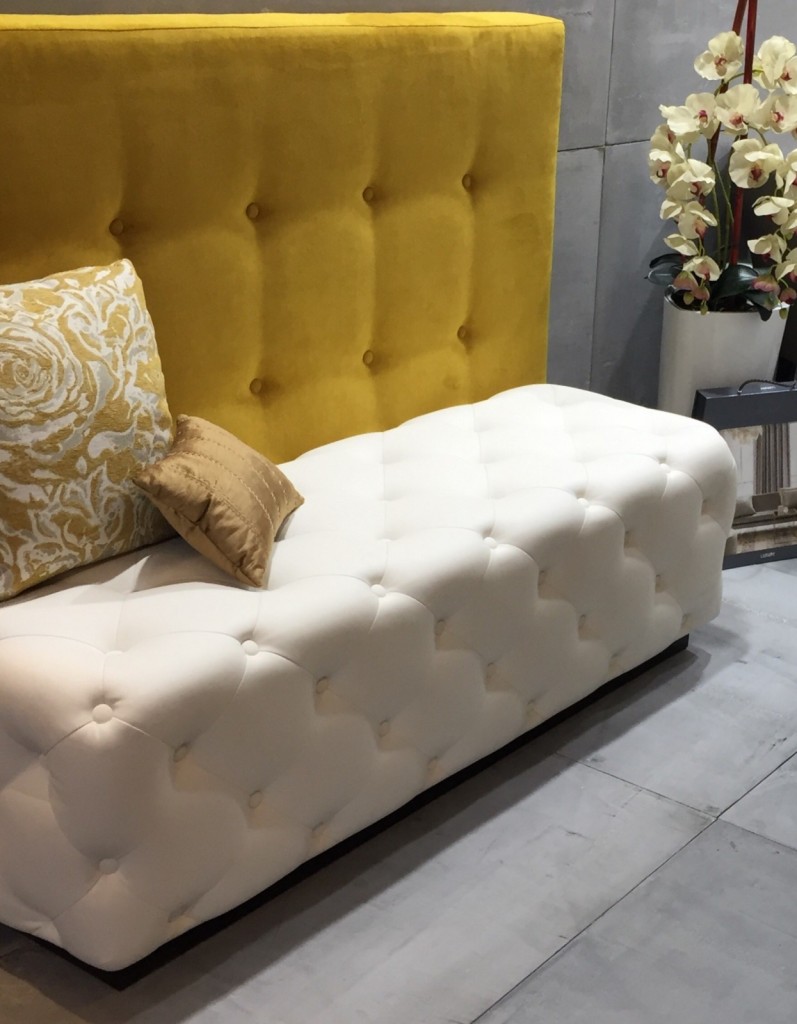 Podjetje Ekotrade se sejma IMM v Kölnu udeležuje pod okriljem Javne agencije Spirit Slovenija. To je zanje prva predstavitev na tem sejmu. Od predstavitve na njem si po besedah Tatjane Novak Rus obetajo večjo prepoznavnost, hkrati pa želijo poiskali nove poslovne partnerje s ciljem, da zapolnijo dodatne proizvodne kapacitete, ki jih bodo pridobili v okviru novozgrajenega proizvodnega objekta v Slovenj Gradcu, kamor se bo podjetje preselilo na začetku pomladi.
Obiskovalcem so na ogled postavili nabor iz svojega raznolikega proizvodnega programa: najnovejši model posteljnega sestava Clementine, elegantno zofo z detajli chesterfield, zofo Auroro in druge foteljev, razvite za petzvezdične hotele.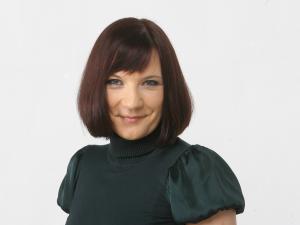 Aleksandra Zorko, Namestnica odgovorne urednice, sicer pa poznavalka oblikovanja, arhitekture in ljubiteljica lepega.