Kar nekaj podatkov je bilo razkritih o TTiP, sporazumu med ZDA in EU na področju korporacijskih nadpravic, njihove moči celo nad sodišči posameznih držav. A TISA je še mnogo zahrbtnejša saj vzpostavlja globalno premoč posameznikov nad javnim sektorjem, kar se pri nas že kaže v privatitaciji bank (Črni Leon in NKBM), transporta in telekomunikacij (Luka Koper, Telekom, letališče Brnik – Merkel) in privatizacija vodnih naravnih virov (SDS – Nestle). Pogajanja se še bolj zaprta in skoraj nobene informacije ne boste zasledili v medijih.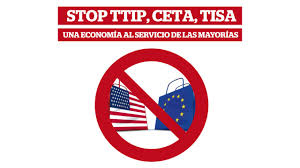 In, ko je lani 21. oktobra obiskal Državni zbor glavni pogajalec teh smrtonosnih sporazumov David Henig, angleški lobist, nas o tem ne DZ ne mediji niso obvestili. Lahko smo prebrali z meglo posipan intervju z lobistom v Delu, a to je pogovor v slogu – jaz vam bom poslal vprašanja, ki mi jih boste postavili. Tudi sicer so odgovori metanje aspartama po zraku in se bistva sploh ne loti, celo laže o tem, da o prikritih delih te lažno javne pogodbe nič ne ve. A to ni tema tega zapisa. Ta večer je bila na angleški ambasadi v Ljubljani večerja pi namestniku ambasadorja, bili pa so vabljeni in prisotni - Umanotera, Gospodarska zbornica Slovenije, predstavnica Ministrstva za gospodarstvo Mirjam Zdovc in, ja – Breda Kutin kot predstavnica Zveze Potrošnikov Slovenije??. Torej še eno prikrito preverjanje slovenske podpore, kdo je za in, če je slučajno kdo med narodom proti. Pa čeprav obstaja širša civilna iniciativa proti TTiP sporazumu (TISA je zelo prikrita) so prišli oziroma bili vabljeni samo našteti trije. Predvsem Breda Kutin – kaj je imela ona pri tem, so ji plačali kot slovenski potrošnik, če hoče, da zanj kaj naredi? Je prišla po koristi po uvedbi TTiP? Pa GZS? So pri glavnem lobistu želeli svoj delež umazane privatizacije? Človek bi pričakoval pošteno obveščanje vnaprej in množične proteste pred angleškim veleposlaništvom, a v Sloveniji so poleg Marjana Hribarja premeteno izbrane osebe, ki TTiP ne bodo škodile, nasprotno, mu pomagale. Seveda vas Breda Kutin o svojem podlem obisku niti z besedo ni seznanila, sladko vprašanje v obliki – kaj nam, ZPS, lahko zagotovite v zameno za našo podporo? - bo ostalo še naprej skrito.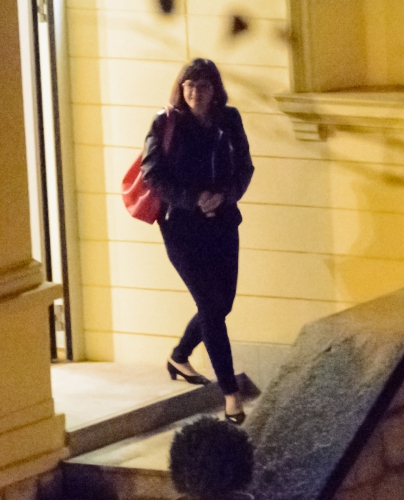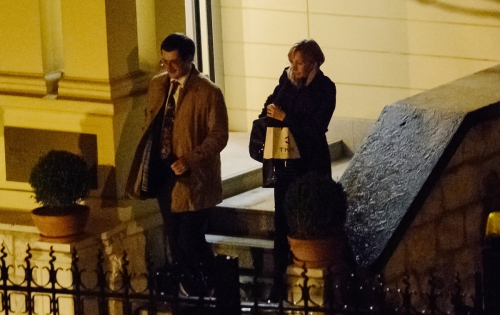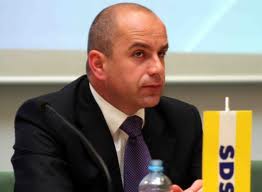 Ja, je bilo poslano pismo v DZ dva dneva po tej prikriti večerji, še kar ostro, a kaj, ko se poslancem kot vladi sladko fučka, kaj se bo zgodilo z našo državo. Imajo veliko povsem obrobnega dela, da ljudi prepričajo v svoje delo. Predvsem pa je sporna vloga Umanotere, v kateri je bila med peščico vodilnih do nagrade s komisarskim mestom v EU celo Violeta Bulc. Samo njihov predstavnik je bil obveščen in se srečanja z lobistom udeležil. Če igraš pošteno igro potem obveščaš vse o vsem in ne le - sem bil na večerji. Je to nagrada za druženje Violete Bulc z angleško kraljico v Lipici? Je tak način obvezen za prejemnike evropskih sredstev? Ko pa so bili lani povabljeni na protest proti Chemtrailsom ni bilo z njihove strani nikogar. Nazorna dvoličnost!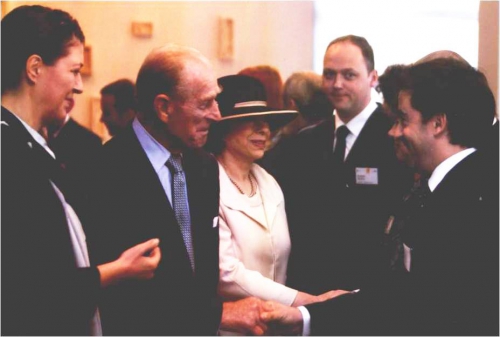 Da je bil skriti sestanek v obliki bogate večerje, predvsem pa izjemno služabniško delo slovenskih kimavčkov uspešno, kaže nadaljevanje. NKBM gre v tuje roke še ta mesec, Cerarjeva vlada dela vse na tem, da Telekom pred počitnicami podari Nemcem, prav tako Luko Koper ob spretnem zavajanju ljudstva v medijih (smo proti prodaji Luke, jo bomo dali le v državno zasebno partnertsvo ali TTiP strokovno). Na drugi strani SDS vlaga zadnje atome moči, da poleg reševanja zapornika sprivatizira vse vire pitne vode, kar je pogoj za uspešno vključitev v TISA klub mogočnih svetovnih nadvladarjev. Predvsem pa je značilno, da se naša lažna levica in desnica na področju smrtonosnih sporazumov za Slovenijo sploh ne razhajata. Njihova mnenja so do potankosti usklajena, nihče v Parlamentu ne nasprotuje podpisu, morda bo prišlo do kakšnega lepotnega popravka, po dogovoru s korporacijami, da zavedejo ljudi.
Škoda, ker se ljudstvo sploh noče seznaniti s temi tragičnimi sporazumi, resnico, ki nas pelje v sužnjelastniško obdobje kot smo ga poznali pred stoletji. Le kaj in kako je treba ljudstvu razložiti, kaj delajo z njimi njihovi izdajalci? Predvsem TISA vam prinaša konec javnega šolstva, transporta, zdravstva, energije,vode. Ampak to vas itak ne moti, saj so vas Janša, Bratuškova in Cerar že temeljito poučili o nujnosti tudi tega dela javnega sektorja, kajne?