Objavil/a
Ana Kos
, dne 2014-06-03 ob 12:02:19
V mojih osnutkih me čaka marsikaj, kar želim povedati ... marsikaj je, česar mi je žal, če ne pride na beli dan.
Tako je tudi tole o nekem zelo lepem dnevu v Kočevskem rogu.
Tukaj je okoljski center, ki je namenjen razvijanju in podajanja skavtske okoljske vzgoje. Namenjen je skavtom iz Slovenije in tujine ter povezovanju s sorodnimi organizacijami, lokalno skupnostjo, naključnimi obiskovalci Roških gozdov ter vsem ljubiteljem neokrnjene narave.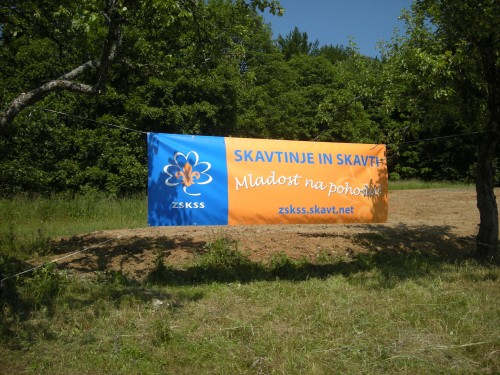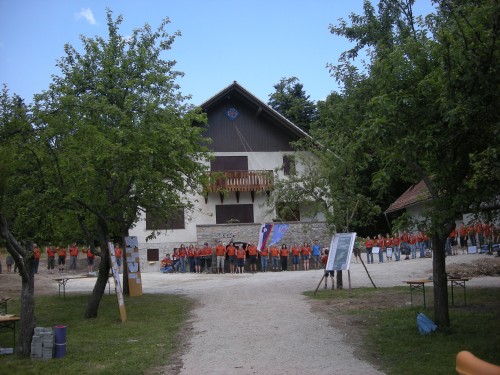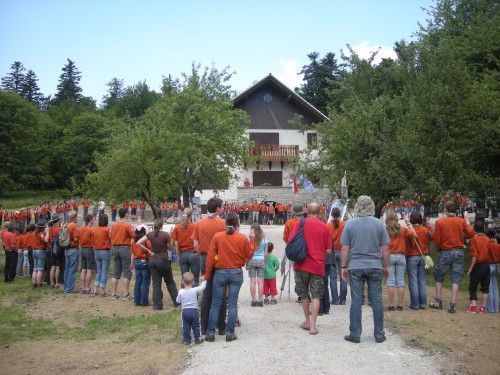 Ob neki priložnosti sem se udeležila dveh delavnic, ki sta bili tam organizirani - izbrala sem ju izmed kakšnih desetih (obisk neke jame, s kolesom do najvišje jelke v Sloveniji - 49 m - po obsegu pa je tretja v Sloveniji, obsega 510 cm -, izdelava vrvi iz kopriv, izdelava suhe robe, pečenje kruha na prostem, učenje o rastlinskem in živalskem svetu Kočevskega roga, življenje v naravi ...). Torej mogla sem se udeležiti dveh in izbrala sem si delavnico o zgodovini Kočevarjev in za obisk pragozda.

Tole drevo tukaj je v pragozdu.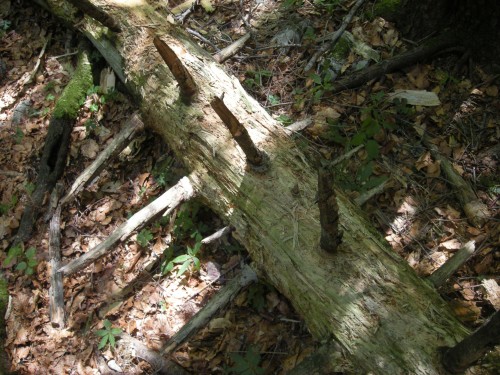 Tam pustijo vse tako, kot je bilo, kot nastaja samo. Človek ne posega v gozd. Samo opazuje ga.
Na območju Kočevskega roga je nekaj področij pragozda. Mi smo si ogledali Rajhenavskega.
Če se ne motim, so l. 1892 sklenili gozdarji tistega področja, da pustijo rasti gozd svobodno. (V svetovnem merilu je to zgodaj.) Pravijo, da v tem gozdu še ni pela sekira ali žaga.
Tukaj je višina blizu 1000 m nad morjem.
Škodljivci dreves? Narava sama poskrbi, da se stvari uredijo, res velika nevarnost bolezni ali celo umrtja gozdov je v monokulturah. (Sem se spomnila na neko knjigo, na to tukaj: Gozd v plamenih. Kako živo lahko nekdo čuti z gozdom!
)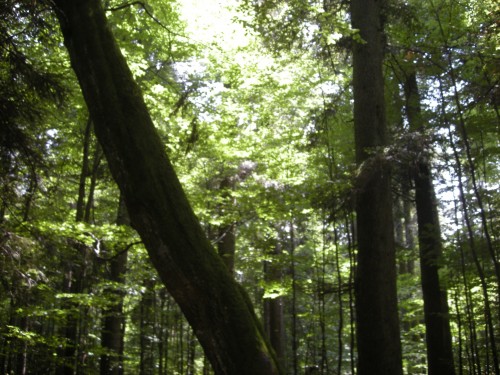 Največ je bukev in jelk, se pa v popolnoma naravnem okolju sami "bojujeta" za svoj prostor. Gozdarka, ki nas je vodila na ogled pragozda, nam je pokazala jelko, ki živi že ogromno let, menda 200, v senci bukve in se ne more razživeti, ker je stalno v senci.
Čaka na pravi trenutek.
Ko bo odmrla bukev, če ne bo padla prav na 200 let staro jelko, se bo pognala proti soncu!
Take rasti so jasno vidne po vejah ... Včasih je mnogo obročev vej blizu skupaj, potem pa naenkrat nastane večji razmik - rastlina dobesedno požene, ko pridejo pravi pogoji, ko "vidi" sonce!
Zanimiva misel: 200 let čakati v senci - in potem se pognati z vsem zagonom kvišku!
Gozdarka nam je pokazala avtohtone smreke s tega področja.
Ko so nekje tam pogozdovali, niso posadili avtohtone vrste ... in tiste smreke so potem v hudi zimi utrpele veliko škodo zaradi žleda. Avtohtone smreke imajo veje precej povešene. (A ko sem bila na vodenem pohodu v drugem delu kočevskih gozdov, blizu Dolenjskih Toplic, vodič tega ni vedel!)

Pred nami je deblo, po katerem je plezal medved. No, ne tisti dan, ko smo bili tam!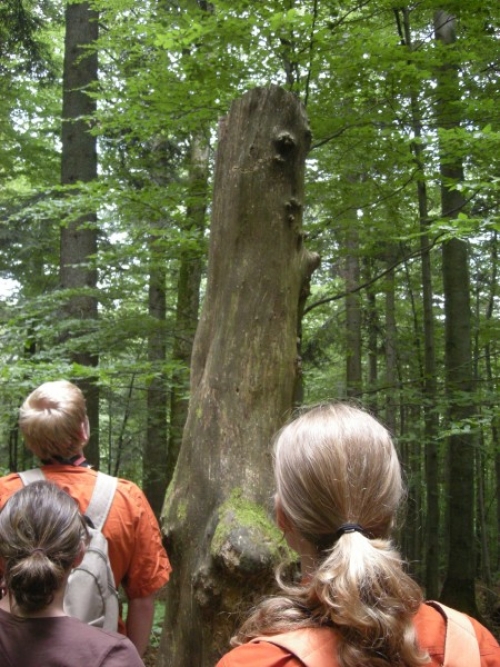 Jasno se vidijo praske!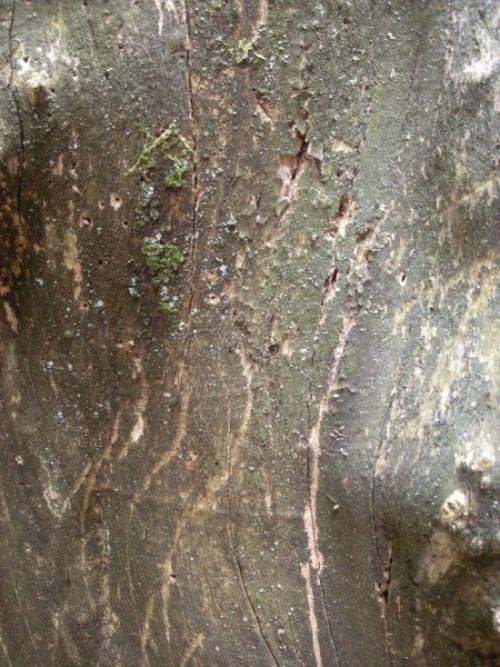 Ob robu gozda je dišala materina dušica!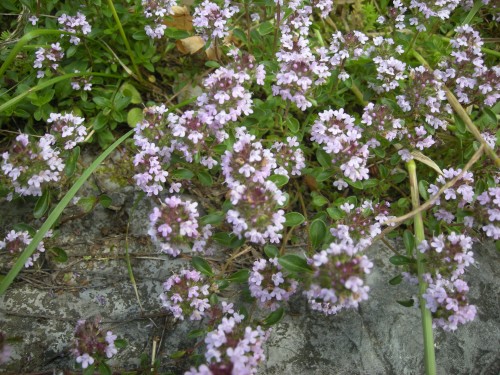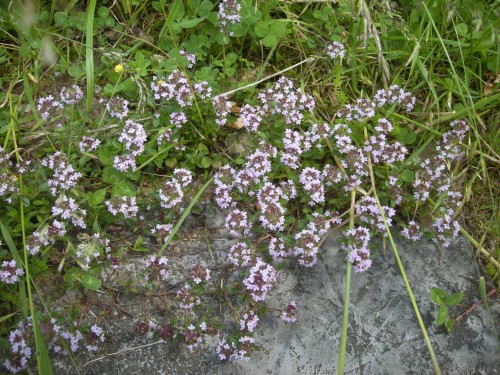 Priprave za večerni taborni ogenj ...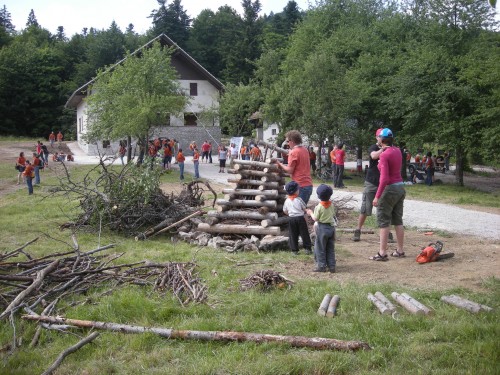 ................
http://www.kocevje.si/turizem-naravne-znamenitosti-pragozd-rajhenavski
http://www.zrsvn.si/sl/informacija.asp?id_meta_type=63&id_informacija=491